Tom Hanks Credits "Happy Days" for Jumpstarting His Film Career
Tom Hanks credits his standoff with Henry Winkler's Fonzie on ABC's Happy Days for his first leading role in Disney's 1984 classic Splash.
---
Before Tom Hanks became a film superstar, he was a regular presence on television. While he did make his on-screen debut in the MGM horror film in 1980's He Knows You're Alone, the actor appeared in several sitcoms, including The Love Boat, Taxi, Happy Days, and Family Ties, not to mention his starring role in Bosom Buddies. Hanks opened up about how his appearance on the ABC sitcom as a master of karate, not of friendship, led to his first theatrical starring role in 1984's Splash opposite Daryl Hannah.
"Happy Days" Revenge on Fonzi Made "Splash" with Disney Execs
"I kicked Fonzie," Hanks revealed on SiriusXM's The Jess Cagle Show. "I got dressed up in a judo karate outfit. And I think I'm legendarily the first guy to actually strike Fonzie. I kicked him through the stained glass window of Al's Drive-in." The actor was in the 1982 episode "A Little Case of Revenge" as Dr. Dwayne Twitchell, who held a grudge against his former classmate of Arthur "Fonzie" Fonzarelli (Henry Winkler) since the third grade. He became a doctor and learned martial arts to enact his revenge.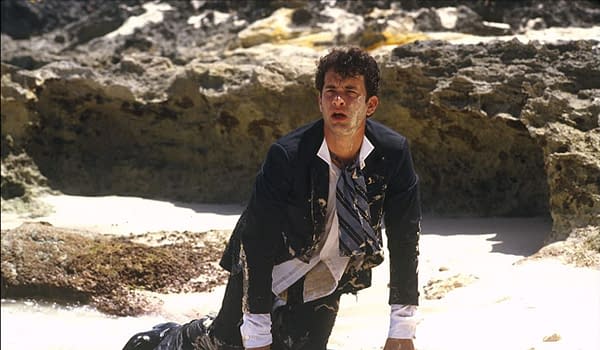 Hanks' appearance on the sitcom caught the attention of those Disney, who was looking for projects under their new production banner Touchtone Pictures. The studio cast him as the lead as Allen Bauer, the straight role to Hannah's mermaid Madison with the one-time Happy Days star Ron Howard directing the comedy. The rest, as they say, is history. "Ron Howard had already left the show, and he was directing, and they had written this movie called 'Splash,'" Hanks explained. "And it was at Disney, and no one wanted to work for Disney, and no one would take the job. And eventually, they said, 'Hey, this guy who kicked Fonzie through a plate-glass window might be good.' And so I ended up auditioning for that."