A wise man once said, "it's all about the game and how you play it." For WWE executive Triple H, that game is the stock market, and Triple H's latest move was to unload over a million dollars in WWE stock. The Cerebral Assassin's financial plans were revealed in an SEC filing by WWE, which notes that Haitch sold 23,255 shares of WWE stock at a price of $43.80 per share, for a grand total of $1,018,569. That was only a small portion of his stock, which totals 144,646 shares following the sale.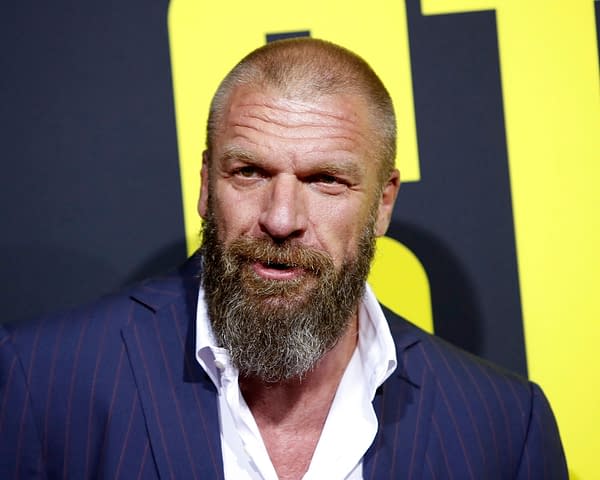 Triple H, who just celebrated 25 years with WWE, started his career as a regular wrestler but soon rose through the ranks to become one of WWE's top stars by marrying Stephanie McMahon, daughter of WWE owner Vince McMahon. Stephanie McMahon was initially betrothed to WWE wrestler Test. Still, Triple H drugged her on the night of her bachelor party, brought her to a Las Vegas drive-thru wedding chapel, and married her while she was unconscious. Despite getting off to a rocky start, the pair have inseparable since then.
It's unclear what The Game intends to do with the million dollars. Maybe he is planning to buy Stephanie a very expensive Mother's Day present. Triple H's sales come just one week after fellow WWE executives Kevin Dunn and Bradley Blum also sold large quantities of stock. WWE stock, which has been falling since last year, saw a moderate bump after WWE released its first-quarter financial reports. It showed that, despite ratings being in the veritable toilet, no live events possible for the foreseeable future, and the company laying off or furloughing dozens of wrestlers and backstage talent. WWE is on track to make record profits this year, thanks mainly to their big television contracts with Fox and USA and a deal with the Saudi Arabian government to hold shows in the country.
Enjoyed this article? Share it!