The Arrowverse crossover is getting a familiar face as well as a new one. According to Entertainment Weekly Tyler Hoechlin is set to return as Superman for the three-part crossover that is set to air later this year. Not only are we getting Superman again, this show is also set to introduce Ruby Rose as Batwoman, aka Kate Kane, and, as per the announcement today, we're also getting the Arrowverse version of Lois Lane.
"We couldn't be more excited to introduce Lois Lane to the Arrowverse," said Supergirl executive producers Jessica Queller and Robert Rovner. "This dogged, determined and brave reporter will make for a strong partner to Superman and amazing addition to our universe of DC characters."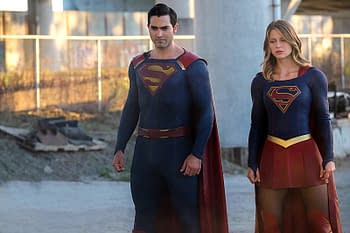 Lois has been name dropped several times in the Arrowverse, but this is the first time we'll have seen her. There hasn't been any casting announced yet, but it should be coming sooner rather than later.
The three-night crossover begins on Sunday, December 9th with The Flash at 8 p.m. followed by Arrow on Monday, December 10th at 8 p.m. and wrapping up on Tuesday, December 11th at 8 p.m. on Supergirl.
Enjoyed this article? Share it!