'Dead' Man Blogging: Join Bleeding Cool's The Walking Dead/Fear the Walking Dead Live-Blog Tonight!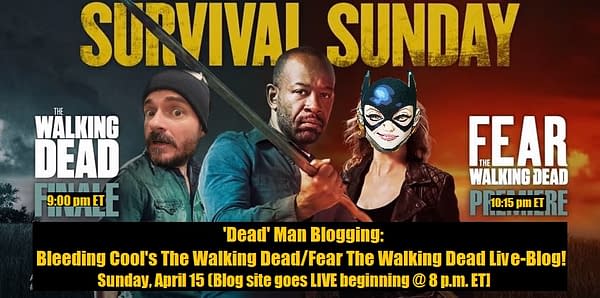 With an epic ending to The Walking Dead's eighth season "All Out War" on the horizon and promises of new beginnings with Fear the Walking Dead's fourth season, join Bleeding Cool on Sunday night, April 15, for Dead Man Blogging: Bleeding Cool's The Walking Dead/Fear the Walking Dead Live-Blog!.
Starting at 9 p.m. ET with The Walking Dead's Season 8 finale and moving right into Morgan's (Lennie James) crossover into Fear the Walking Dead's Season 4 premiere at 10:15 p.m. ET, join us as we see if there's actually any heat behind weeks and week's of hype for the AMC franchise.
Bleeding Cool's TWD/FTWD blog site goes live at 8 p.m. for some "pre-game festivities" (trailers, teasers, behind-the-scenes previews, etc.), so feel free to join the party a little early.
Here's a look at what's ahead for fans of AMC's The Walking Dead and Fear the Walking Dead:
The Walking Dead Episode 8×16 'Wrath': The communities join forces in the last stand against the Saviors as all-out war unfolds.
The Walking Dead stars Andrew Lincoln (Rick Grimes), Jeffrey Dean Morgan (Negan), Norman Reedus (Daryl Dixon), Lauren Cohan (Maggie Greene), Danai Gurira (Michonne), Melissa McBride (Carol Peletier), Lennie James (Morgan Jones), Seth Gilliam (Father Gabriel Stokes), Alanna Masterson (Tara Chambler), Christian Serratos (Rosita Espinosa) and Khary Payton (King Ezekiel); with Gale Anne Hurd, Greg Nicotero, David Alpert, out-going showrunner Scott M. Gimple and franchise creator Robert Kirkman serving as executive producers.
In season 4, we will see the world of Madison Clark (Kim Dickens) and her family through new eyes — the eyes of Morgan Jones (Lennie James), who is joining the story from the world of The Walking Dead. The characters' immediate pasts mix with an uncertain present of struggle and discovery as they meet new friends, foes, and threats. They fight for each other, against each other and against a legion of the dead to somehow build an existence against the crushing pressure of lives coming apart. There will be darkness and light; terror and grace; and the heroic, mercenary and craven, all crashing together toward a new reality for Fear the Walking Dead.
AMC's Fear the Walking Dead's fourth season stars Kim Dickens, Frank Dillane, Alycia Debnam-Carey, Colman Domingo and Danay Garcia; as well as new series regulars Lennie James, Garret Dillahunt, Jenna Elfman and Maggie Grace. Produced by AMC Studios, the series is executive produced by Scott M. Gimple; showrunners Andrew Chambliss and Ian Goldberg; Robert Kirkman; David Alpert; Gale Anne Hurd and Greg Nicotero.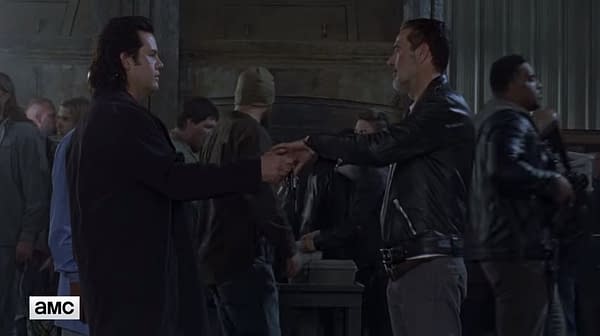 The Walking Dead airs Sundays at 9 p.m. ET on AMC; with Fear the Walking Deaddebuting its fourth season at 10 p.m. ET on April 15 before resuming a 9 p.m. time slot on Sundays beginning April 22nd.