WandaVision: Elizabeth Olsen on Possible Wanda Return for "Agatha"
WandaVision star Elizabeth Olsen addressed if Wanda Maximoff would be returning for the spinoff, Marvel Studios' Agatha: Coven of Chaos.
---
When you're a streaming series as critically praised and well-received as Disney+ & Marvel Studios' Elizabeth Olsen & Paul Bettany-starring WandaVision, spinoffs in this day and age are inevitable. And with spinoffs come the questions of who will be appearing from the original series. With VisionQuest, the answer is pretty easy since Bettany is headlining it. But when it comes to Olsen, that question mark still remains unanswered. The same could be said for the studio & streamer's Kathryn Hahn-starring Agatha: Coven of Chaos – though we might have a clearer picture on that topic, courtesy of Olsen. Speaking with Deadline Hollywood at their South by Southwest (SXSW) studio, Olsen (HBO's Love & Death), Olsen was asked is Wanda Maximoff would be returning to her old stomping grounds. After admitting that she never knows how to answer those types of questions, Olsen added, "I think I'll be back."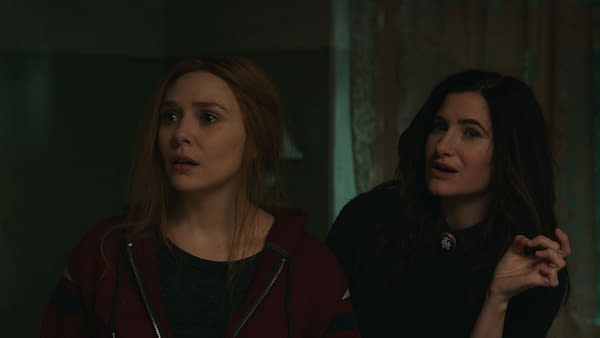 Joining Hahn on the "WandaVision" spinoff are Aubrey Plaza, Joe Locke, Patti LuPone, Sasheer Zamata, Emma Caulfield Ford, Debra Jo Rupp, David Payton, David Lengel, Asif Ali, Amos Glick, Brian Brightman, Kate Forbes, Miles Gutierrez-Riley, Okwui Okpokwasili, and Maria Dizzia. In addition, head writer & executive producer Jac Schaefer is directing several episodes, with Gandja Monteiro (Netflix's Wednesday) and Rachel Goldberg (Peacock's A Friend of the Family) helming. Now, here's a look at Olsen's response regarding the streaming series:
"'Agatha: Coven of Chaos'… I haven't talked about it yet. It's a fun character. I'll just say, speaking of manifestations… it's all coming together for me with this part," Plaza shared during a recent interview regarding joining the streaming series. And Plaza made clear her true motivation for signing on. "Kathryn Hahn, she's a friend of mine; I've known her for years. We shared a couple moments onscreen in 'Parks and Recreation''10 years ago, but I've never gotten to work with her, really. She's one of the most incredible actresses that's working today. She's a friend of mine. She speaks my language. To be able to get on screen with her and go toe-to-toe with her is what's driving me. I think it's cool that it's Marvel and all that, but I'm really just interested to work with Kathryn Hahn." Here's a chance to check out the full episode of the In the Envelope: The Actor's Podcast, where Plaza also discusses Emily the Criminal and HBO's The White Lotus, touches upon Francis Ford Coppolla's upcoming Megalopolis, and more: