Posted in: HBO, Review, TV | Tagged: Bella Ramsey, craig mazin, gabriel luna, HBO, Pedro Pascal, Review, the last of us
---
The Last of Us Season 1 Episode 6 "Kin" Review: Joel's Uneasy Reunion
Pedro Pascal, Bella Ramsey, Gabrel Luna and Rutina Wesley keep the excellence flowing in HBO's The Last of Us S01E06 "Kin."
---
The latest episode of HBO's The Last of Us deals with Joel's (Pedro Pascal) watershed moment with Ellie a little differently than in the game. In "Kin," Joel finally reunites with his brother Tommy (Gabriel Luna), while introducing his new traveling companion, Ellie (Bella Ramsey). During the events of the game, players only encounter Tommy, Maria, and the workers at the hydroelectric plant they had rebuilt civilization around in Jackson, Wyoming. The series expands on those events in a way the game never could until Part II The following contains minor spoilers.
The Last of Us: Adding to Tommy & Maria's Arc
As Joel and Ellie deal with the aftermath of the tragedy that fell on Henry (Lamar Johnson) and his brother Sam (Keivonn Woodard), they convene at the hydroelectric dam, but nothing happens as the duo continues off where they're met by scouts on horseback. They're led back to town, where Joel is reunited with Tommy, who tells him that he has a life and about to be a father with his new wife, Maria (Rutina Wesley). As Joel and Ellie get used to their temporary lodgings, given their continued cross-country journey to locate the Fireflies, we get to know the brothers more while Maria and Ellie get to know one another.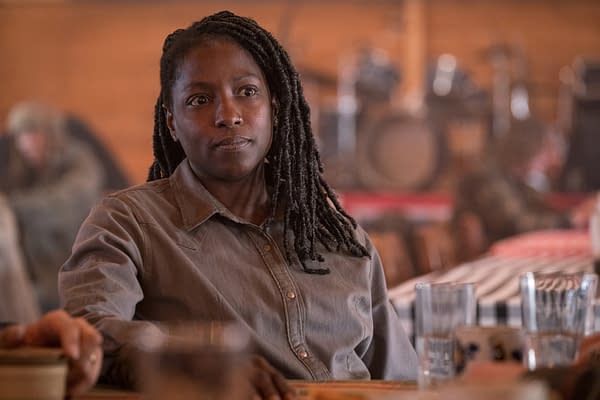 While it goes without saying the wonderful job creators Craig Mazin and Naughty Dog Visionary Neil Druckmann do on expanding The Last of Us, we get that nuance of Joel we never narratively explored beyond the scratch of the service of his PTSD. Directed by Jasmila Žbanić (Quo Vadis, Aida?) and written by Mazin, Pascal pours it on when it comes to Joel's struggle to stay hardened while dealing with his past trauma. His chemistry with Luna made for some pretty powerful television that's been on brand for the entire series. I can only imagine how original voice actor Troy Baker feels not being allowed to show this kind of depth in the original game.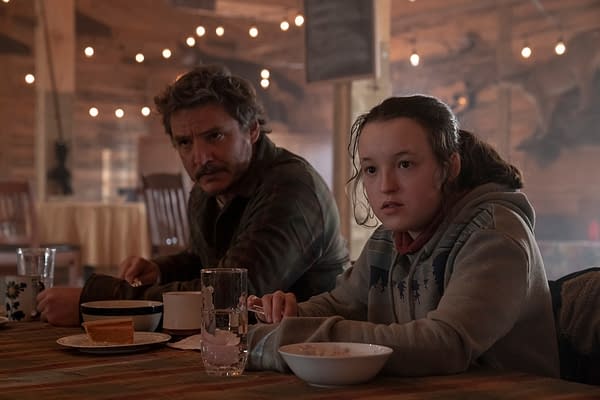 I'd imagine that original Maria actor Ashley Scott probably feels similar not being able to do the same with her character as Wesley was able to with Ramsey's Ellie. The town itself looks about as close to normal as it gets for the series from here on out. Credit goes to Pascal, Ramsey, Luna, Wesley, Žbanić, and Mazin for delivering another memorable classic. Maybe I'm starting to sound like a broken record, but don't blame me. Week in & week out, The Last of Us continues to bring Sunday night excellence to HBO.
The Last of Us Season 1 Episode 6 "Kin"
---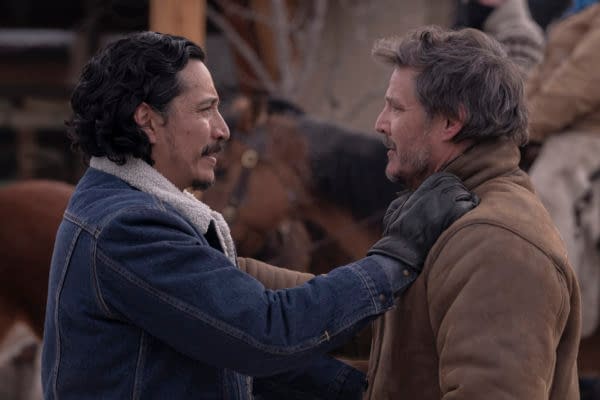 ---
Director Jasmila Žbanić and writer/creator Craig Mazin knock out another memorable episode of HBO's "The Last of Us," anchored by powerful performances from Pedro Pascal, Bella Ramsey, Gabriel Luna, and Rutina Wesley. Pascal particularly shines in navigating himself through Joel's layered trauma in a way the games never did.
Credits
---
---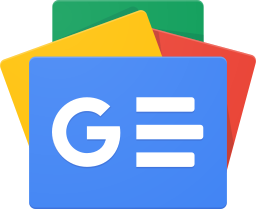 Stay up-to-date and support the site by following Bleeding Cool on Google News today!