Watchmen: Damon Lindelof Know What His Episode 10 Title Would Be
We've made no bones about the fact that we have a huge ton of respect for Watchmen series creator Damon Lindelof, starting back during the Lost days. As much as we obsess over whether or not he'll be returning to the universe of his pseudo-sequel to Alan Moore, David Gibbons, and John Higgins' comic book classic, we also appreciate how he uses social media to not only connect with fans but also educate them on the important societal issues, as well as take stands on controversial topics others would shy away from. With the killing of George Floyd at the hands of Minneapolis police officers and the subsequent global protest that resulted against police brutality in the Black community, Lindelof found himself facing a society that's eerily mirroring many aspects and themes of his series (especially with COVID-19 masks in play).
The real and on-screen worlds blurred even more on Friday when Washington D.C. Mayor Muriel E. Bowser announced her decision to have city crews paint the words "Black Lives Matter" along 16th Street leading to The White House and to officially rename the street "Black Lives Matter Plaza." Mayor Bowser also formally requested that President Donald Trump "withdraw all extraordinary federal law enforcement and military presence from Washington, D.C." The request comes after Trump ordered an increase in federal, military, and other still-unidentified forces on the streets of the city to retaliate against protestors. As you'll see in Lindelof's post below, the visual of the yellow letters on the street, as well as its striking similarity to the series' opening episode title scenes, make it appear as if it was lifted from the series. So if there was going to be a tenth episode of some type, Lindelof knows how the episode's title scene would look.
A Look Back at Bleeding Cool's Watchmen Reviews
Bleeding Cool praised how powerful the Nicole Kassell (Castle Rock)-directed series premiere "It's Summer and We're Running Out of Ice" was (check out our review here), while "Martial Feats of Comanche Horsemanship" kept the momentum going by deepening the conspiracies at play (review here). Jean Smart's Agent Laurie Blake took center stage in "She Was Killed by Space Junk", elevating the tension while serving as "devil's advocate" (review here).
"If You Don't Like My Story, Write Your Own" (review here), introduced us to Lady Trieu (Hong Chau), saw Angela (Regina King) look to Looking Glass (Tim Blake Nelson) for help when things started hitting too close to home and revealed how Adrian (Jeremy Irons) "trains" new servants as his escape attempts continued We learned Wade Tillman aka Looking Glass' "origin story" (and possibly his final days) in "Little Fear of Lightning" (our review here), as Agent Blake places Angela under arrest but not before she goes "nostalgic".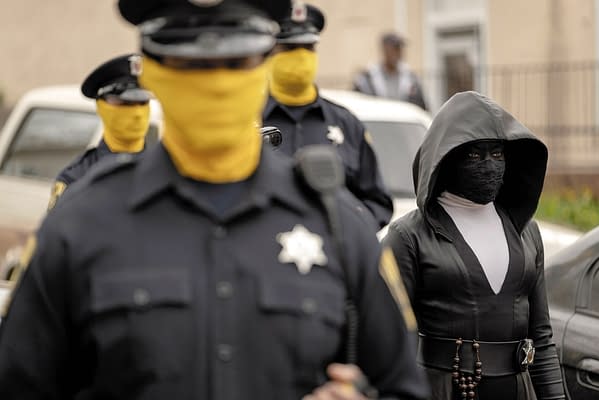 Angela comes to understand her true past and the truth about "This Extraordinary Being" Will (Louis Gossett Jr. – review here), a truth that starts with the formation of the Minutemen. "An Almost Religious Awe" (our review here) brought with it the major reveal that Dr. Manhattan has been with us the entire time, and he's a major part of the Seventh Kalvary's plan.
With the penultimate episode "A God Walks into Abar" (review here), we were offered a look back at the seeds of Angela and "Cal's" tragic (and apocalyptic) love story – the heart of our series. Which brought us to season/series finale "See How They Fly", where the machinations of the Seventh Kalvary, Sen. Keene, Lady Trieu, "Calhattan", Adrian, Angela, and Agent Laurie come to a head – as the world of Lindelof's Watchmen comes to an end… and to a beginning (review here).
---
---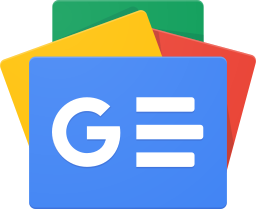 Stay up-to-date and support the site by following Bleeding Cool on Google News today!