While most of us are still riding waves of hope that WarnerMedia and series creator Damon Lindelof announce a deal for more Watchmen via HBO Max through an FX/Fargo-like deal (same universe but not necessarily a direct sequel), let's not forget that the original (first of more than one season?) is still receiving well-deserved honors. The Peabody Awards Board of Jurors selected the "remix" pseudo-sequel to Alan Moore and David Gibbons' comic book classic as one of 60 nominees for this year's awards (earning its nod in the Entertainment category).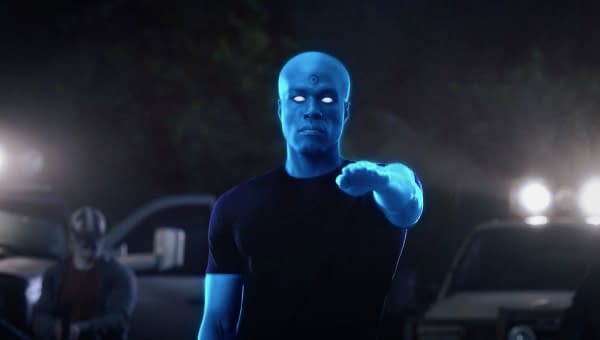 The Peabody Awards recognize the most powerful, enlightening, and invigorating stories in television, radio, and digital media. A selection committee of 19 jurors considered nearly 1300 entries from television, radio/podcasts, and the web; covering entertainment, news, documentary, children's, and public service programming. For Executive Director Jeffrey P. Jones, this year's nominees are a reflection of the times more than ever: "Peabody is proud to champion this year's nominees who inspire our connection, provoke our thinking and delight our senses. From the communal strength of black women to the eminence of science to the conviction of those who speak up, these stories and their creators celebrate the diversity of human experience and of our democracy. Amidst the challenges of our present moment, we can find empathy, entertainment, and truth in these nominees."
To say that Lindelof was honored by the news would be an understatement, taking to social media to express how much the nomination means to the entire cast and crew. But our favorite part was the love and respect he threw at fellow nominees When They See Us, Chernobyl, and Unbelievable, and their ability to shine a light on true, real-life horrors and injustices. Here's a look at the post:
"We are truly honored to be among such distinguished company, particularly the astonishing WHEN THEY SEE US, the unforgettable UNBELIEVABLE and the radioactively brilliant CHERNOBYL. These limited series form a holy trinity of dramatized nonfiction that forces us to look, unflinchingly, at the most brutal and frightening parts of our society… and even in the midst of terror and despair, even in the darkest of nights, if we look hard enough, we find a glimmer of humanity and grace"
Enjoyed this article? Share it!