Worst Cooks in America Season 19 Episode 3 Finds Our Teams Floundering
In this week's episode of Food Network's Worst Cooks in America: Celebrity Edition, our celebrity recruits get their hands dirty literally by learning how to slice and dice a fish or rather "finessing the butchering". Most just went "serial killer" on the poor fish. Getting their snorkeling gear on, some embraced the fish tank and even forgot to take their gear off while attempting to make ceviche in the Skill Drill Challenge. Judges Anne Burrell and Tyler Florence seemed to be entertaining themselves with a lot of random BS talk and giggles, while the recruits yearned for a drink covered in scales and bones. We also learned that since last week most of the recruits have forgotten how to use a knife properly and are blind. Florence did not disappoint with his ongoing one-liners, and having to only man two recruits; maybe he should give Burrell a hand? Scratch that: maybe they should be shielded from things like an insensate stampede of possible ingredients for a side dish. Poor Bananas.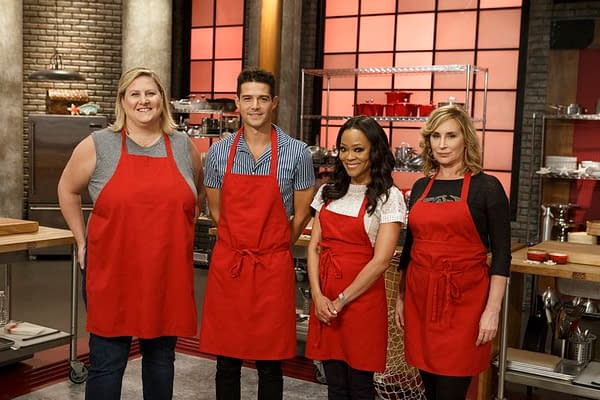 To start off, recruits were asked to do a little reverse-engineering and fish out ingredients (literally) from a tank filled with starfish. They had to individually make a dish and hello poorly thought out crime scene. The ingredients were treated with such disrespect I almost wished they would have practiced on Play-Doh first. The Red Team conducted some bizarre ritualistic karate dancing and learned to use a squeezer; while the Blue Team just brought horrific knife skills and messy plates. Shocking David Coulier although spending more time doing voices than actually cooking consistently puts out good tasting ugly food. Sonja Robin is just so much fun to watch, she is an utter hot sweet mess in the kitchen but delightful in her madness and poor taste.
Main Dish Challenge: 60 min to fillet a fish and cook it with a side of vegetables
Burrell teaches the recruits how to cook Salmon En Papillote with Dijon Hollandaise and Vegetables, and it resembled cooking with origami
Florence demos Branzino (one of my favorite fish) En Papillote with Cauliflower and Garlic Breadcrumbs – there was a smidge too much enthusiasm for cutting the head off
Both teams tried hard and actually tasted their food if something wasn't up to par, then they proactively remade it – very unusual to see.
Red Team improved on their butchering and gutting of the fish, burned a little bacon and Robin cemented herself this week as the teacher's pet
Blue Team probably wished for earplugs to avoid Florence's nonstop advice and back and forth pacing.
Red folks and Wells did pretty damn good especially in their cooking of the fish and even got creative with the veggie side dishes. Except for Sonia, she's just not good.
Oh, Florence "it's not the size of the fish, but the motion of the ocean" Jeez, the wisdom just keeps on coming.
Dave and Bananas I am pretty sure got Tyler pretty close to an orgasm. I guess the salmon tasted that good.
In the end and after the dust settled, Florence grants the win to Dave while Burrell gives the win to Robin. This brings us to the Elimination Challenge, where Sonia and Bananas had to go head-to-head to remove the head and fillet a fish, and the recruit who produces the best looking slices gets to stay. Sonia took all of her frustrations out on her fish and there wasn't much left of it when it got to the judges' table so she was sent packing.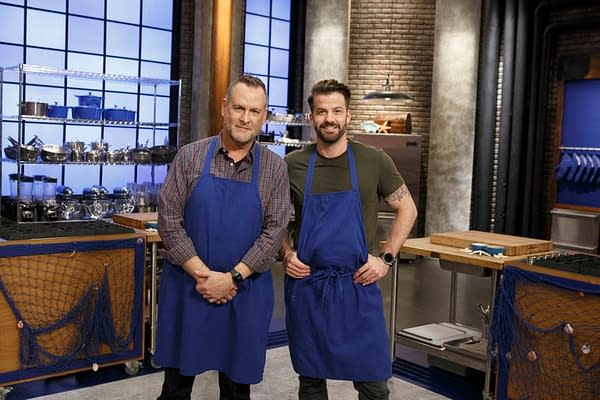 I missed the drinking this week. I've become accustomed to inappropriate vodka/wine-induced behaviors of the celebs and even at times the judges. Robin and Dave clearly taking the lead on absorbing what their masters have to bestow upon them. Dave naturally has a gift for making things taste delicious, I think if he can make his plating more presentable and cut things evenly he might end up winning this season. Next week my favorite competition of all-time, "Remote Control Chef". Recruits get the opportunity to be puppet masters and guide the judges on how to make a dish. Also, pasta from scratch, flour explosions? How could I not get excited?