Jimmy Uso, along with his brother Jey Uso, is scheduled to fight Shane McMahon and The Miz for the Smackdown Live Tag Team Championships on Sunday at the Elimination Chamber PPV, but that's not the steel cage he needs to worry about right now. According to a report from TMZ, Uso was arrested in Detroit after allegedly getting out of his SUV and taking his shirt off when he and his wife, fellow WWE Superstar Naomi, were pulled over for driving the wrong way down a one-way street and the cop thought the car smelled like alcohol and suspected the couple might be "feeling the glow" while driving.
In response to the arrest, WWE told website WrestleZone: "Jonathan Fatu is responsible for his own personal actions." Uso has been arrested for DUI in the past. The match at Elimination Chamber is still scheduled to take place, and Uso has reportedly made bond.
All in all, it's not been a good day for the Uso family. In addition to this, Valentines Day was ruined for Uso and Naomi when a Topps used a picture of Jimmy's brother Jey alongside Naomi for their "Power Couple" trading card. Hopefully, the arrest doesn't affect Uso's standing in WWE and he's able to avoid serious repercussions in court. Otherwise, we might be saying, Jimmy Uso… welcome to the… nah, we said we weren't gonna make the joke and we're standing by that.
So we'll go with this instead: "What is Johnny Fatu doing in the AEW Zone?!"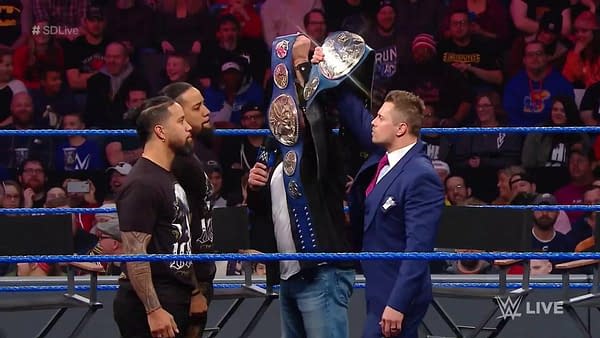 Enjoyed this article? Share it!