WWE Raw Highlights: Carmella, Rick Boogs Return on Post-Rumble Show
As if Royal Rumble fallout and Elimination Chamber setup wasn't enough to deal with on Monday, WWE Raw saw the return of two missing Superstars.
---
The Royal Rumble was a massive event that set the course for the next two months of WWE programming heading into WrestleMania, but things didn't stop there. Monday's edition of WWE Raw featured lots of story developments and a few surprises. In addition to learning who Rhea Ripley will face at WrestleMania, WWE also set up two Elimination Chamber matches. Also on Raw last, two stars returned. Rick Boogs is back and on WWE Raw, and so is Carmella.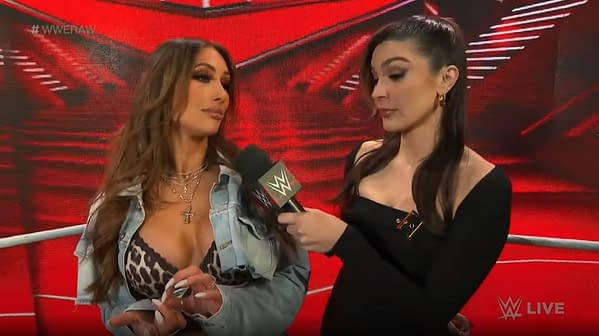 Carmella will compete next week in an Elimination Chamber qualifying match, but she showed up on WWE Raw last night for the first time since getting injured last Summer to cut a promo about the match and tease some friction with Asuka.
Boogs, meanwhile made his return to WWE after being away since last year's WrestleMania, and his return is off to a great start with a victor over TheMiz. Hopefully, during his time away, someone has taught Boogs how to tune his guitar.
Also on WWE Raw last night, we heard from Royal Rumble winner Cody Rhodes, who will face Roman Reigns at WrestleMania. Though before that, it's rumored Reigns will face Sami Zayn at Elimination Chamber. Maybe we'll learn more about that on Smackdown this Friday.
And Becky Lynch rectified a great injustice, using a steel chair to get a new date set for the cage match between herself and Bayley that was unceremoniously bumped from last week's Raw 30th-anniversary show. Lynch and Bayley will go one-on-one in the cage next week on WWE Raw instead. Better late than never!