WWE Raw: Rhea Ripley Chooses Charlotte Flair for WrestleMania Match
Following her Royal Rumble win on Saturday, Rhea Ripley wasted no time in choosing her WrestleMania opponent on WWE Raw: Charlotte Flair.
---
Another main event is set for this year's upcoming WrestleMania. On Saturday at the Royal Rumble, Cody Rhodes won the men's Rumble match, securing him a world championship match at WrestleMania. Roman Reigns successfully defended the WWE Universal Championship against Kevin Owens in the main event that night, so Rhodes vs. Reigns for the title was set for "the grandest stage of them all." But since WWE Raw and Smackdown maintain different women's world championships, women's Rumble match winner Rhea Ripley was left with a choice: challenge Raw Women's Champion Bianca Belair, or take on Smackdown Women's Champion Charlotte Flair. On last night's episode of Raw, Ripley made her choice: she's going for "The Queen."
"I advise you to enjoy everyone rising and bowing down to The Queen, because they're about to rise to Rhea Ripley," Ripley told the WWE fans in Tulsa, OK. "At WrestleMania, I put you in your place. Charlotte Flair, I choose you."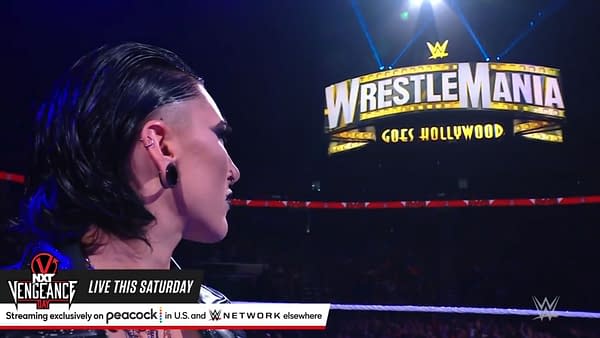 Ripley's swift decision avoids the drama of a Rumble winner dragging out their choice and lets WWE get right to booking the match, which is two months away. That will allow WWE properly showcase the history between Ripley and Flair. And what a history it is! It won't be the first time the two women clashed at WrestleMania, as Flair chose then-NXT Champion Ripley as her WrestleMania opponent in 2020 after winning that year's women's Royal Rumble match. Ripley lost that bout, and the championship, and Ripley never even got revenge, as Flair eventually lost the title to Io Shirai in a triple threat match with Ripley being the one to take the pin at NXT In Your House.
In 2021, then Raw Women's Champion Ripley won a triple threat match at WrestleMania Backlash against Flair and Asuka, though it was Asuka that Ripley pinned. Ripley survived another challenge from Flair at Hell in the Cell, winning by disqualification, but Flair succeeded at Money in the Bank that year, taking the title from Ripley by submission. Now, at WrestleMania this year, Ripley will get a chance at vindication as the long-running feud comes full circle at WrestleMania Goes Hollywood, taking place April 1st and 2nd in Los Angeles.