WWE SmackDown Live Review: MITB Go-Home Ep Too Much of a Good Thing
This week's Money in the Bank go-home episode of WWE's SmackDown Live was full of superstars on their quest to Money in the Bank. Overall the show had some excellent highs but did seem crowded at times. Let's dive into what happened. Mandy Rose and Sonya Deville jumped right into the action in this highly anticipated grudge match. After their friendship soured during WrestleMania, tensions have increased between the two. This has been one of the most intriguing storylines in current WWE lore. It has felt organic and real — thanks largely to the storylines creator Andrea Listenberger. Unfortunately, Listenberger was let go by WWE, but her storyline seems to still be handled exceptionally well. Deville, Mandy, Otis, and Dolph Ziggler have all gone above and beyond bringing this storyline to life.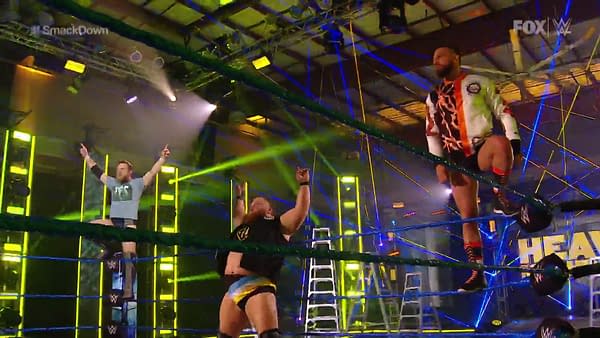 Deville looked absolutely dominant during this match. But Mandy wasn't taking a beating sitting down. Both performers have improved greatly in the past year, resulting in an engrossing and nail-biting match. In the end Deville won, but this won't be the last we see of this grudge. Our next match was an 8 man tag team match between the SmackDown Tag Team Champs the New Day alongside Lucha House Party, who went against Miz, Morrison, and the Forgotten Sons. There was some very real talent in this match, creating an exciting atmosphere. Each team looked great and sold each other's respective moves well. In the end, Miz, Morrison, and Forgotten Sons took the win. These four teams will face off again at this Sunday's Money in the Bank Pay Per View for the Tag Team Titles.
Jeff Hardy made his return to SmackDown this week. An excited yet humbled Hardy is back and ready to face opponents. As he was talking, Sheamus was backstage mocking him before coming out to the ring. The two duked it out, with Hardy taking the win. To Sheamus' credit, he made Hardy look strong and ready for anything. The best promo of the night came from Bray Wyatt. After the Universal Champion Braun Strowman called Wyatt out, Wyatt interrupted him telling him to come home. Strowman seemed a little awkward on the mic, but Wyatt is such a natural in his character that he's able to carry everyone else around him. This would have played extremely well with a live audience, but what can you do. Wyatt and Strowman will face off this Sunday at Money in the Bank over the Universal Championship.
SmackDown Women's Champion Bayley and Sasha Banks went up against Tamina and Lacey Evans, furthering their respective grudges. Tamina is naturally a dominating force, and Banks and Bayley sold her moves effectively well. Evans has been growing better with each match, but she still seems like the weakest link in this equation. Evans and Tamina took the win. Bayley and Tamina will face off at Money in the Bank for the SmackDown Women's Championship.
We also got a lovely backstage interview with Carmella and Dana Brooke. Both women will be in this Sunday's Women's Money in the Bank ladder match. It's good to see Dana getting a bigger spotlight, and having her teamed with Carmella is a huge help for her character. I sincerely hope we see Dana in a bigger role after this PPV.
The main event of the night was a six-man tag team match between Daniel Bryan, Drew Gulak and Otis vs King Corbin, Cesaro, and Shinsuke Nakamura. Unfortunately, after a night full of mostly thrown together teams in an effort to get as many superstars in an episode, I was exhausted. The men competing did their best, but it just seemed like too much.