"WWE SmackDown": Strong Combo of Wrestling, Promos & Replays [REVIEW]
It's the road to WrestleMania, and WWE SmackDown is moving storylines right along. We opened with the SmackDown Women's champ Bayley and her best friend Sasha Banks. Joining the pair was Lacey Evans and Tamina. The four cut a passionate promo, which ended with Evans on the mat, Tamina looking angry, and Bayley and Banks running away.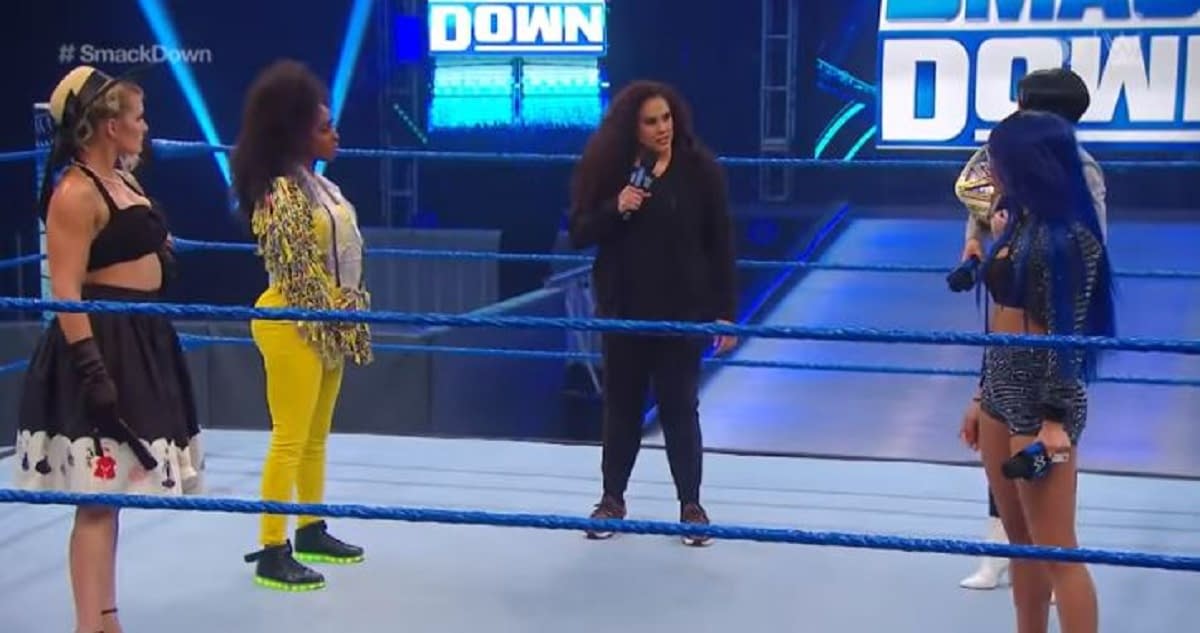 Without wasting more time, we then got our first match of the evening, Shinsuke Nakamura against Drew Gulak. If Gulak wins, Daniel Bryan can face Sami Zayn for the Intercontinental Championship at WrestleMania. This match was really quick, but beautifully executed. Gulak took the win, so it looks like Zayn and Bryan will be facing each other at WrestleMania.
We then got an exceptional backstage promo between Dolph Ziggler, Tucker, and Otis. It looks like we'll be getting a match between Otis and Ziggler, all over Mandy Rose. I've actually really enjoyed this storyline, and can't wait to see how it ends. After that we got a new song by Elias. Tonight's song was dedicated to Baron Corbin, whom Elias will be going up against at WrestleMania. This was another delightful promo, one that you should really not miss. Why? Well we get a nice image of toilet paper with Corbin's face on it, while Elias sings about what a turd Corbin was. This is why wrestling is great.
Asuka and Alexa Bliss faced off tonight. Both performers excel in the ring. Bliss is a great in ring story teller, as well as one of the best at delivering a solid promo. Asuka herself also excels at both — and I simply love that she yells in Japanese. On commentary during this match was the always enchanting Nikki Cross. This match should have honestly been the main event. Asuka and Bliss play off of each other perfectly. There's honest to God chemistry between the two, making this one of the better rivalries going. Bliss took the win.
We got a backstage promo from The Usos, before WWE reminded us that we were almost to WrestleMania — which, if you haven't heard, is now two nights.
We then got the WrestleMania 32 match between Triple H and Roman Reigns. I have to say, seeing Stephanie McMahon introducing him, using her "intimidating" voice, made me realize how much she sounds like her dad. It's actually really unnerving.
After the match, WWE reminded us that Goldberg and Roman Reigns would be facing off at WrestleMania (at least until next week…). We then got a fun promo from The New Day, before going back to Ziggler and Mandy continuing the storyline with Otis. I have a feeling Mandy is going to go running into Otis' arms at WrestleMania.
Finally, a new segment of Firefly Funhouse. This one is decidedly creepy, with Bray Wyatt talking to his face lantern, and Abby. He then does an interesting cooking segment, filled with self loathing, rage, resentment, and a carrot. Cause you need to see John Cena — except instead of the carrot, Wyatt blends Rambling Rabbit into the concoction. This is really hilariously dark and I love it.
On a lighter note, The Miz and John Morrison joined Michael Cole for the main event of the evening: The Usos against The New Day. Does Kofi Kingston still need to throw pancakes tho? This was a great match, which is what we've come to expect from both teams. They both have a long history together, with a lot of chemistry. The match ended in a disqualification. Also, I fully support having Miz on commentary forever.
In closing, let me leave you with these immortal words:
"We are turtleneck tough guys." –The Miz and Morrison