WWE Update: New Vince McMahon Lawsuit, Another Exec Departs & More
Another lawsuit has been filed against Vince McMahon, another long-time exec leaves WWE, and The Rock weighs in on the sale of the company.
---
News out of WWE continues to develop at a rapid pace. Following last week's news that a class action lawsuit has been filed against Vince McMahon on behalf of stockholders due to his forceful return to power as Chairman of the Board, yet another suit has been filed, this time by the Detroit police and firefighters' retirement fund, according to Sportico. The lawsuit, like the previous one, claims McMahon violated his fiduciary duties when he used his majority voting power to put himself back in power and initiate a strategic review process, using a similar rationale as last week's suit. McMahon was forced to retire last year over sexual misconduct accusations and investigations into hush money payments to the accusers.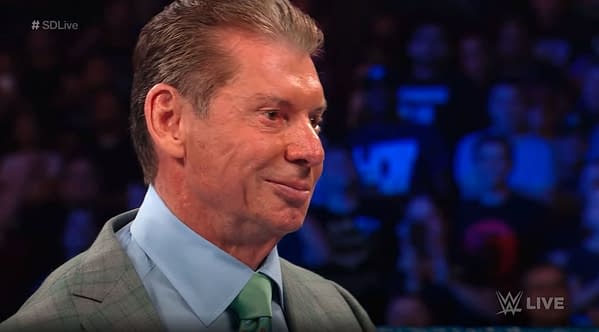 This isn't the first time McMahon has been sued by the retirement funds of public service, who seem to love to invest in WWE. The Oklahoma Firefighters pension system sued WWE in 2020, claiming the company dedicated resources to the launch of McMahon's XFL football league, though that lawsuit was dismissed a few months later. In another lawsuit by the Kansas City firefighters' pension, WWE settled for $39 million dollars. How this one ends may depend on whether McMahon succeeds in selling the company and making stockholders a ton of money or whether the stock price stays up until then.
In other news, another longtime executive has departed WWE in the wake of McMahon's return. Following last week's resignation of Stephanie McMahon as Chairwoman and Co-Ceo, longtime Vice President of Communications Adam Hopkins, who had been with the company since the Attitude Era, left the company last week, according to a report by PWInsider. The report claims those inside WWE were shocked by the departure, but that's like saying the fictional residents of the Marvel Universe were surprised by a super-mega-crossover event shaking their universe to its core leaving nothing the same again. At this point, this sort of thing has got to be seen as business as usual. No reason was given for Hopkins' departure, though PWInside claims he's not the only person to leave WWE PR last week.
Finally, The Rock has weighed in on the sale of WWE… and surprisingly, not to say he's buying it. While Dwayne Johnson won't be bailing out WWE like he did the XFL, he did have some kind words to say about WWE and Vince McMahon in an interview with CNBC promoting his energy drink… we think. To know for sure, you'll have to decipher some very heavily sanitized PR speak that does its absolute best to avoid taking any particular stance whatsoever. Are we sure that the presidential campaign is just a storyline for the TV show?