Every year, Bleeding Cool runs its Top 100 Power List of members of the comics industry. And every year we get told how wrong we are. Somehow, it's always for completely different reasons and from completely different directions. Why was X in when Y was not? Why is Z is high when W is so low? And neither U or T should be on this list after that incident involving V…
But that's part of the fun. This attempt to list the most powerful people working in the English-speaking comic book marketplace is, of course, flawed. It is judged by all manner of attributes, the ability to influence what comics exist and sell, but also the willingness to use that power in the industry to affect things, and the ability to retain said power if a job is taken away. Which is why you will see a number of people on a higher spot than their bosses.
The Power List rewards those who combine roles, creator, publisher, distributor, retailers, those who are double and triple threats, and also where power is concentrated in one person rather than being spread out among many. Some powerful organisations or groups, where power is diffused amongst many individuals, drop down or drop out altogether.
It does not measure talent or likeability, and it does not intend to represent diversity. All it does is note power, used for betterment — or detriment — in comics.
The list was created in consultation with a number of senior figures in the comics industry, and I thank them for their help. Although because they all disagree, they'll all think the final list is wrong, too.
Watch for new batches every day.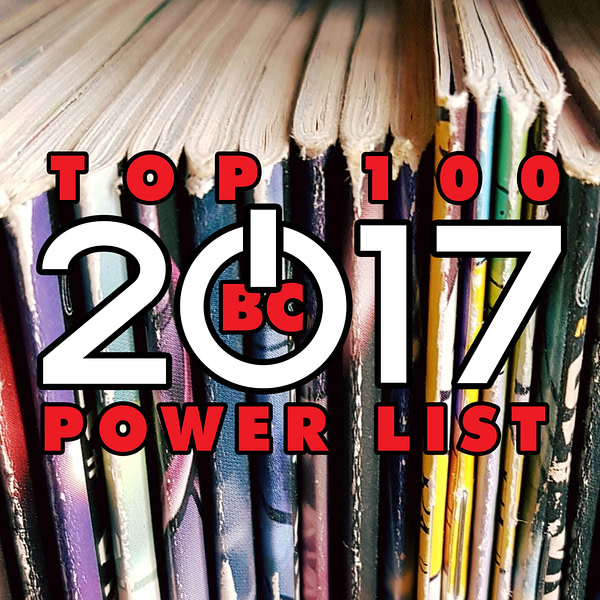 36. Tyler Kingkade, Jay Edidin and Jessica Testa – Authors of the Buzzfeed article that forced DC Comics to fire Superman Group Editor Eddie Berganza after uncovering allegations of sexual harassment from a number of ex-DC employees.
37. Fae Desmond – Executive Director at Comic-Con International, organisers of San Diego Comic-Con, and with the event since 1985, she makes the whole show work. The limited size of the show forced on it by the venue means she picks and chooses – and by doing so becomes a gatekeeper for much that will happen in the industry in the year ahead, from this focussed chance at exposure.
38. Mike Armstrong– the man who runs NYCC for ReedPOP, with special attention to the comic book side. As well as owning C2E2 and many other shows, Reed also bought MCM Comic Cons this year – at least the UK side of it, increasing their global footprint.
39. Sean Murphy – always a popular comic book creator, it was his work on Batman: White Knight that saw his name rise so much, as it often beat out the established titles to the top of the charts. A strong fanbase and a comic industry education programme he runs only add to his prominence.
40. Simon Kinberg– Fox's mutant man, knee deep into the movies and the TV shows and the one who has the best chance of holding it all together. With three X-Men films in 2018, and Disney buying Fox, his decisions will impact more on the Marvel X-Men comics line than ever before.
Previous listings: