Fear the Walking Dead Season 4, Episode 8 Review: Had Its Moments But Time to Move On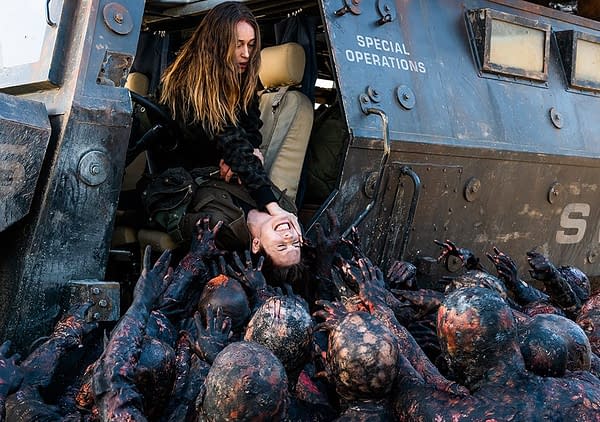 After seven episodes and eight weeks, Bleeding Cool's weekly review of AMC's Fear the Walking Dead season 4 has finally reached the summer break with mid-season finale 'No One's Gone.' Without giving too much away, let me just say this: it wasn't bad…it wasn't great…but it's time for the series to start moving forward and stop looking back.
Just to be clear… I'll be covering some themes and takeaways involving major and minor plot points from the episode, so just keep that in mind. Definitely not looking for pitchforks and torches outside my apartment so spoiler warnings as you check out our review of 'No One's Gone,' followed by the official trailer and synopsis… let us know what you think!
Fear the Walking Dead s04e08 'No One's Gone': Madison fights to preserve the life she worked so hard to build; Morgan tries to do the right thing.

In what might turn out to be the most heart-wrenching moment in the series' run, Madison (Kim Dickens) defends those she loves from a walker tidal wave – but at what cost?
On a slightly "lighter" note, AMC offers a behind-the-scenes look at how the show pulled off that righteously awesome "walker flambe'" scene:

In season 4, we will see the world of Madison Clark (Kim Dickens) and her family through new eyes — the eyes of Morgan Jones (Lennie James), who is joining the story from the world of The Walking Dead. The characters' immediate pasts mix with an uncertain present of struggle and discovery as they meet new friends, foes, and threats. They fight for each other, against each other and against a legion of the dead to somehow build an existence against the crushing pressure of lives coming apart. There will be darkness and light; terror and grace; and the heroic, mercenary and craven, all crashing together toward a new reality for Fear the Walking Dead.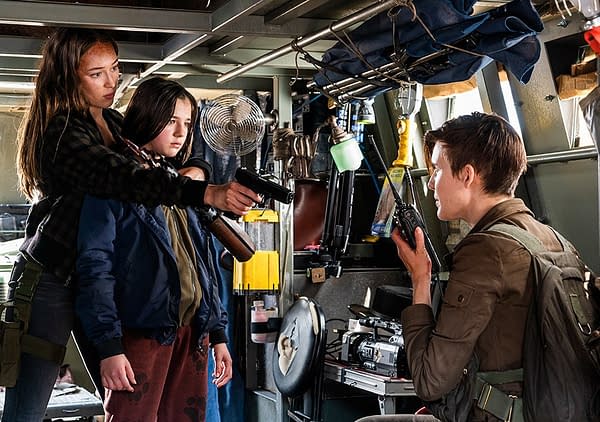 AMC's Fear the Walking Dead's fourth season stars Kim Dickens, Frank Dillane, Alycia Debnam-Carey, Colman Domingo, and Danay Garcia; as well as new series regulars Lennie James, Garret Dillahunt, Jenna Elfman, Maggie Grace, and Kevin Zegers. Produced by AMC Studios, the series is executive produced by Scott M. Gimple; showrunners Andrew Chambliss and Ian Goldberg; Robert Kirkman; David Alpert; Gale Anne Hurd, and Greg Nicotero.