Gotham Season 4, Episode 21 Recap: One Bad Day
This article contains spoilers for Gotham season 4, episode 21, 'A Dark Knight: One Bad Day'.
.
.
.
.
.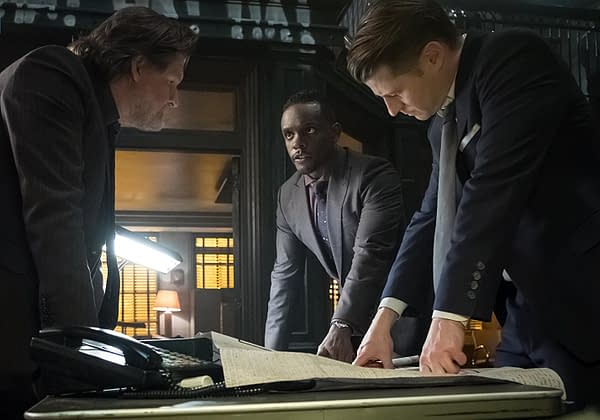 We were told going into this episode that it was going to be their take on Batman: The Killing Joke, the iconic graphic novel by Alan Moore and Brian Bolland. I figured they'd be playing on the part where the Joker believes that it take just one bad day to turn someone like Jim Gordon into someone like him. I also figured that they wouldn't be doing the shooting of Barbara Gordon part, since there really wasn't a Barbara Gordon in the series. Turns out I was right and wrong.
The episode starts with everyone assuming Jim Gordon (Ben McKenzie) is dead. The GCPD isn't doing anything as they are in shock, and they aren't listening to Harvey (Donal Logue) because he lost their trust after the Pyg incident. Jeremiah Valeska (Cameron Monaghan) shows up at the station with Jerome's followers now done up as soldiers. He tells Harvey that he wants to rebuild Gotham but needs a blank canvas, and that folks have six hours to evacuate before he blows everything up. He then blows up the clock tower to prove he isn't bluffing.
After that, Jeremiah calls Bruce (David Mazouz) and tells him that he has Alfred (Sean Pertwee) and Bruce is to meet him at a warehouse and not tell the cops. Penguin (Robin Lord Taylor) and Grundy (Drew Powell) enlist the aid of Barbara (Erin Richards) and Tabby (Jessica Lucas) in a plan to get money out of the situation by confronting Jeremiah.
Jim is alive and being nursed by Lee (Morena Baccarin). He takes a map off of Jeremiah's desk that Nygma (Cory Michael Smith) deciphers into the location of the bombs. Lee wants to use the information to clear their name, but Jim escapes and gets the info to the GCPD.
Penguin and his crew confront Jeremiah, demanding $50 million for the device that blows up all the bombs, but Jeremiah blows it up instead. He has all the bombs linked so if he blows up the first one it will then signal the rest to blow. Realizing their losing hand, Penguin calls the information into Harvey. Now the GCPD has the locations and Lucius (Chris Chalk) figures out that if they disarm the first one, none will go off. Harvey heads to meet the bomb squad at the first bomb while Jim goes on television to announce that he is still alive, trying to turn Jeremiah's followers against him.
Bruce asks Selina (Camren Bicondova) to go with him to save Alfred, and she does. He goes in and we see that Jeremiah had Scarecrow (David W. Thompson) make up some insanity gas for his "best friend" and they're pumping it into the warehouse while showing scenes of Alfred getting tortured. While this is happening, Selina sneaks in and finds the Scarecrow and his men, fights them, and the Scarecrow bails. She then finds Alfred and shuts off the gas.
Bruce is attacked by someone who he thinks is Alfred. The guy ends up falling to his death. Selina and Alfred get Bruce clear and thinking straight again. Harvey gets to the bomb, but the bomb squad is stuck in the traffic, so he has to do it himself. But there are two circuits instead of one as the designs call for, so Harvey has to guess. He guesses right and nothing happens when Jeremiah throws the switch. The followers turn on him, but he expected it and kills them with fire. He then tries to figure out how to get the bombs to go off — only to be visited by Ra's al Ghul (Alexander Siddig), who convinces him to work together because of Bruce.
The episode ends with Jim going to Lee and telling her to leave town alone and get a fresh start. Edward watches on and doesn't seem happy. Back at the mansion, Bruce kisses Selina and he mentions that maybe the gas didn't work on him because he was already a little insane because of his parents' murder. Jeremiah appears and shoots Selina in the stomach. Bruce rushes to help her while Alfred beats the crap out of Jeremiah. We see Selina bleeding badly.
The Verdict
I'm a bit surprised that the bombs didn't go off, as the expected 'No Man's Land' storyline coming up would've made perfect sense with Gotham in rubble. Ra's and Jeremiah working together was a surprise as was Selina getting shot, but they flipped the script completely and put Bruce in the role that Gordon was in the comic, so changing Barbara to Selina makes sense. But will the put Selina in a wheelchair as they did with Barbara?
Overall this was a strong episode offering redemption for Harvey, closure for Jim and Lee, a chance for almost everyone to be doing something and all centered around Jeremiah… and that's where the episode is weak. Jeremiah is not Jerome. He's just not as fun to watch. Where most people felt like Jerome was the Joker, Jeremiah doesn't have that same feeling.
What's Next
And to address the elephant in the room, will there be a season 5? Latest word is that the future of Gotham may rely on Lethal Weapon. If Lethal Weapon, from the same studio as Gotham, can find a replacement for fired Clayne Crawford, then Lethal Weapon will be renewed, otherwise they'll pick up Gotham for another season. The president of Fox said previously they wanted to keep Gotham, but it depended on the schedule, and that the Thursday night slot would no longer be available because of NFL football. So the idea that the two series are fighting for the last open spot seems plausible.
https://youtu.be/H8azpNt-ANM