This article contains spoilers for Marvel's Luke Cage season 1, episode 7, 'Manifest'.
.
.
.
.
.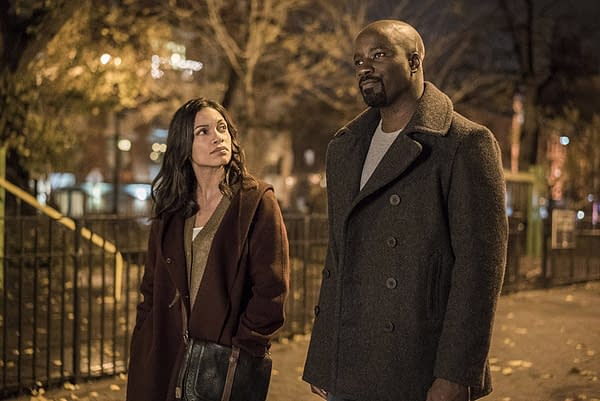 The episode starts with Luke Cage (Mike Colter) rolling up on a gun sale. The thugs run off and leave the guns when they see him. But one of them tells him that Cornell "Cottonmouth" Stokes (Mahershala Ali) is getting out of jail. At the police station, Misty Knight (Simone Missick) confronts Cottonmouth before he leaves, showing that she won't be giving up.
Cottonmouth then has a meeting with Hernan "Shades" Alvarez (Theo Rossi). Domingo got his guns back, so everyone should fall back in line, but the street trade is a mess because of Luke. Cottonmouth wants that Judas bullet and wants to talk to Diamondback to make it happen. Turns out that without Scarfe to back the evidence, there was no case against Cottonmouth and the mortician who burned the bodies is taking the hit rather than talking. Claire Temple (Rosario Dawson) challenges Luke to do something about it — that he could make a difference like Daredevil in Hell's Kitchen. That's when Cottonmouth calls and wants to meet with Luke. And at the precinct the captain is sent packing and Misty's former co-worker, Inspector Priscilla Ridley (Karen Pittman) is brought in. Ridley pushes Misty to look at how all of the crimes have one person in common: Luke.
Mariah Dillard (Alfre Woodard) gets a visit from Damon Boone (Clark Jackson), who is trying to push her off the city council, and as he leaves, Shades comes in the back way to talk to Mariah. We get a flashback to when Cottonmouth and Mariah were young and being raised by Mama Mabel (Latanya Richardson Jackson) and Uncle Pete (Curtiss Cook), and we see young Pop come by with another guy to drop off some cash. Mabel sends Pop away and then chastises the other guy for bringing drugs into the area — something she wants no part of. She cuts his finger off with gardening sheers and then has Pete finish him as Cottonmouth is forced to watch. He's traumatized by what he sees.
Luke arrives and Cottonmouth plays his new card — that he knows Luke is Carl Lucas. He says he now owns Luke or he'll be going straight back to Seagate. Luke seems stunned, not sure what to do. Shades talks to Mariah about what the Stokes name used to mean, the respect that it carried, and how it's now all about a washed-up gangster and an empty politician. But he pushes Mariah, telling her that she'll be amazed at how capable she is once she gets the nerve. Luke heads back to the barbershop and starts packing up, saying he's going to leave town. Claire confronts him again, telling him that if he runs now he'll always be running. But he could stand and make a difference.
Shades goes to Cottonmouth, and we find out that Diamondback has plans for Luke. We also get a flashback of Cottonmouth and find out that Uncle Pete was making a deal with Salvador while young Cottonmouth was hanging out with young Domingo. Cut back to now and Luke goes to pay a visit to Domingo Colon (Jacob Vargas). He busts up the gym a bit then threatens Domingo until he gives up the guns that he got from Cottonmouth.
Meanwhile one of the NYPD computer techs realizes that Luke Cage has a made-up ID and shows Misty. Mariah gets word that she's being forced to resign from the city council, and this upsets her greatly. We cut back to one more flashback as Mama Mabel confronts Uncle Pete about his deal with Salvador. She has Cottonmouth pull a gun on him and they all go outside. Mariah joins them and we find out that Uncle Pete had been doing things to her. Cottonmouth shoots him twice — his first kill.
Mariah shows up at the club and they get into a fight about how Mama Mabel forced him to run the streets while she got sent to boarding school. How she forced him to kill Uncle Pete, the one person who had his back. Mariah talks about the things Pete did to her and Cottonmouth says he saw her flirting with Pete — that she wanted it. Mariah hits him with a bottle then pushes him through the glass window. Cottonmouth falls to the floor below. Mariah follows him down and beats him to death with a microphone stand, all the while screaming, "I didn't want it!"
Shades comes in, impressed that Mariah stepped up, and he suggests blaming Luke for Cottonmouth's death. Luke takes the Hammer guns to Misty and she wants him to tell her everything, but he tells her that he's going after Cottonmouth and she needs to be ready to move when he does. And that he should kill him, but he won't. He wants Cottonmouth to suffer. Ridley tells Misty that getting the guns back doesn't get her out of the doghouse and she gets a call, likely that Cottonmouth is dead.
We cut to Luke and Claire walking through the park and he's telling her about his escape from Seagate and how his father sees him as a disappointment because he went to jail, regardless of the circumstances. Luke says he's not running anymore and that he didn't mean to be a hero. And if Claire gets involved, she could get in trouble if Cottonmouth talks or anyone else figures out he's Carl Lucas. He mentions getting a mask, and Claire tells him no — the reason the people of Harlem are behind him is because they see who he is. Too much happens in the shadows. She mentions how she may have a lawyer friend who can help. Then we see Willis "Diamondback" Styker (Erik LaRay Harvey) for the first time. He fires a sniper rifle and hits Luke with the Judas bullet, which penetrates his bulletproof skin and he drops to the ground.
The Verdict
You could almost predict how things were going to turn out for Cottonmouth here because of the flashbacks. Like earlier in the season when everything goes to hell because of Tone, you start to feel bad for him, like his life wasn't exactly his choice. And where you think this is going to end with Luke being arrested, they switch it up and have him shot… reminding us about the Judas bullet and the mysterious Diamondback. But it's also kind of strange that we lose Cottonmouth halfway into the series when he is one of the most compelling villains we've gotten since Wilson Fisk.
It's interesting how much Claire gets to Luke and forces him to be a better person. I think it's a good aspect, but it seems a bit rushed, like maybe that connection hadn't quite been earned yet. For those who have already watched the series and are reading these to refresh before season 2, you know that this is where the tonal shift of the season takes place and the story definitely misses Cottonmouth going forward.
Enjoyed this article? Share it!