Posted in: Movies, Netflix, Review, TV | Tagged: entertainment, Marvel's Luke Cage, Mike Colter, Mustafa Shakir, netflix, television, Theo Rossi
---
Marvel's Luke Cage Season 2, Episode 12 Recap: Can't Front On Me
This article contains spoilers for the Marvel's Luke Cage season two episode – Can't Front On Me.
.
.
.
.
.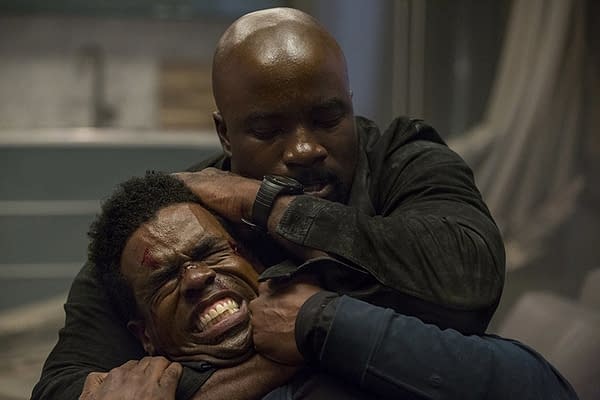 This episode starts at a part where a couple takes a new drug stamped as "Bushmaster" and they end up becoming overly aggressive and have to be pinned down by other people. D.W. Griffith (Jeremiah Craft) was there and pushes Luke Cage (Mike Colter) to get involved. Sugar (Sean Ringgold) let's Luke know that Mariah made a deal to let the Chinese's sell heroin in Harlem, labeling it "Bushmaster" to help draw him out. Meanwhile Mariah Dillard (Alfre Woodard) sets up a meeting of the bosses at an auction house and we meet Rosalie Carbone (Annabella Sciorra), head of the Italian families. It's tense between Mariah and Rosalie, but everyone seems interested in moving into Harlem. As Mariah leaves we see that John "Bushmaster" McIver (Mustafa Shakir) is watching her. Hernan "Shades" Alvarez (Theo Rossi) is sleeping in the interrogation room while Misty Knight (Simone Missick) and Priscilla Ridley (Karen Pittman) figure out how to use his information against Mariah.
Bushmaster finds his way to where they're making the drugs but it's a trap and they pull out some big guns. But Luke drops in and the two fight side-by-side against all the thugs (with no killing) until the take them all down. Bushmaster pulls one of the Hammer Tech explosives to blow up the place, but Luke takes it away and contains the blast, leaving the evidence of the drugs for the cops while Bushmaster bails. We cut to Tilda (Gabrielle Dennis) visiting Cottonmouth's grave. She loved him and tells him that now she knows who she really is, it changes everything. Luke goes to see Mariah, tells her he shut down her lab and that when Bushmaster comes for her, Luke won't save her this time. Mariah tells Luke that he's the one man in her life she can count on, because he's a boyscout, a man of the people, and that he will save her. Luke tells her he's no longer on duty. He leaves and she makes a call wanting Harlem's Paradise filled to the rafters that night with a big party. Meanwhile Shades signs his deal with the Feds and starts to confess, going all the way back to his time at Seagate, beating up Carl Lucas and moving forward.
Tilda goes to see Bushmaster. She wants her mother dead and offers to get him into Harlem's Paradise through the prohibition tunnels. She's also brought him a concentrated dose of nightshade that should increase his strength… but may kill him. He thinks its worth it. Shades talks about Tone shooting up Pop's and how Cottonmouth reacts. The ADA seems interested in that Luke keeps coming up in the stories. At the barbershop Luke sees Mariah's plan to cause a big problem at the club to force look to stop Bushmaster to save everyone else and in doing so saving Mariah. But Luke is tired of it, of all the deaths because of Mariah. Luke finally gets what Claire was talking about, how he's always on edge waiting for something to happen. He's tired of having his heroism used against him by people like Mariah. Shades relays the story of Mariah killing Cottonmouth and then him killing Candace and how he used Misty's phone to lure her out. Shades is enjoying telling the stories until Misty brings up Anansi and then he gets choked up a bit. Misty gets him some water, we see her break down a bit but get her composure back before she returns. Shades tells the rest of the story including the death of Ridenhour and Comanche. Ridley had Comanche's mother observing and she goes into the interrogation room and spits on Shades. Misty tells Shades they need the gun or the whole deal goes away. We see that Bushmaster is going to go to the club with no backup, to end things and get justice. Luke is headed there too.
At the club we see Shades going in, likely to get the gun. Misty is already there. He goes up to see Mariah, tells her he's sorry. Luke arrives at the club as the KRS-One performance begins. Tilda shows Bushmaster the entrance, reminds him that it's supposed to just be Mariah, no one else is supposed to get hurt. Mariah takes Shades to the safe room. He tries sweet talking her, but she pulls her gun on him. Bushmaster take the full shot of concentrated nightshade, which he was only supposed to take some of the dose. Mariah finds Shades wire, but they see Bushmaster on the security footage before she can do anything. Luke tries to stop Bushmaster but he is too strong and kicks Luke out of the office window and knocks him cold. Bushmaster finds the safe room door and starts pounding on it. Shades tells Mariah to give him the gun and get behind him. She reluctantly does. Bushmaster knocks down the door, side steps the bullet and takes out Shades but Luke and Misty attack him. They fight like crazy. Shades, Misty and Luke taking turns until finally gets some good shots in on him. Luke gets Bushmaster into a choke hold and is on the verge of breaking his neck. Mariah egging him on to do it, but Misty pulls him back. Bushmaster breaks the hold and runs. He gets away. Shades picks up Mariah's gun and ends up giving it to Misty who arrests Mariah. They take her and Shades out leaving Misty and Luke in the office by the Biggie picture. Misty says, "Finally, a win." Luke says, "We have won anything, this isn't over yet "
Watching Shades confess may have been the most interesting part of this episode. You can tell the business like way he talked about the things with Cottonmouth, then the excitement he felt telling of the early days with Mariah to the sadness and revolution at the end. Also seeing Luke getting pulled around by his heroic nature, being forced to team up with the lesser of two evils constantly. Fighting with Bushmaster against the drug lab, fighting against him to save Mariah. No wonder he feels angry all the time, he's being pulled in every direction at once. Not sure that being arrested is a fitting end for Mariah… have to see how things wrap up in the last episode.
---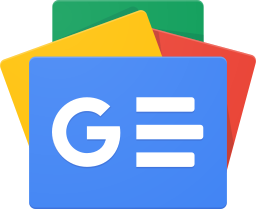 Stay up-to-date and support the site by following Bleeding Cool on Google News today!