This article contains spoilers for the Marvel's Luke Cage season two episode – All Souled Out.
.
.
.
.
.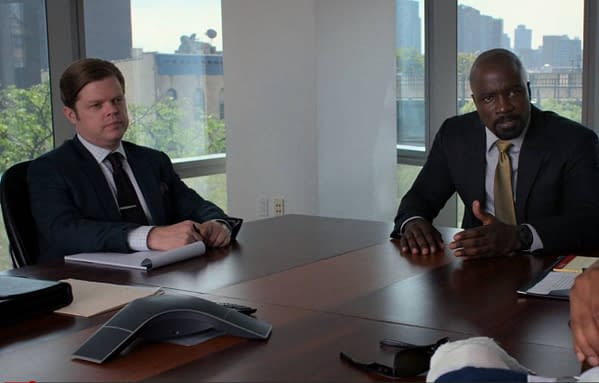 The episode starts with a deposition as Luke Cage (Mike Colter) and his attorney Foggy Nelson (Elden Hensen) take a statement from Dontrell "Cockroach" Hamilton (Dorian Missick). As Luke hear's Cockroach's version, he gets angry and snaps the conference table. Cockroaches lawyer gives them a number that will make the lawsuit go away, $100,000. Luke doesn't like it, but he won't do well in court. Mariah Dillard (Alfre Woodard) shows off the new clinic to her daughter Tilda (Gabrielle Dennis) and how it's in honor of pioneering Black woman including Mamma Mable. But Tilda questions that being Mable was a madam but Mariah talks about how she empowered those women and she wants Tilda to be the clinic's medical director. We get see Misty has accepted the bionic arm and its being programmed to work with the remaining nerve endings. Foggy calls Luke with a possible solution, a personal appearance offer, but Luke is hesitant. Misty shows up at the barbershop. Luke comments that her new arm is badass. She catches him up on what she learned about John "Bushmaster" McIver (Mustafa Shakir) and how he's after Mariah, which is confusing since he bought guns from her. Luke shows her the lawsuit and Misty feels bad because Cockroach is out because of her former partner, Scarfe. She tells Luke he could always call Danny Rand for help with the cash, but Luke says no. Luke makes some calls, Nike is hesitant because of the beatdown video. The NFL won't take him because then all the team would have to have an enhanced players and some guy wants him to fight a shark. He calls Foggy back.
Detectives Nandi Tyler (Antonique Smith) and Mark Bailey (Justin Swain) go to Mariah to ask her about Mark Higgins, who has gone missing. She tells them she bare spoke to him the last time she saw him, but Tilda is there and knows different. Tilda also turns down the medical director job. Hernan "Shades" Alvarez (Theo Rossi) is worried because they can't find Bushmaster and one of their people didn't show. He tells Mariah he wants her out of town, but she isn't taking the Bushmaster threat seriously. Mariah tells Shades to start thinking about his legacy, so he asks to buy Harlem's Paradise from her, but she refuses. She tells him that Higgins is missing, but they had nothing to do with it. Misty goes to tell Cockroach to back off of Luke, but it doesn't go well. Foggy and Luke go to visit the superfan who wants the appearance. Turns out it's Piranha Jones (Chas Lamar Shepherd), Mariah's business consultant. He has a wall dedicated to Luke with objects Luke broke, a door with bullet holes in it and a Seagate prison uniform that Luke says is fake. Luke makes a deal to be there for $150,000 because he sees a picture of Piranha and Maria in his office. Shades is worried about their missing guy, ask Comanche (Thomas Q. Jones) to find him while Shades goes to Piranha's party.
Misty looks through the old case the sent Cockroach to prison and she flashback to when she and Rafael Scarfe (Frank Whaley) were in his place looking for a gun he killed someone with. She looks back and thinks that maybe Scarfe did plant the gun they found, she talks to Captain Ridenhour (Peter Jay Fernandez), but his attitude is move on and find a way to live with it. But it bothers her. Luke gets ready for the party, but part of the deal is he has to wear a hoodie with bullet holes Piranha provided. Foggy goes with him. People are snapping photos with him, someone breaks a bottle over his head and Luke lifts him, but the crowd loves it. Misty gets a call telling her the Cockroach's girlfriend is in the hospital from being punched. She claims it was an accident. Misty pushes her and the girl tells Misty that she's scared of Cockroach and it's obvious that cops can't do anything about him. Luke is not having fun having with Piranha, whose acting like Luke is his best friend. Piranha takes two girls up stairs, leaves look to guard the way telling him he's almost done.
Tilda confronts her mother about lying to the cops, tells her she wants the truth or she's gone. Mariah gives he the truth, all of it. Selling the guns to buy the stock on an insider trading tip and how their using that to go legit and to help people of Harlem. And that she had nothing to do with Mark Higgins disappearing. She leaves without reacting either way. Luke sees someone suspicious at the party. Misty goes looking for a file in Nandi's desk and finds a bottle of alcohol from back when she was working with Scarfe. She flashes back to a time that he told her about how to plant drugs on a suspect they know is guilty but can't catch. He made it sounds like a joke after. Out of the flashback, Misty goes into evidence an takes one of the Judas bullets and puts it in her pocket. Comanche meets with Ridenhour, tells him Mariah is going legit and to squeeze Ray-Ray, the missing guy, for answer. Ridenhour has no idea who Ray-Ray is. Misty lets herself into Cockroaches apartment, is about to plant the bullet but flashback to see Scarfe just after his son accidentally killed himself with Scarfe's gun. Scarfe was certain God was punishing him for all the bad things he did. She put the bullet back in her pocket, then sees blood on the ground and finds a decapitated corpse on the couch. Cut to Mariah cutting the ribbon on the new family center / clinic, Tilda shows up. Mariah opens the door and we see three heads on pikes. Mark Higgins, Cockroach and possibly Ray-Ray.
Back at the party, Luke sees Shades and they have a moment, asking about Bushmaster and the Jamaicans who Luke saw one of. Luke gets call on stage by Piranha who wants to shoot Luke as part of the party, but when the Jamaicans open fire, Luke takes out one, Shades takes out the other. Two more grab Piranha and try to escape. Luke stops them and Piranha begs for protection, Luke tells him that if he wants to "hire this hero" the price doubled.
There was no Bushmaster in this episode, so you got the feeling that something was brewing behind the scenes. Shades seemed to sense something was coming too. It was cool to see Foggy, reminding us that this is a shared universe. Misty's new arm looks cool, but there is a red button between her thumb and index finger that no one has even acknowledged and I'm dying to know what that does. And having Scarfe show up in the flashback was just a reminder of what a fun character he was, even for a bad guy. He always had great jokes.
Enjoyed this article? Share it!