Cinderella Gets a New Statue from the J. Scott Campbell Collection
J. Scott Campbell has given comic collectors some amazing comic over the years. From his work with Marvel and DC, we have seen some beautiful works of art with some of our favorite characters. As an artist though, he still has his own original work like his fairytale fantasy collection. With his talent and skill, he has faithfully recreated some iconic fairytales from over the generation in his own image. Sideshow Collectibles is bringing some of those fantasies to lief with fully 3D recreated statues. Cinderella is up next as she is show magically transforming into a process to get ready for the upcoming ball. This 16.25" statue is placed on top of a silver mirrored base that is decoded with pumpkins and flowers. Cinderella is shown magically gaining her dress from thin air and the sculpt of that feature is amazing.
The statue stays true to that J. Scott Campbell style and I love that. Sideshow really is bringing the artwork to life is an amazing way from the sculpt to the colors any fan of his work would be happy to own this piece. There is a Sideshow Exclusive that gives fans a special metal art print of the original design would which easily enhances the display of Cinderella. The statue is priced at $365 for the standard and $375 for the exclusive. Cinderella is expected to be released between April and June 2021 and pre-orders are already live you can find them located here.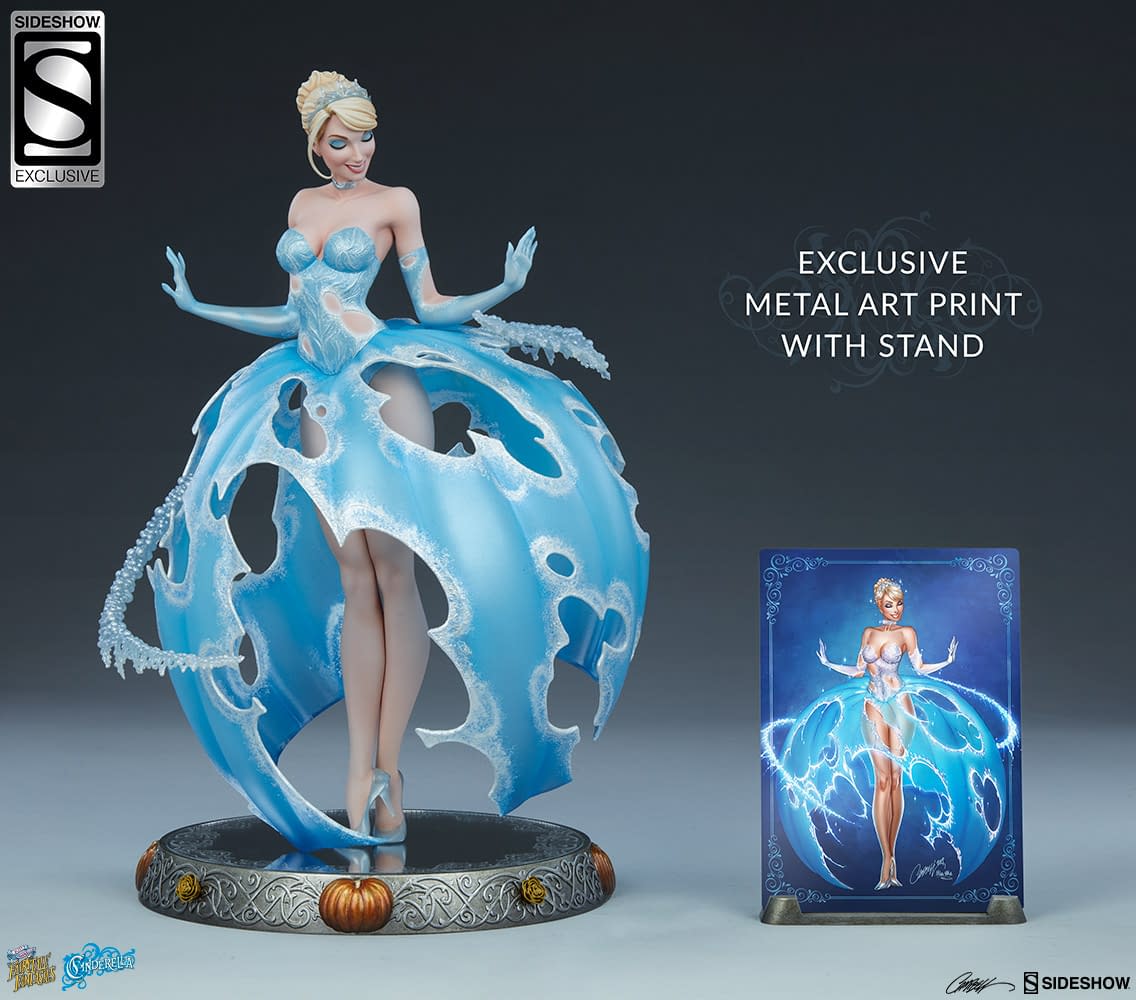 "A perfect fit! Sideshow cordially invites you to the royal ball, as the Cinderella Statue makes a new magical addition to fan-favorite artist J. Scott Campbell's Fairytale Fantasies Collection. Working closely with Campbell, Sideshow has translated his iconic art style into a stunning three-dimensional celebration of reimagined classic fairytale characters like Alice in Wonderland, the Little Mermaid, Tinkerbell, and more."
"The polyresin Cinderella Statue measures 16.25" tall atop a silver mirrored base decorated with floral filigree and pumpkin accents, hearkening back to her fairytale origins. Her shimmering blue ballgown magically materializes around her as she prepares to dance with the prince. From her tiara to her iconic slippers, Cinderella looks positively enchanting as envisioned by J. Scott Campbell as a part of this popular pinup series."
"The Exclusive Edition of the Cinderella Statue includes a metal art plate and matching stand featuring some of Campbell's concept design for the character, perfect for displaying alongside the statue or elsewhere in your collection. While she might not disappear at the stroke of midnight, don't miss your chance to bring home the Cinderella Statue to your collection of Fairytale Fantasies today!"