The Hulk really stepped his game up in Avengers: Endgame. He took on the full responsibility of changing Thanos is the universe wiping decision. It was almost like this is what he was made for. Hot Toys have recently announced a new 1/6TH scale Hulk Avengers: Endgame figure. The figure itself beautifully captures Mark Ruffalo's appearance as Doc Green from the movie. The Infinity Gauntlet is packed with features, from an LED light-up function, two different hand swaps and even has attachable pieces. Hulk/Doc Green also gets a couple of small accessories like a sort of tablet, pair glasses and he even does include a character backdrop. I would like to see a couple more accessories come out for this figure, like clothes options or a set of tacos. This figure itself still is something worth any collectors collection. This Hulk Hot Toys figure is perfect for any Hulk fan, Marvel fan or movie buff of Avengers: Endgame.
The Avengers: Endgame 1/6th Scale Hulk Collectible Figure from Hot Toys does not have a price or release date just yet. With the most recent releases, I would expect this to release in 2020. Stay tuned for more information I know when you can own this perfectly crafted Doc Green and Hulk figure.
Bruce Banner: "You saw what those stones did to Thanos, they almost killed him. None of you could survive."
Steve Rogers: "How do we know you will?"
Banner: "You don't. But the radiation's mostly gamma. It's like I was made for this."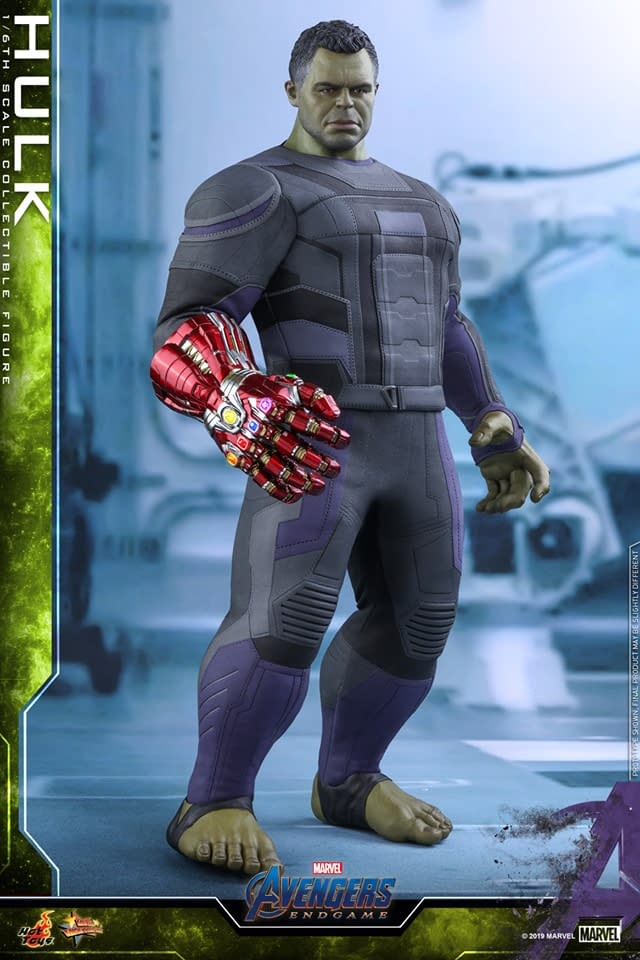 Avengers: Endgame – 1/6th scale Hulk Collectible Figure
"I put the brains and the brawn together… and now, look at me. Best of both worlds."
When the universe is in danger, Bruce Banner becomes the gamma-powered hero Hulk and smashes his way through the enemies of the Avengers. He continues to use his high-level intelligence and other high-tech tools to protect the universe from its latest intergalactic threat. Heavily inspired by the epic battle, Hot Toys is excited today to introduce the all-new 1/6th scale Hulk collectible figure from Avengers: Endgame!
Masterfully crafted based on Hulk's appearance in the movie, the highly-accurate figure comes with a newly developed head sculpt capturing his facial expression with impressive likeness. The figure also features finely detailed battle suit, LED light-up Nano Gauntlet offering two interchangeable hands include a hand with highly articulated fingers and a gestured hand with snapping fingers to recreate the iconic moment, an electronic device, a pair of glasses, and a specially designed figure stand with character backdrop. 
Don't pass up on this excellent opportunity to pick up The Big Green to show off your Marvel Cinematic Universe collection!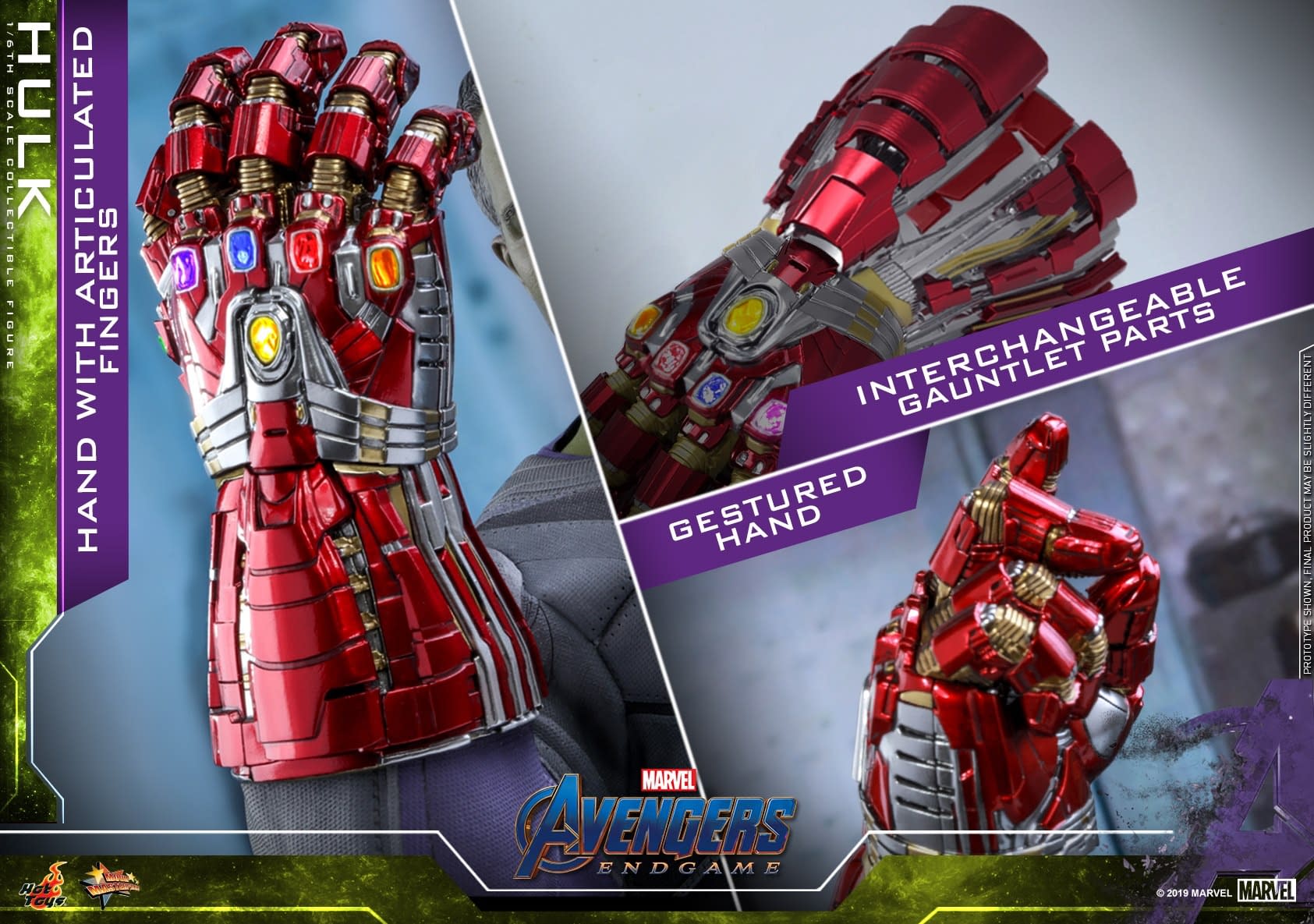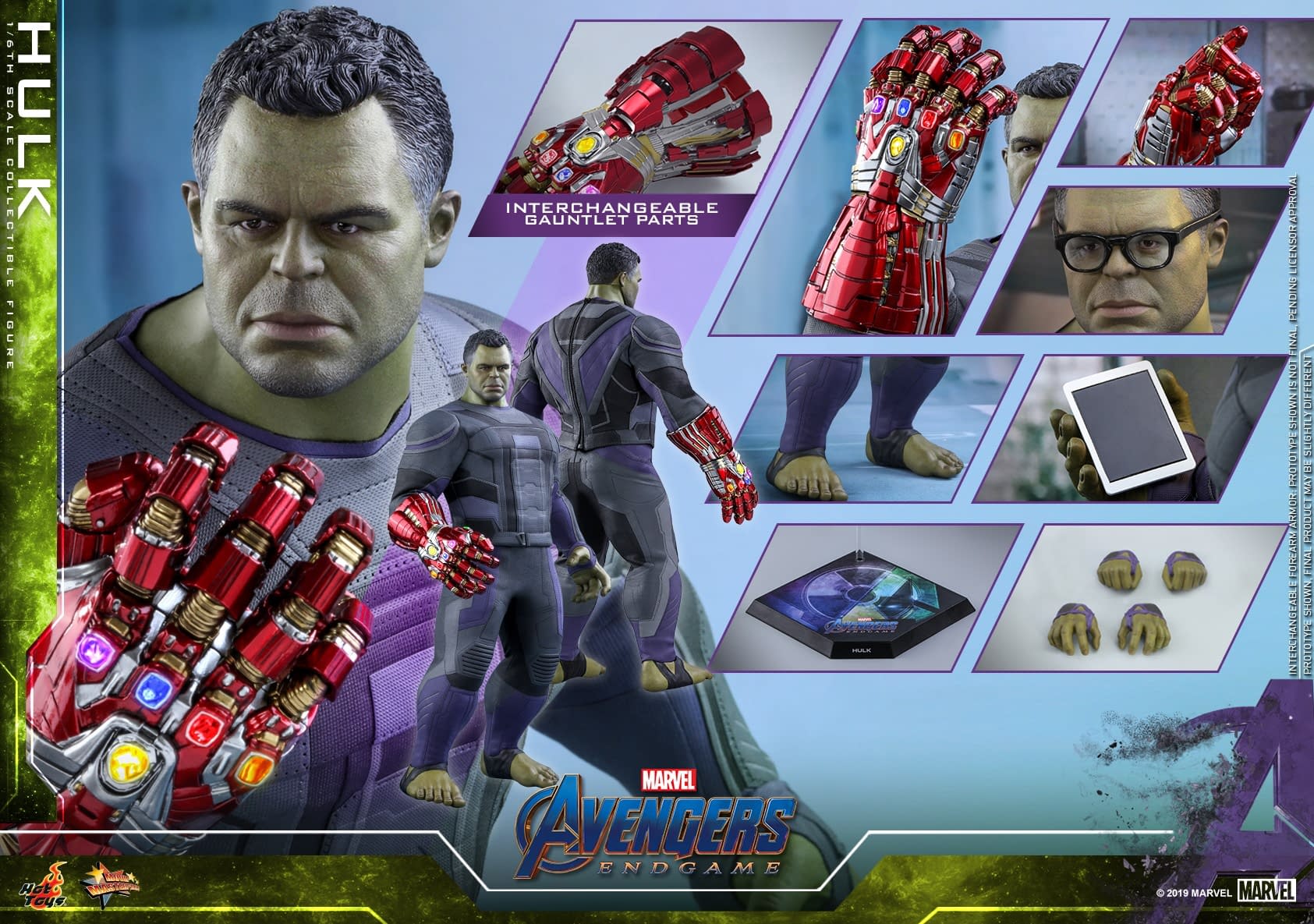 Enjoyed this article? Share it!