Kylo Ren is a troubled soul and Adam Driver brings the character to life. We are all excited to see how the end of the Skywalker saga will take Ford. Last time we saw Kyla Ren doesn't have a master and he is the new supreme leader of the first order. Now you can on the supreme leader with a new hot toys figure. There are a couple of new effects in this Hot Toys figure, unlike previous ones. This one will have two separate parts that have LED functions. The first one is a newly crafted battle-damaged helmet that will showcase the red lights glowing and the other one will be his lightsaber. He will have a secondary had that shows the on-screen likeness of Adam Driver's character. It's quite detailed And very realistic as you can even see the facial expressions in the details cars and even the skin text year. This figure showcase is over 30 points of articulation and comes with a nice variety of interchangeable hands to give you a wide variety of poses. This figure would go perfect with the upcoming Sith Troopers already announced by Hot Toys. I do like how the robe is a little thicker gives him a Game of Thrones vibe. The LED functions on this figure give it a more a life-like feel and I dig it. Fans of Kylo Ren or Star Wars should pick up this figure because who knows how Star Wars: The Rise of Skywalker is going to end.
The Star Wars: The Rise of Skywalker Kylo Ren 1/6 Scale Collectible Figure from Hot Toys does not have a release date or a price just yet. Basing it off of pass Hot Toys I'm assuming this would be around the $250 range. I don't expect pre-orders to go live until at least 2020 and you're able to find that through Hot Toys located here or through us when it goes live. Don't forget to check out the recently announced Rey figure also coming from Star Wars: The Rise of Skywalker.
It's time to embrace the full power of the dark side!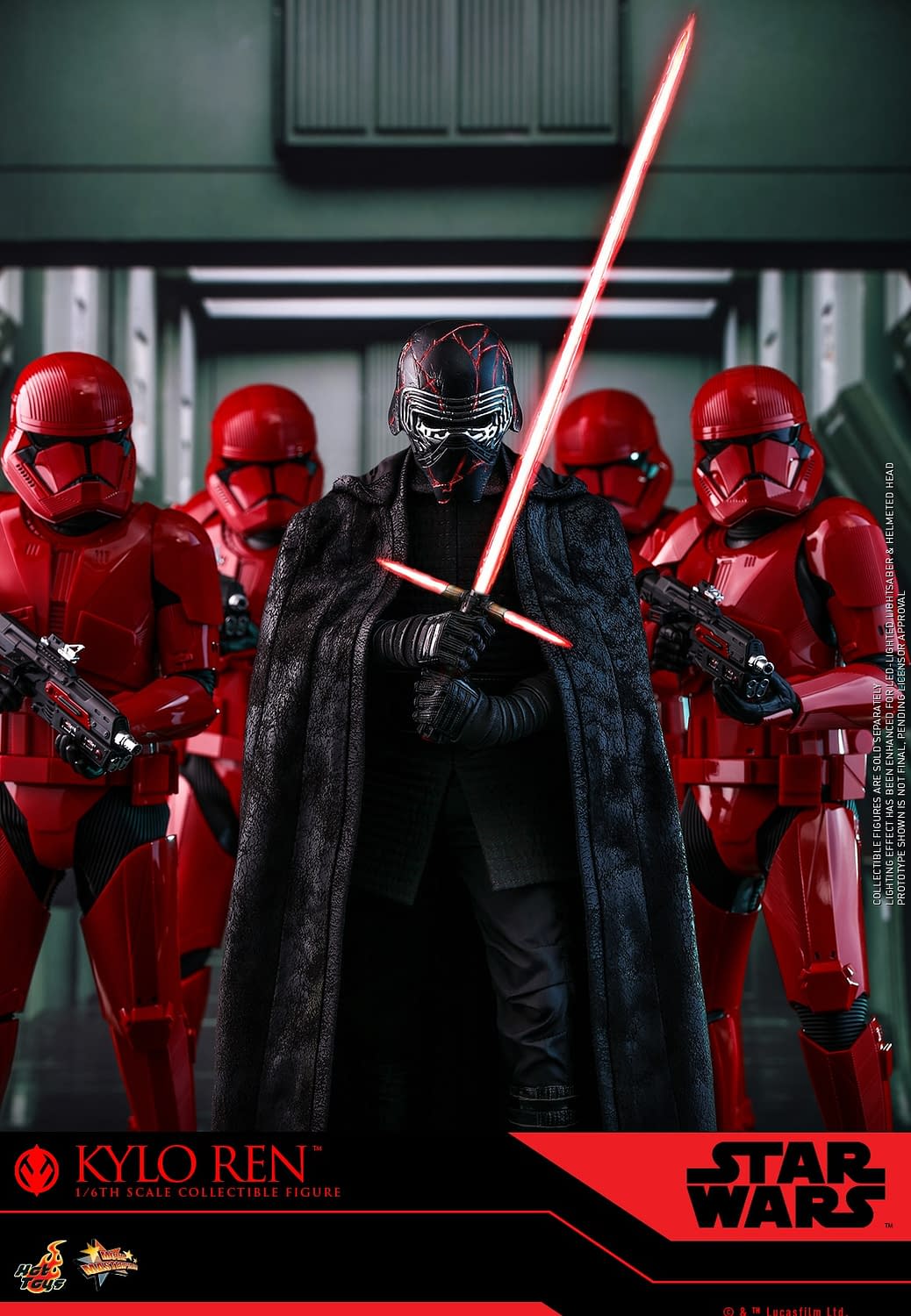 Star Wars: The Rise of Skywalker – 1/6th scale Kylo Ren Collectible Figure
The son of Han Solo and Leia Organa, Ben Solo was seduced by the dark side of the Force and renamed himself Kylo Ren, becoming the First Order's champion and Supreme Leader Snoke's student. Kylo killed his father and seeks to destroy his mother's Resistance and the remnants of the Jedi Order. Though a servant of the dark side, he still struggles against the pull of the light side of the Force.
Hot Toys is excited to officially present the new 1/6th scale Kylo Ren collectible figure from Star Wars: The Rise of Skywalker.
The highly-accurate Kylo Ren collectible figure is expertly crafted based on his appearance in Star Wars: The Rise of Skywalker. It features a battle damaged, breathing LED-lighted helmeted head, a newly developed head and hair sculpture with remarkable likeness, meticulously tailored outfit, a LED light-up lightsaber , an interchangeable lightsaber blade emulating the weapon in motion, and figure stand!
Expand your Star Wars collection with the new Kylo Ren collectible figure!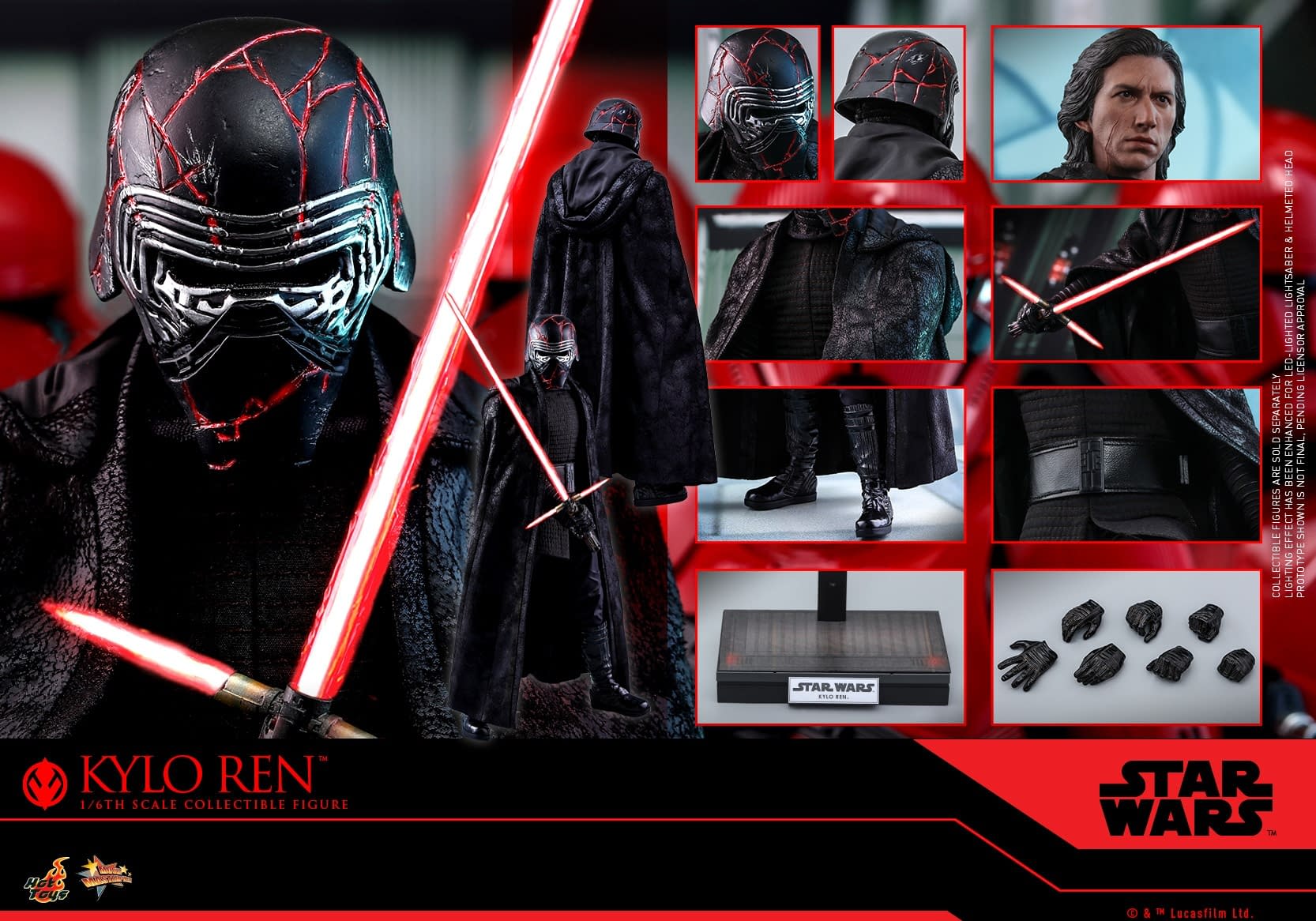 Enjoyed this article? Share it!