London Toy Fair is finally here and you what that means, Funko Pop reveals! Funko is easily one of the biggest collectible companies out there because they are creating collectibles for movies, shows, music, and comics that have never had anything before. That right there is their most unique factor for any collector. We are expected to see a lot of new and exciting stuff today and we all can't wait to see what Funko has in store for us. This time it looks like one of their first biggest reveals will be Cyberpunk 2077! That's right samurai its time to strap yourself in for a new futuristic story featuring Keanu Reeves as Johnny Silverhand. It looks like there will be five figures coming out in the first wave. One of them will be a Glow in the Dark GameStop Exclusive. We are getting both V-Male and V-Female Funko Pop figures and its the V-Male that will also be going to GameStop where I would assume his matchstick will light up. Kind of a sad use of the Glow in the Dark but at least it makes sense with the character. It would be a cool idea if they add this as an exclusive to come when you purchased the game, that sadly won't be out till September. Next, we are getting Takemura and not just one but two Jonny Silverhand Funko Pop vinyls that will surely be a must for any Keanu collection.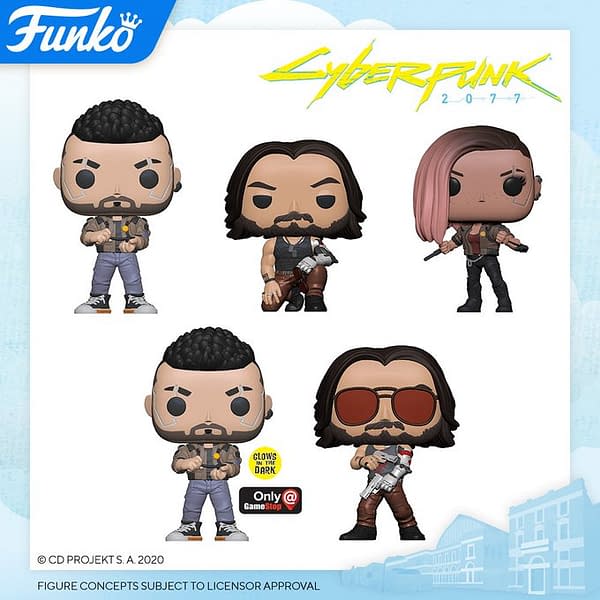 The Cyberpunk 2077 Funko Pops announced recently at London Toy Fair are already available for pre-order you can find all four common releases here. You can also find the Cyberpunk 2077 V Male Glow in the Dark figure Only at GameStop
Enjoyed this article? Share it!