Psylocke Gets a Stunning Amazing Yamaguchi Revoltech Figure Release
Psylocke will be the latest addition to the Amazing Yamaguchi Revoltech line of figures. These have been some of the best figures released as of late, with their many points of articulation and poseability. The Wolverine was one of our favorite figures last year, and the Psylocke looks like it will continue that trend.
Psylocke will include interchangeable hands, am extra face portrait, 6 different energy swords and energy pieces, and over 36 points of articulation. Her eyes are adjustable, as well as her long hair. Her hair is also translucent and has a certain glow effect to it as well.
This figure will be available in November in Japan, with various online retailers here in the US taking preorders now. The cost of the figure is about $55 here, although expect to pay a tad more if ordering here since it will be an import. You can check out a bunch of pictures and details down below.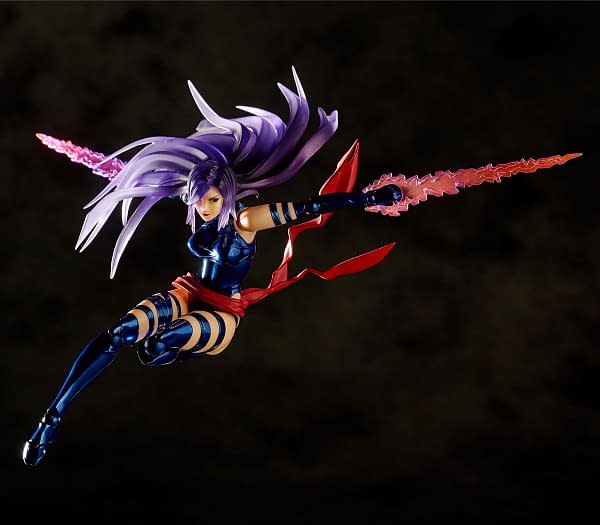 Psylocke, an ally and later member of Marvel's X-Men team, joins the Amazing Yamaguchi action figure lineup from Kaiyodo! She's insanely posable, as befits a ninja, and her glorious purple hair has been made with translucent material and partially painted for a realistic glow! She comes with two interchangeable facial expressions, and her eyes can be moved too! Three sets of interchangeable hands and multiple swords (two energy katana, two regular katana, one sheathed katana and one sheath, plus a pair of energy-sword effect parts) are also included. Don't miss out, add this awesome heroine to your lineup today!

The American Comics Characters Revoltech Amazing Yamaguchi Psylocke stands 6.10 inches (15.50cm) tall

[Figure Size]: Approximately 15.5cm tall
[Materials]: ABS, PVC

[Set Contents]:

Main figure
Intechangeable facial expressions (x2)
Interchangeable hands (x6, 3 each left and right)
Energy katana (x2)
Regular katana (x2)
Sheathed katana
Sheath
Energy-sword effect parts (x2)