2000AD Rips Stories Straight From The Headlines – FCBD Spoilers
Around the world in dense expensive cities, new residential buildings are sometimes only allowed if the constructors include what's called "affordable housing units" that can be sold to people without millions on the bank for a deposit. In July last year, this got a new twist as the media noticed something about one such construction in New York that threatened to spread its influence.
A furious row erupted in New York earlier this month when the city council approved a proposal by one of the largest real estate developers in the city to build in a 'poor door'.

It would force affordable housing tenants at a high-rise next to the Hudson River to walk through an entrance located in a back alley behind the building to enter, leaving the more prominent front entrance for tenants paying for nicer apartments.

New York Mayor Bill De Blasio moved to say it should be allowed, blaming the previous administration of Michael Bloomberg.
Well, in the 2000AD Free Comic Book Day comic available on May 2nd, it's an issue that the citizens of Judge Dredd's Mega City One have to deal with, with a greater degree of enforcement. And the language is very very familiar.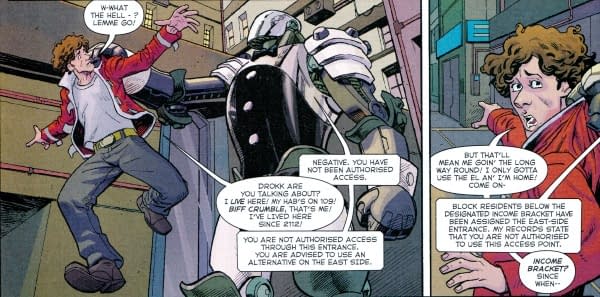 And because it tallies with the law of the land, there's not much Judge Dredd can do about the social inequality of Bertram Russell House.
Sorry Bertrand Russell House. To make the lawyers happy. Especially you say this next….

2000AD FCBD Special will be available on May 2nd from comic stores that choose to carry it. And on it's back cover, a tribute to the late Bret Ewins…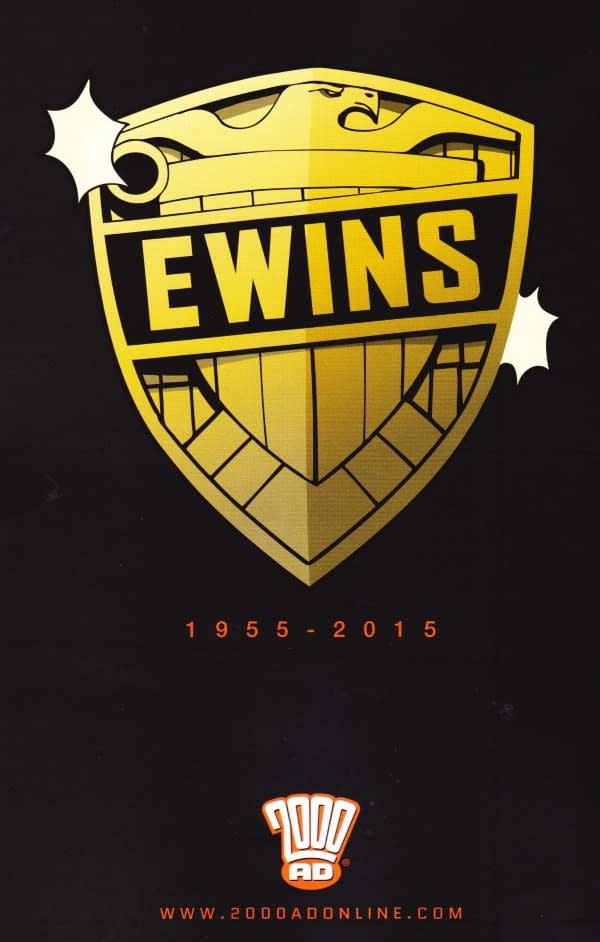 Follow other FCBD coverage here later today.