25 More Race-Related Graphic Novels That Should Top Amazon Chart
The current Amazon book chart has radically changed in recent days, with books that deal directly with the topic of race and anti-racism, often by POC creators, rising to the top of the best-selling chart. Right now, the top three books sold through Amazon are White Fragility, How to Be an Antiracist, Stamped From The Beginning. The remains of the chart are equally race-related, making up 13 of the top 20. However, the Amazon comic book/graphic novel chart has not been similarly affected. While Ta Nehisi Coates's prose books are in the book chart, his comics are not present in the comics chart. The highest placed book dealing with race in the comics chart is a miscategorised novel from the seventies. It takes until you get to the 28th position for George Takei's They Called Us Enemy and 29th position for John Lewis' March graphic novels.
We ran a list of 35 suggested graphic novels and non-fiction addressing racial issues directly, rather than just through allegory, with significant contribution by POC creators. We gave March and They Called Us Enemy as a given. Well here are 25 more, making 60 titles in total. Feel free to add more in the comments. Thanks to folk on Facebook and Twitter and BC comments for the suggestions. And yes it is very, very annoying that all the Milestone Media comic books published through DC Comics are out of print. Even the New 52 Static Shock trade paperbacks…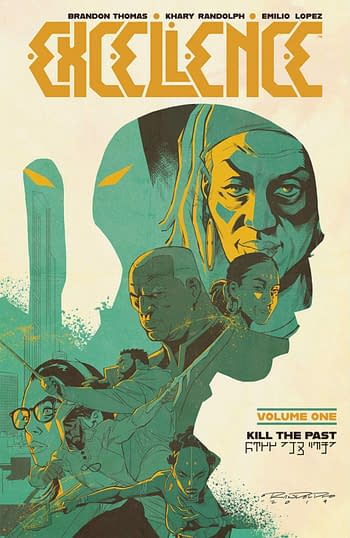 Excellence Volume 1 by Brandon Thomas, Khary Randolph, Emilio Lopez
Spencer Dales was born into a world of magic. His father belongs to the Aegis, a secret society of black magicians ordered by their unseen masters to better the lives of others-of higher potential-but never themselves.

Now it's time for Spencer to follow in his father's footsteps, but all he sees is a broken system in need of someone with the wand and the will to change it. But in this fight for a better future…who will stand beside him?

KHARY RANDOLPH and BRANDON THOMAS ignite a generational war in this action-fantasy series, made entirely by creators of color, and committed to one truth above all others-Excellence is Real.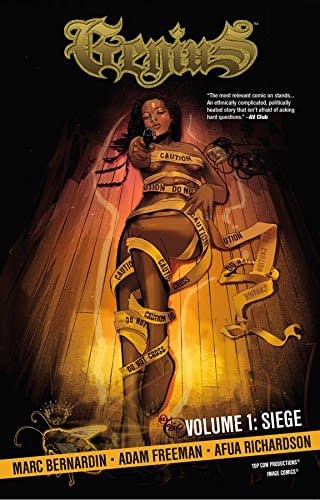 Genius Volume 1 by Marc Bernardin, Adam Freeman, Afua Richardson
What if the greatest military mind of our generation was born to a people who are already supremely conditioned to wage war, who know nothing but violence since birth, and must continually adapt to new predators in order to survive? What if the second coming of Alexander the Great, of Genghis Khan, of Napoleon, of Patton…what if it was a teenaged girl from South Central, L.A. named Destiny? And what if she decides to secede three blocks of the 'Hood from the Union? Who is going to take it back from her and her army of gangbangers? Who CAN?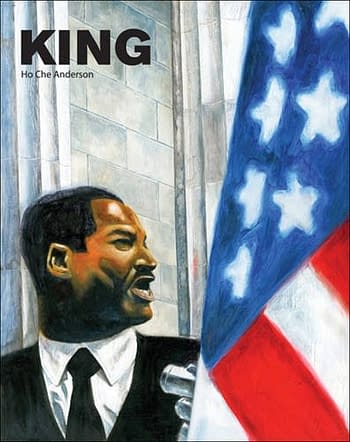 King: A Comics Biography of Martin Luther King, Jr. by Ho Che Anderson
Over 10 years in the making, Anderson's biographical graphic novel has the weight and depth of a lifetime of research. The book is a compelling and often moving narrative of the life of Martin Luther King Jr. Anderson follows King from boyhood through college and into the stormy civil rights movement. But while the broad narrative of King's life may be familiar, this is hardly a Classic Comics approach to the man. In order to capture the complexity of King's life and times, Anderson employs a uniquely multifacted and multilayered graphic and narrative technique that falls somewhere between cartooning, painting, collage and documentary photography. It is deeply effective. At times, King's life is a straightforward narrative, but then a Greek chorus of voices will interrupt to comment on the action and other different versions of events. At other crucial moments, the pages errupt into color abstractions or expressionist renderings. Anchoring all this dazzling technique is Anderson's acute ear for dialogue and profound understanding of his subject. In the simplest scenes of King and his colleagues in discussion-in a car, a bar or a living room- Anderson makes history palpable. Through a varied graphic arsenal and subtle prosse. Anderson's King comes alive.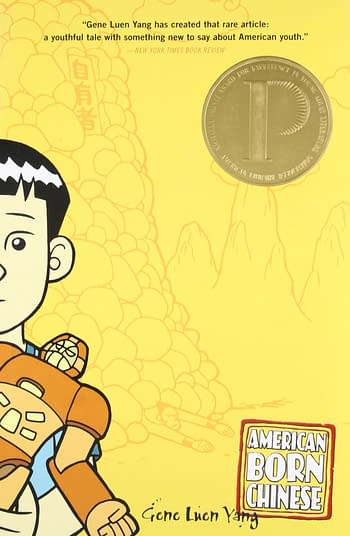 American Born Chinese Paperback by Gene Luen Yang
Jin Wang starts at a new school where he's the only Chinese-American student. When a boy from Taiwan joins his class, Jin doesn't want to be associated with an FOB like him. Jin just wants to be an all-American boy, because he's in love with an all-American girl. Danny is an all-American boy: great at basketball, popular with the girls. But his obnoxious Chinese cousin Chin-Kee's annual visit is such a disaster that it ruins Danny's reputation at school, leaving him with no choice but to transfer somewhere he can start all over again. The Monkey King has lived for thousands of years and mastered the arts of kung fu and the heavenly disciplines. He's ready to join the ranks of the immortal gods in heaven. But there's no place in heaven for a monkey. Each of these characters cannot help himself alone, but how can they possibly help each other? They're going to have to find a way―if they want fix the disasters their lives have become. American Born Chinese is a 2006 National Book Award Finalist for Young People's Literature, the winner of the 2007 Eisner Award for Best Graphic Album: New, an Eisner Award nominee for Best Coloring, a 2007 Bank Street Best Children's Book of the Year, and a New York Times bestseller.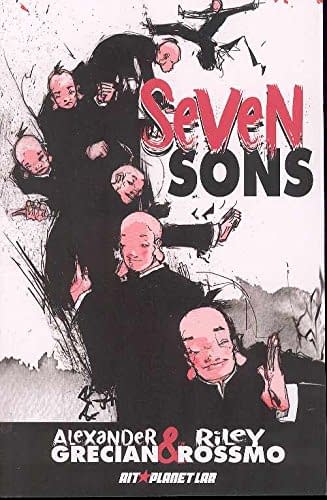 Seven Sons, by Alex Grecian and Riley Rossmo
Seven identical Chinese brothers come to America during the Gold Rush of the 1850s. When two children fall through an iced-over river, Brother Number One tries to save them by breathing the entire river into his mouth. But he can't hold it long enough for them to get to safety and lets the water go, accidentally drowning the children. When a mob of angry townspeople tries to retaliate, each of Number One's brothers takes his place, using their remarkable abilities each time to save his life.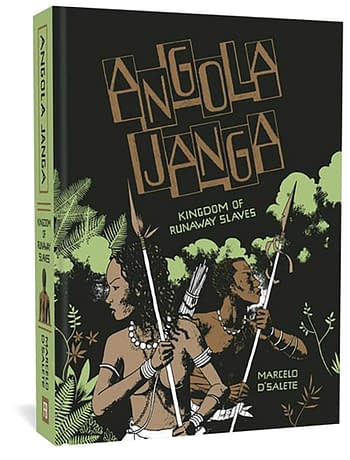 Angola Janga: Kingdom of Runaway Slaves by Marcelo D'Salete
An acclaimed cartoonist tells the harrowing, life-affirming history of a Brazilian slave state. An independent kingdom of runaway slaves founded in the late 16th century, Angola Janga was a beacon of freedom in a land plagued with oppression. In stark black ink and chiaroscuro panel compositions, D'Salete brings history to life; the painful stories of fugitive slaves on the run, the brutal raids by Portuguese colonists, and the tense power struggles within this precarious kingdom. At turns heartbreaking and empowering, Angola Janga sheds light on a long-overlooked moment of resistance against oppression. Black & white illustrations throughout.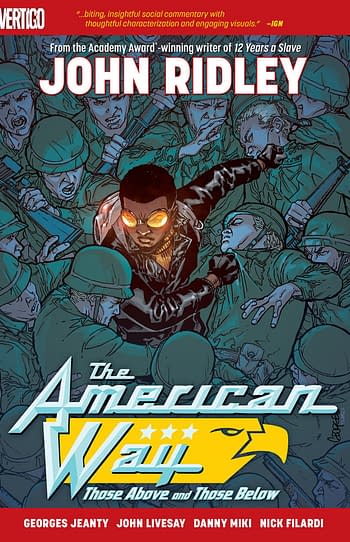 American Way: Those Above and Below by John Ridley and George Jeanty.
The Oscar-winning screenwriter of 12 Years a Slave returns for an all-new chapter in his alternate history of The American Way! In 1962 Jason Fisher was given astonishing powers by the United States government–powers he used to defend the nation as the New American. He and his teammates in the Civil Defense Corps were real-life superheroes. Except that it was all a fraud. A conspiracy. And now, 10 years after the CDC was torn apart by racism, infighting and murder, the Corps' surviving members find themselves pulled in very different directions. Missy Devereaux–a.k.a. Ole Miss–is transitioning from the First Lady of Mississippi into a candidate for governor and defender of a vanishing and hateful way of life. Amber Eaton–formerly known as Amber Waves–has become a domestic terrorist, using her powers to infiltrate and destroy the country's centers of power. Somewhere in the middle stands Jason Fisher, who has remained a crime-fighter even as evidence mounts that he is accomplishing nothing besides propping up a system that's rigged against him as a black man in America. In a nation being torn apart, what does it mean to fight for the American way? A decade after the debut of their groundbreaking WildStorm series The American Way, Academy Award-winning writer John Ridley (12 Years a Slave, American Crime) and artist Georges Jeanty (Buffy the Vampire Slayer: Season 8) revisit their parallel Earth for a look at its gritty 1970s–a time frighteningly like our own–in The American Way: Those Above and Those Below. Collects issues #1-6.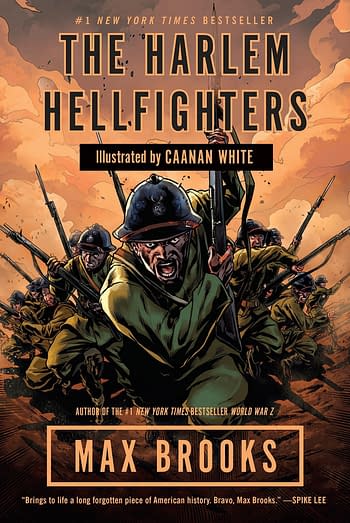 The Harlem Hellfighters by Max Brooks, Caanan White
From bestselling author Max Brooks, the riveting story of the highly decorated, barrier-breaking, historic black regiment—the Harlem Hellfighters. In 1919, the 369th infantry regiment marched home triumphantly from World War I. They had spent more time in combat than any other American unit, never losing a foot of ground to the enemy, or a man to capture, and winning countless decorations. Though they returned as heroes, this African American unit faced tremendous discrimination, even from their own government. The Harlem Hellfighters, as the Germans called them, fought courageously on—and off—the battlefield to make Europe, and America, safe for democracy. In THE HARLEM HELLFIGHTERS, bestselling author Max Brooks and acclaimed illustrator Caanan White bring this history to life. From the enlistment lines in Harlem to the training camp at Spartanburg, South Carolina, to the trenches in France, they tell the heroic story of the 369th in an action-packed and powerful tale of honor and heart.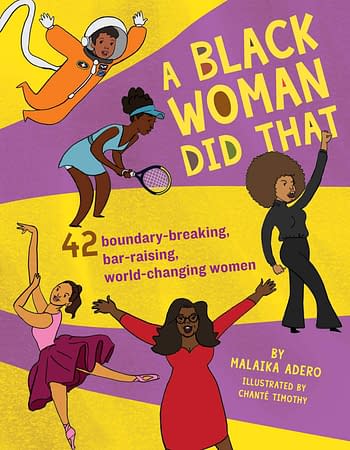 A Black Woman Did That by Malaika Adero and Chanté Timonthy
A Black Woman Did That! spotlights vibrant, inspiring black women whose accomplishments have changed the world for the better.

A Black Woman Did That! is a celebration of strong, resilient, innovative, and inspiring women of color. With a vibrant mixture of photography, illustration, biography, and storytelling, author Malaika Adero will spotlight well-known historical figures and women who are pushing boundaries today—including Ida B. Wells, Madam CJ Walker, Shirley Chisholm, Serena Williams, Mae Jamison, Stacey Abrams, Jesmyn Ward, Ava DuVernay, and Amy Sherald.

Readers will recognize some names in the book, but will also be introduced to many important black women who have changed history or who are reshaping the cultural landscape. They'll learn:

how Barbara Harris became the first female bishop of the Episcopal Church
how Misty Copeland became the first black principal dancer of the American Ballet Theater
how the work and inventions of Dr. Patricia Bath have saved or restored the eyesight of people around the world
how Shirley Chisolm changed the face of politics in America
how Glory Edim has turned her passion for reading into a thriving online community that showcases black women in literature
how Cathy Hughes founded Radio One (now Urban One) and became the first African-American woman to head a publicly traded sompany

Entries on each woman or group will highlight their accomplishments, their world-changing words, and the ways in which their lives and actions have made the world a better place.

The book will also include a robust resource list of books, audio and visual recordings, and links, inviting readers, parents, and teachers to learn even more about the amazing black women featured in the book.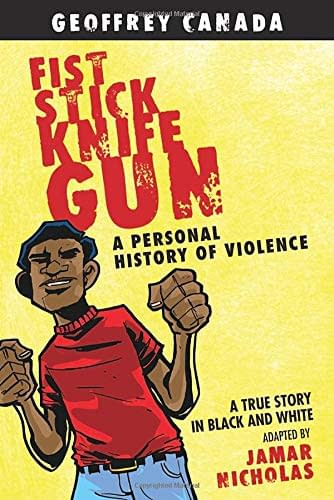 Fist Stick Knife Gun: A Personal History of Violence by Geoffrey Canada and Jamar Nicholas
Long before President Barack Obama praised his work as "an all-encompassing, all-hands-on-deck anti-poverty effort that is literally saving a generation of children," and First Lady Michelle Obama called him "one of my heroes," Geoffrey Canada was a small and scared boy growing up in the South Bronx. His childhood world was one where "sidewalk boys" learned the codes of the block and were ranked through the rituals of fist, stick, knife, and, finally, gun. In a stunning pairing, acclaimed comics creator Jamar Nicholas presents Canada's raw and riveting account, one of the most authentic and important true stories of urban violence ever told.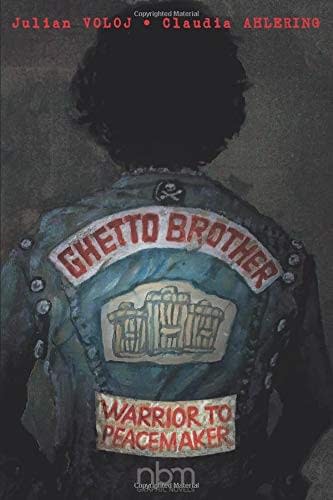 Ghetto Brother: Warrior to Peacemaker by Julian Voloj and Claudia Ahlering
An engrossing and counter view of one of the most dangerous elements of American urban history, this graphic novel tells the true story of Benjy Melendez, a Bronx legend, son of Puerto-Rican immigrants, who founded, at the end of the 1960s, the notorious Ghetto Brothers gang. From the seemingly bombed-out ravages of his neighborhood, wracked by drugs, poverty, and violence, he managed to extract an incredibly positive energy from this riot ridden era: his multiracial gang promoted peace rather than violence. After initiating a gang truce, the Ghetto Brothers held weekly concerts on the streets or in abandoned buildings, which fostered the emergence of hip-hop. Melendez also began to reclaim his Jewish roots after learning about his family's dramatic crypto-Jewish background.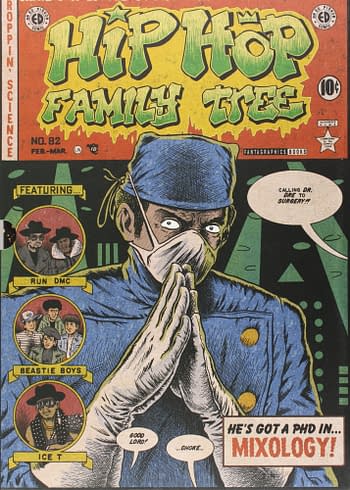 Hip Hop Family Tree by Ed Piskor
To celebrate the resounding critical and commercial success of the first two volumes of Ed Piskor's unprecedented history of Hip Hop, we are offering the two books in a mind-blowingly colorful slipcase, drawn and designed by the artist. As if that's not enough, in addition to the two books and the slipcase itself, Piskor has drawn a 24-page comic book ― Hip Hop Family Tree #300 ― specifically for this boxed set that elegantly reflects the confluence of hip hop and comics, which was never more apparent in the early 1990s than with the famous Spike Lee-directed Levi Jeans commercial starring Rob Liefeld, who went on to create Youngblood and co-found Image Comics, not to mention ending up on the radar of gangster rapper Eazy E. Piskor tells this story as a perfect parody/pastiche/homage to '90s Image comics.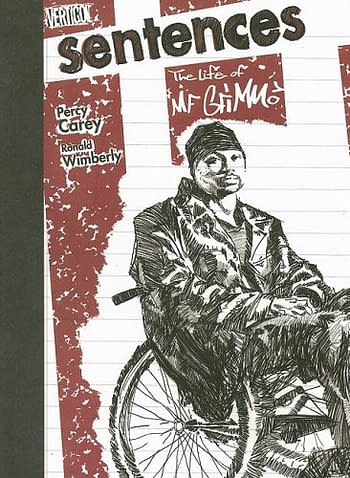 Sentences: The Life of MF Grimm by Percy Carey and Ron Wimberly
In a brutally honest graphic novel memoir, an underground hip-hop icon shares the story of his life in the game–from the first time he picked up a microphone at a block party to the day he lost the use of his legs to gang violence.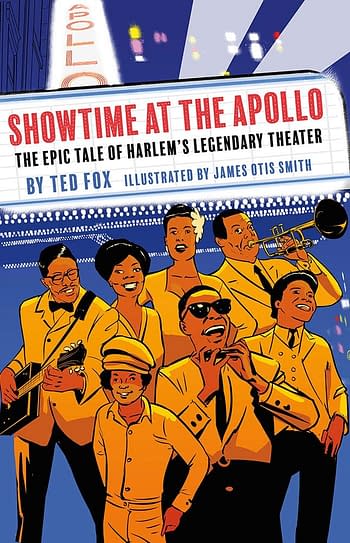 Showtime at the Apollo: The Epic Tale of Harlem's Legendary Theater by Ted Fox and James Otis Smith
Since its inception as an African-American theater in 1934, the Apollo, and the thousands of entertainers who performed there, have led the way in the presentation of swing, bebop, rhythm and blues, jazz, gospel, soul, funk and hip-hop—along with the latest in dance and comedy. The Apollo has nurtured and featured thousands of artists, many of whom have become legends. The beauty they have given the world—their art—transcends the hatred, ignorance, and intolerance that often made their lives difficult. Today, the Apollo enjoys an almost mythical status. With its breathtaking art, this graphic novel adaptation of Showtime at the Apollo brings to life the theater's legendary significance in music history, African American history, and to the culture of New York City.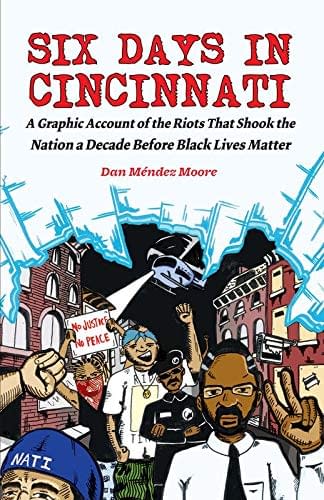 Six Days in Cincinnati: A Graphic Account of the Riots That Shook the Nation a Decade Before Black Lives Matter by Dan Mendez Moore
The graphic narrative history of the 2001 Cincinnati riots, told for the first time from the perspective of the participants.
When Timothy Thomas, a 19-year-old black man, was fatally shot by police, the city broke out into nonviolent civil disobedience that was met with further police violence. This was the first major uprising of the 21st Century, matched only by the LA riots a decade before and the protests in Ferguson over a decade later. Author and illustrator Dan Méndez Moore was 17 at the time when he participated in the six days of protests that shook the city between Thomas's death and his funeral. Méndez Moore's comics-journalism account sensitively captures a fiery moment in U.S. history through interviews with protestors, community leaders, bystanders, and a frustrated looter. He portrays the tension of a city boiling over, political leaders taking advantage, and an inner-city community coming together. Six Days in Cincinnati is a nonfiction graphic novel that tells an all-American story of systemic racism and the power of popular movements, more relevant in our post-Ferguson era than ever before.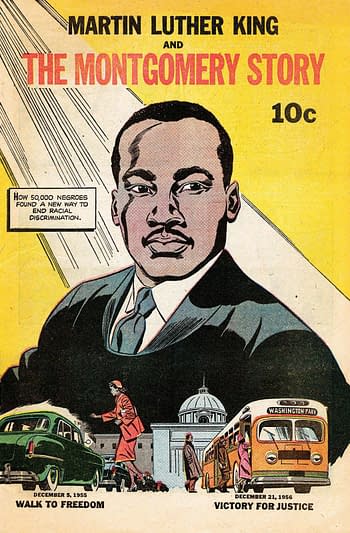 Martin Luther King and The Montgomery Story by Fellowship of Reconciliation, Alfred Hassler, Benton Resnick
Nearly sixty years after its creation, a little-known landmark of comic book history returns! This 16-page comic is a simple but revolutionary account of the 1955 Montgomery Bus Boycott, in which Rosa Parks, Dr. King, and 50,000 others used the power of nonviolence to battle segregation on city buses – and win. First published in December 1957 by the Fellowship of Reconciliation, it went unnoticed by the mainstream comic book industry, but spread like wildfire among civil rights groups, churches, and schools, helping to mobilize a generation to join the global fight for equality – nonviolently. Personally endorsed by Martin Luther King, Jr. himself, over time this comic book has reached beyond his time and place to inspire activists in Latin America, South Africa, Vietnam, Egypt, and beyond… as well as inspiring MARCH, the new graphic novel trilogy by Congressman John Lewis, Andrew Aydin, and Nate Powell.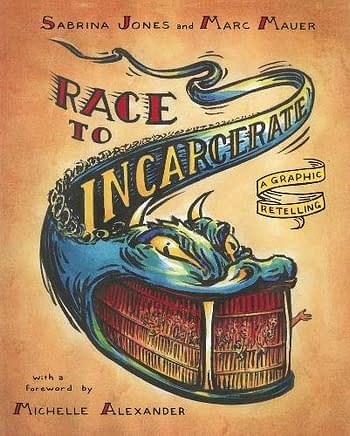 Race to Incarcerate by Marc Mauer and Sabrina Jones
More than 2 million people are now imprisoned in the United States, producing the highest rate of incarceration in the world. How did this happen? As the director of The Sentencing Project, Marc Mauer has long been one of the country's foremost experts on sentencing policy, race, and the criminal justice system. His book Race to Incarcerate has become the essential text for understanding the exponential growth of the U.S. prison system; Michelle Alexander, author of the bestselling The New Jim Crow, calls it "utterly indispensable." Now, Sabrina Jones, a member of the World War 3 Illustrated collective and an acclaimed author of politically engaged comics, has collaborated with Mauer to adapt and update the original book into a vivid and compelling comics narrative. Jones's dramatic artwork adds passion and compassion to the complex story of the penal system's shift from rehabilitation to punishment and the ensuing four decades of prison expansion, its interplay with the devastating "War on Drugs," and its corrosive effect on generations of Americans.

With a preface by Mauer and a foreword by Alexander, Race to Incarcerate: A Graphic Retelling presents a compelling argument about mass incarceration's tragic impact on communities of color—if current trends continue, one of every three black males and one of every six Latino males born today can expect to do time in prison. The race to incarcerate is not only a failed social policy, but also one that prevents a just, diverse society from flourishing.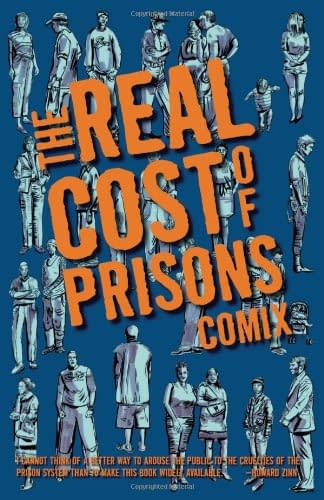 The Real Cost of Prisons Comix edited by Lois Ahrens
One out of every hundred adults in the U.S. is in prison. This book provides a crash course in what drives mass incarceration, the human and community costs, and how to stop the numbers from going even higher. This volume collects the three comic books published by the Real Cost of Prisons Project. The stories and statistical information in each comic book is thoroughly researched and documented.

Prison Town: Paying the Price tells the story of how the financing and site locations of prisons affects the people of rural communities in which prison are built. It also tells the story of how mass incarceration affects people of urban communities from where the majority of incarcerated people come from.

Prisoners of the War on Drugs includes the history of the war on drugs, mandatory minimums, how racism creates harsher sentences for people of color, stories on how the war on drugs works against women, three strikes laws, obstacles to coming home after incarceration, and how mass incarceration destabilizes neighborhoods.

Prisoners of a Hard Life: Women and Their Children includes stories about women trapped by mandatory sentencing and the "costs" of incarceration for women and their families. Also included are alternatives to the present system, a glossary and footnotes.

Over 125,000 copies of the comic books have been printed and more than 100,000 have been sent to families of people who are incarcerated, people who are incarcerated and to organizers and activists throughout the country. The book includes a chapter with descriptions about how the comix have been put to use in the work of organizers and activists in prison and in the "free world" by ESL teachers, high school teachers, college professors, students, and health care providers throughout the country. The demand for them is constant and the ways in which they are being used is inspiring.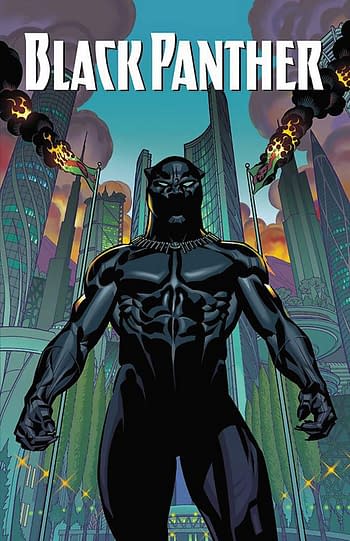 Black Panther: A Nation Under Our Feet by Ta-Nehesi Coates and Brian Stelfreeze
A new era begins for the Black Panther! MacArthur Genius and National Book Award-winning writer T-Nehisi Coates (BETWEEN THE WORLD AND ME) takes the helm, confronting T'Challa with a dramatic upheaval in Wakanda that will make leading the African nation tougher than ever before. When a superhuman terrorist group that calls itself The People sparks a violent uprising, the land famed for its incredible technology and proud warrior traditions will be thrown into turmoil. If Wakanda is to survive, it must adapt–but can its monarch, one in a long line of Black Panthers, survive the necessary change? Heavy lies the head that wears the cowl!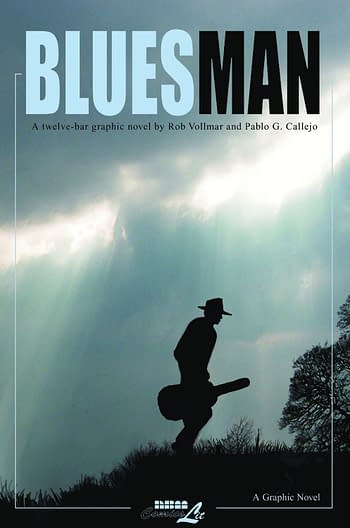 Bluesman by Rob Vollmar and Pablo G. Callejo
Now collected into one stunning hardcover! This story, structured like a traditional twelve bar blues song, with three sections each made of four chapters, follows blues musician Lem Taylor's harrowing journey across Arkansas of the late twenties, hunted for a crime he didn't commit.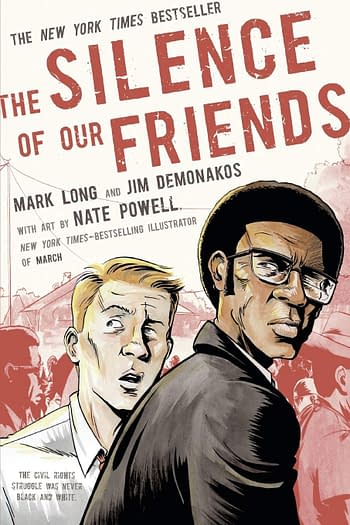 The Silence Of Our Friends by Mark Long, Jim Demonakos, Nate Powell
A New York Times-bestselling graphic novel based on the true story of two families―one white and one black―who find common ground as the civil rights struggle heats up in Texas.

This semi-autobiographical tale is set in 1967. A white family from a notoriously racist neighborhood in the suburbs and a black family from its poorest ward cross Houston's color line, overcoming humiliation, degradation, and violence to win the freedom of five black college students unjustly charged with the murder of a policeman.

The Silence of Our Friends follows events through the point of view of young Mark Long, whose father is a reporter covering the story. Semi-fictionalized, this story has its roots solidly in very real events. With art from the brilliant Nate Powell (Swallow Me Whole) bringing the tale to heart-wrenching life, The Silence of Our Friends is a new and important entry in the body of civil rights literature.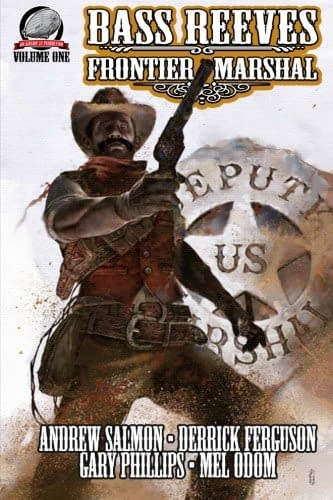 Bass Reeves Frontier Marshal Volume 1 Paperback by Gary Phillips, Mel Odom, Andrew Salmon, Derrick Ferguson
TALES OF A WESTERN LEGEND He began his life as a slave. During the Civil War he escaped and lived among the Indians of the Five Civilized Tribes in the Oklahoma Territories. He learned to ride, shoot and track prey from his adopted people. When the war ended, he was recruited as one of the first black marshals in the history of the west.In a thirty year career, operating under the authority of Judge Parker out of Fort Smith, he captured over three thousand outlaws, was involved in fourteen major gun battles and never wounded once. At the ended of his career, he became a Deputy Sheriff in Tuskegee until his death at the age of 70. He is considered the greatest western lawman that ever lived.Writers Gary Phillips, Mel Odom, Andrew Salmon and Derrick Ferguson have whipped up four action packed adventures inspired by this legendary figure. Tales of a wild frontier where outlaws and renegades roamed freely until the coming of one amazing man who wore a badge and vowed to bring justice to one and all. He was Bass Reeves—Frontier Marshal.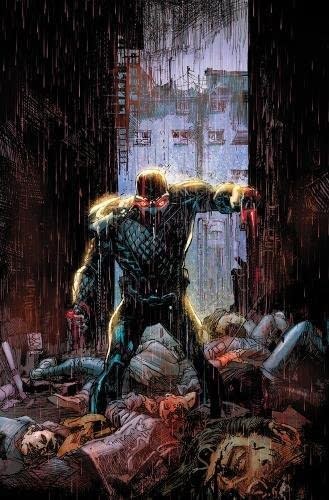 Nighthawk: Hate Makes Hate Paperback by David Walker, Ramon Villalobos
Straight from the pages of SQUADRON SUPREME comes one of the most brutal super heroes of the Marvel Universe. Nighthawk is Chicago's dark protector, dispensing swift, decisive justice to those that truly deserve it. When the city's shadiest power brokers turn up murdered in gristly ways, the apparent work of an inventive serial killer, Nighthawk must ask himself, Does this predator deserve to be caught? Who is the killer? What is he after? What does he want from Nighthawk? COLLECTING: NIGHTHAWK 1-6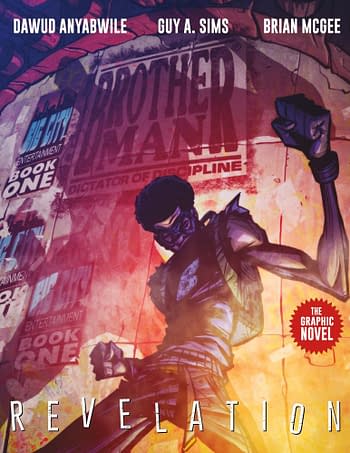 Brotherman: Dictator of Discipline: Revelation by Guy Sims, Dawud Anyabwile, Brian McGee
A life interrupted by destiny! Antonio Valor's world…once commonplace and unsure…becomes clear and focused as he rises from the darkening depths of fear and doubt to the blinding illumination of understanding and strength. Brotherman: Revelation…the first installment of the inception of Big City's mysterious purveyor of hope…of justice. The long awaited origin to ignite the senses and strike the imagination. A story that reaches back through the generations to set the foundation for the future. Anyabwile, Sims, and McGee deliver the dynamic first part of a hero's saga…bursting with action, suspense, pain, and triumph. The wait is over! The revelation is revealed.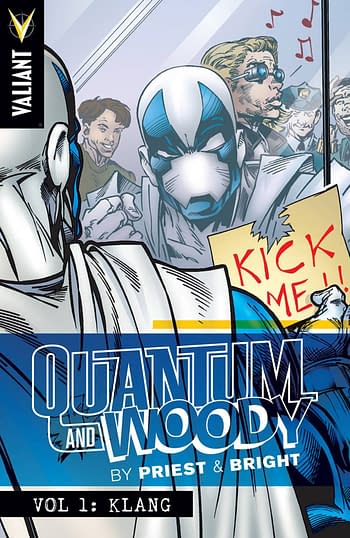 Quantum and Woody by Priest & Bright Volume 1: Klang by Christopher Priest and M.D. Bright
The complete collected adventures of the original world's worst superhero team ― now in trade paperback! Re-presenting the seminal series from legendary creators Christopher Priest (Black Panther, Deadpool) and MD Bright (Green Lantern, Iron Man) one volume at time, discover the groundbreaking series that Kotaku calls "one of the funniest superhero comics ever" with an all-new edition collecting Quantum and Woody's origin and disastrous early adventures! Sometimes the best friends make the worst partners. Once inseparable, childhood friends Eric Henderson and Woody Van Chelton haven't seen each other in years. Reunited by the mysterious deaths of their research scientist fathers, the unlikely duo find themselves stuck together all over again when a catastrophic lab accident transforms their bodies into pure energy – energy that will completely dissipate if they don't "klang!" their control bands together every 24-hours! Now, armed with an array of high-tech gadgets…and two horribly mismatched personalities…and a goat for a sidekick…this pair of misfits has decided to set the world straight as the world's worst superhero team, Quantum and Woody…if they can manage to quit fighting each other first!
Collecting Quantum and Woody (1997) #0-7, plus rarely seen materials and extras from Quantum and Woody: The Director's Cut TP.
While We're Here
The protests against police brutality now span the entire globe and there are many ways you can get involved. You can go out and peacefully protest if you want. You can also donate to numerous organizations that are doing a lot of good work for the cause. Here is a list of just some of them:
Over at AfroTech, there is a great list of five apps that can help you find black businesses to help support in these trying times. The rest of us should be supporting, protecting, and lifting up our black friends, family, colleagues, and total strangers whenever we possibly can.