In no particular order… thirty spooky or horror-themed comics published in comic book stores tomorrow that might make for a fun Hallowe'en, especially as tomorrow's New Comics Day lands on that most auspicious of occasions. I, as usual, will be handing out comics instead of sweets to the local kids… will you?
Possibly not all of these comics though. And if they are titles you don't recognise, maybe it's time to go outside of your comfort zone? Scary, isn't it?
WYTCHES BAD EGG HALLOWEEN SPEC (ONE-SHOT) (MR)
(W) Scott Snyder (A/CA) Jock
In Shops: Oct 31, 2018 SRP: $7.99
The collection of the Wytches story that ran in Image Plus, with a brand new 16 page conclusion…
SEX DEATH REVOLUTION #1 (MR)
(W) Magdalene Visaggio (A) Becca Farrow (CA) Kiki Jenkins
Life is a story. Her's is being rewritten.
Still reeling from the sudden collapse of her cover, Manhattanite sorceress Esperanza tries to rebuild. But everyone in her life is saying she's done and said things that never happened — terrible things. Before she knows it, she's becoming someone entirely different. Someone she used to be, once upon a time.
Life is full of ch-ch-ch-changes in this urban fantasy from Eisner-nominated writer Magdalene Visaggio (Eternity Girl, Kim & Kim) and artist Becca Farrow (Ladycastle).In Shops: Oct 31, 2018 SRP: $5.99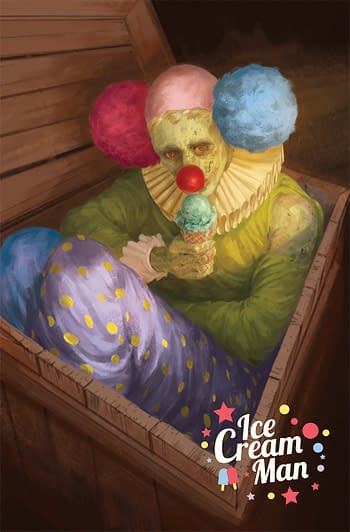 ICE CREAM MAN #8 (MR)
(W) W. Maxwell Prince (A/CA) Martin Morazzo
END OF STORY ARC "EMERGENCIES" All around town, folks are in crisis. But this ambulance ain't stoppin' for no one, baby. ICE CREAM MAN continues with another dreary confection.
In Shops: Oct 31, 2018 SRP: $3.99
STRANGER THINGS #2
(W) Jody Houser (A) Stefano Martino (CA) Aleksi Briclot
Stuck in the mysterious Upside Down, Will Byers is cold, scared and starving. He uses his last bullet to temporarily drive away the Demogorgon. Drawing on lessons learned from D&D, Will hunts for food and supplies to prepare for whatever lies ahead. After discovering he can affect the lights in his family home, brief excitement turns to terror when he realizes he isn't the only one that wants to break through to the other side.
o Written by award-winning comics veteran Jody Houser (Faith, Orphan Black, Mother Panic).
o Based on Will's unseen journey during season 1 of hit Netflix show Stranger Things.In Shops: Oct 31, 2018 SRP: $3.99
MY PRETTY VAMPIRE GN
(W) Katie Skelly (A/CA) Katie Skelly
Clover – the "pretty" vampire of the title – is a Bardot-esque blonde who dreams of the (now dead) girl she once was four years ago before becoming a fanged bloodsucker. She is being kept prisoner by her brother, Marcel, who fears Clover will be hunted by the outside world (and who may have other, more selfish motivations as well). Clover's curiosity, however, will not be suppressed: impetuous, sensual, strong-willed, and fearless, she plans her escape. The resultant havoc would make Dario Argento proud.
My Pretty Vampire is a sexy, sophisticated horror romp that heralds author Katie Skelly as a powerful voice in comics. Her inherently sexy work wears its colorful Pop sensibility and keen fashion sense on its sleeve; that her strong visual style and sex-positive attitude is in the service of such strong female characters and emotionally rich work makes for a wonderfully moody, progressive, and engaging read.In Shops: Oct 31, 2018 SRP: $16.99
AMERICAN VAMPIRE OMNIBUS HC VOL 01 (MR)
(W) Scott Snyder, Stephen King (A) Danijel Zezelj, Sean Murphy, Dustin Nguyen, Others (A/CA) Rafael Albuquerque
In this volume collecting the series that first brought Scott Snyder to fans' attention, meet Pearl, a young woman living in 1920s Los Angeles, who is brutally turned into a vampire and then sets out on a path of revenge against the monsters who tortured and abused her – with the help of a gunslinger named Skinner Sweet. Plus, in stories written by legendary novelist Stephen King, learn the origin of Skinner Sweet! Collects AMERICAN VAMPIRE #1-27, AMERICAN VAMPIRE: SURVIVAL OF THE FITTEST #1-5 and AMERICAN VAMPIRE: LORD OF NIGHTMARES #1-5.
In Shops: Oct 31, 2018
SRP: $99.99
PARADISE COURT #4 (OF 5)
(W) Joe Brusha (CA) Riveiro
As her friends and the residents of the gated community continue to disappear, Amy finds herself alone and hunted by the Ram's Head Killer. Even as she fights to survive, she realizes that nowhere within the gates of Paradise Court is safe…and that there is no escape.In Shops: Oct 31, 2018
SRP: $3.99
PRE CODE CLASSICS HAND OF FATE HC VOL 01
(A) Ken Rice, Lou Cameron, Jim McLauchlin, Maurice Gutwirth, George Appel, Mike Sekowsky, Louis Zansky, Bill Molno, Chic Stone
The creatives line-up from this veritable sleeper from the Ace magazine stable includes Ken Rice, Lou Cameron, Jim McLaughlin, Maurice Gutwirth, George Appel, Mike Sekowsky, Louis Zansky, Bill Molno, and Chic Stone. A five-comic quintet that'll fool you every which way you turn! Collects The Hand of Fate #8-12 (December 1951 to August 1952).In Shops: Dec 12, 2018 SRP: $44.99
BATMAN THE MAXX ARKHAM DREAMS #2 (OF 5)
(W) Sam Keith (A/CA) Sam Kieth
Our surreal journey with Batman and Maxx continues into the deepest, darkest depths of Arkham! Maxx is locked in the most notorious asylum of them all and finds himself hopscotching one at a time through the secret spirit planes-"Outbacks"-of the most notorious villains in Batman's famed rogues gallery-this time featuring the master of mirth and mayhem, the JOKER! First new The Maxx story in more than a decade!In Shops: Oct 31, 2018 SRP: $4.99
HEX WIVES #1 (MR)
(W) Ben Blacker (A) Mirka Andolfo (CA) Joelle Jones
"The women are too powerful. They must be tamed."
For hundreds of years a war has been waged between a coven of perpetually reincarnating witches and the all-male conspiracy known as the Architects. After the death of the lead Architect in 2005 it seemed the witches had finally defeated their foes.
Now, 13 years later, waking up in a perfect cookie cutter home at the end of a cul-de-sac in a sunny corner of suburbia, Isadora has no recollection of her past life as the leader of a witch coven, nor her soulmate Nadiya, let alone the centuries-old war she has waged in defense of the soul of America…In Shops: Oct 31, 2018 SRP: $3.99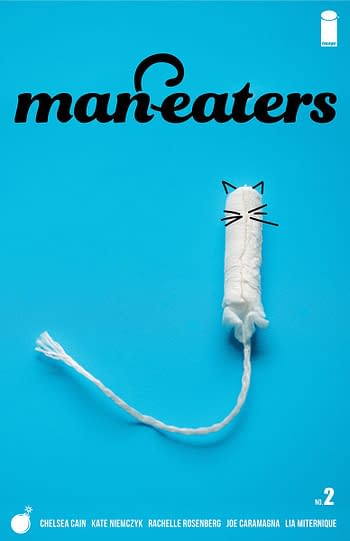 MAN-EATERS #2
(W) Chelsea Cain (A) Kate Niemczyk (CA) Lia Miternique
"BLOOD WILL SPILL," Day Two Maude experiences abdominal cramping and a sudden increased appetite. Her father investigates another mauling.In Shops: Oct 31, 2018SRP: $3.99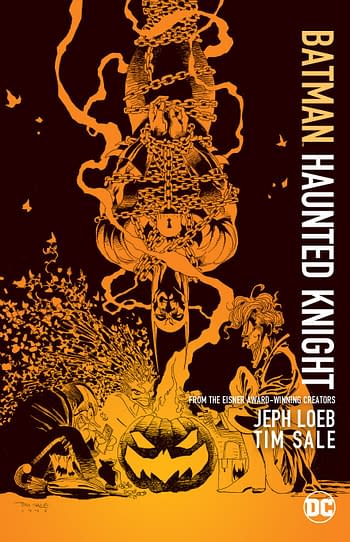 BATMAN HAUNTED KNIGHT TP NEW ED
(W) Jeph Loeb (A) Tim Sale, Tim Sale
Batman faces off against his most demented and wicked foes in three dark tales of horror and intrigue. Taking place on the most evil of holidays, Halloween, the Dark Knight Detective confronts his deepest fears as he tries to stop the madness and horror created by Scarecrow, Mad Hatter, Penguin, Poison Ivy and The Joker. Collects Batman: Legends of The Dark Knight Halloween Special #1, Batman: Madness #1 and Batman: Ghosts #1. In Shops: Oct 31, 2018 SRP: $19.99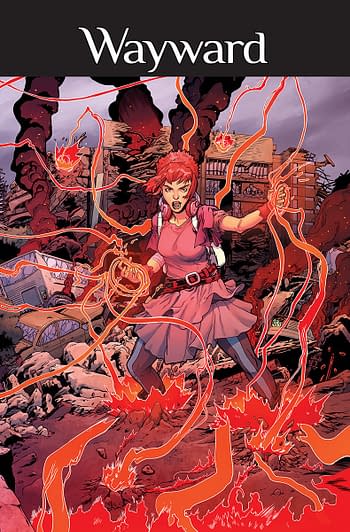 WAYWARD #30 (MR)
(W) Jim Zub (A/CA) Steven Cummings
SERIES FINALE "BOUND TO FATE," Conclusion
Fate burns as the past and present clash in the final battle. WAYWARD concludes with a special double-sized spectacular that includes an epic 30-page story, pin-ups, and more!In Shops: Oct 31, 2018 SRP: $4.99
AVENGERS HALLOWEEN SPECIAL #1
(W) Gerry Duggan, More (A) Laura Braga, Luca Pizzari, Robert Quinn (CA) Geoff Shaw
TRICK OR TREAT, TRUE BELIEVERS!
PLUS! Spooky stories starring the X-Men & Doctor Doom!
Epic thrills and ghastly horror awaits in these all-new twisted tales! Spanning the breadth of the Marvel Universe, through the macabre lens of a murderer's row of writers and artists assembled here, see your favorite heroes and villains as you've never seen them before!
Also including the Marvel Comics writing debut of Jay Baruchel (This is the End; Goon)! Rated T In Shops: Oct 31, 2018 SRP: $4.99
CROSSED PLUS 100 MIMIC #6 (MR)
(W) Christos N. Gage, Pat Shand (A) Emiliano Urdinola (A/CA) Gabriel Andrade
The final cataclysmic issue! In MIMIC, Fleshcook and Julie are against the wall and have one last chance and the merge. Pat Shand teams up with original series artist Gabriel Andrade for a special final chapter of AMERICAN HISTORY X, set during the invasion of Chooga from the first series! Available with a sizzling array of covers: Regular by Gabriel Andrade, History X Wraparound and American History X by Raulo Caceres, Fatal Fantasy and Hellish Homage by Renato Camilo, and Ms Mayhem by Christian Zanier. Don't miss the three-cover Crossing Over set by Matt Martin, each limited to just 250 copies, nor the Century (of Blood) cover limited to 100 copies also by Camilo.In Shops: Oct 31, 2018
SRP: $5.99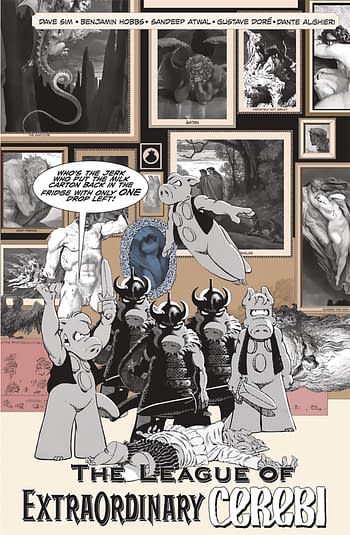 LEAGUE OF EXTRAORDINARY CEREBI #1 (OF 1)
(W) Dave Sim, Benjamin Hobbs, Sandeep Atwal (A) Dave Sim, Gustave Dore (CA) Benjamin Hobbs
Meet The League of Extraordinary Cerebi 2.0: Cerebus! SuperCerebus! "Pappy" Cerebus! Dr. Cerebus and Mr. Vark! The Batvark Triplets! Sammy Batvark! Danny Batvark! Manny Batvark! The Visible Aardvark! Membership dues! Why Sean Connery is banned from League HQ! The Biggest Trade in Hell (The LOEC2 for the 1927 New York Yankees!)! The League of Licensed Cerebi! Whatever happened to the League of Yesterday? Young Pappy! Gerebus Strong! Dlal A for Aardvark! Miracle Vark and/or Marvel Vark! Dr. Varkhatten! Cocaine! Offshore Cayman Islands Bank Account Immanuel! Cerebus vs. Two Gentlemen of Verona! Super-Cerebus to the Rescue of the Whore of Babylon! Super-Gerebus vs. Batvark! Batvark vs. The League of Miniaturized Super-Cerebus Robots!In Shops: Oct 31, 2018 SRP: $4.00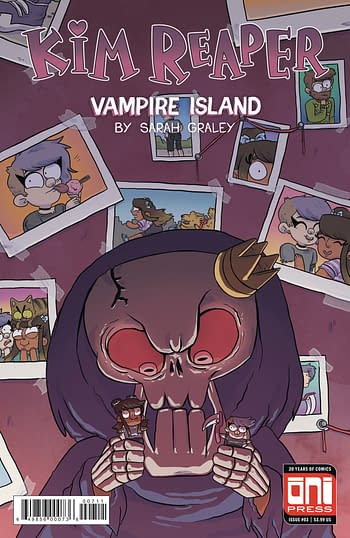 KIM REAPER VAMPIRE ISLAND #3
(W) Sarah Graley (A) Sarah Graley (CA) Katy Farina
We're doing a magical business babe transformation! Kim is tired of being overworked, underpaid, and severely lacking in quality girlfriend time. She's going to be assertive, confident, and set those grim reapers straight! No one can argue with you when you've got a briefcase… right?In Shops: Oct 31, 2018 SRP: $3.99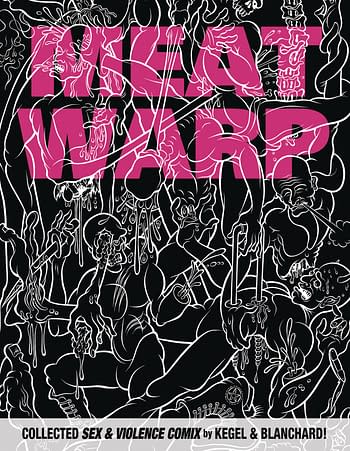 MEAT WARP GN (MR)
ATTENTION ALL MUTANTS! Your prayers have been answered! Come hither and witness the unholy union of professional sickos, Chris Kegel and Jim Blanchard!! Sit back and digest the obsessively detailed, psychedelically twisted, and elegantly repulsive comics that comprise the corpus known as MEAT WARP! In Shops: Nov 28, 2018 SRP: $29.99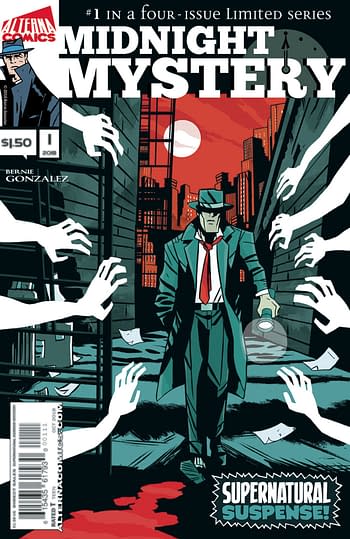 MIDNIGHT MYSTERY #1 (OF 4)
(W) Bernie Gonzalez (A/CA) Bernie Gonzalez
Follow the strange adventures of detective Zeke King as he goes from case to horrifying case. In this issue: King's latest case goes from freaky to fatal when he's hired to find the lost son of a deceased horror host! The mystery begins in this new supernatural horror series! In Shops: Oct 31, 2018 SRP: $1.50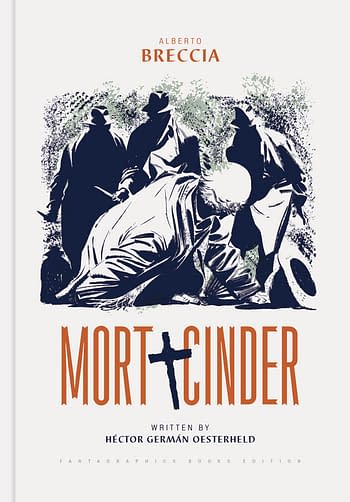 MORT CINDER HC (MR)
(W) Hector German Oesterheld (A/CA) Alberto Breccia
The great Alberto Breccia, in collaboration with the Argentine writer Hector German Oesterheld (The Eternaut,) present Mort Cinder, a horror story with political overtones that follows the wanderings through time of a man who rises from the grave each time he is killed, bearing witness to the darkest sides of humanity. American comics creators such as Frank Miller (300, Sin City) and Mike Mignola (Hellboy) owe Breccia a great debt; these horror-adventure tales are as thrilling, dread-inducing, and accessible as when they were created a half a century ago. In Shops: Oct 31, 2018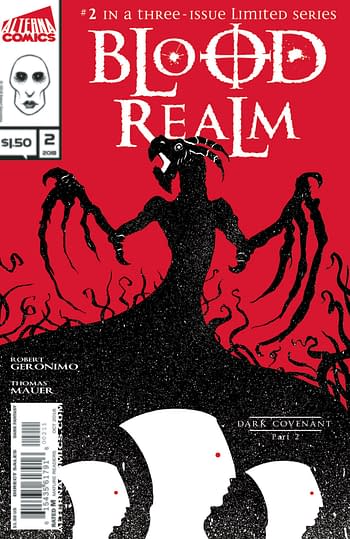 BLOOD REALM #2 (OF 3)
(W) Robert Geronimo (A/CA) Robert Geronimo
After narrowly escaping the deadly siege of Voragoth, the Sisters of Silence encounter a new companion as they fight for survival against ancient and powerful forces that threaten their perilous quest for the Black Heart.In Shops: Oct 31, 2018 SRP: $1.50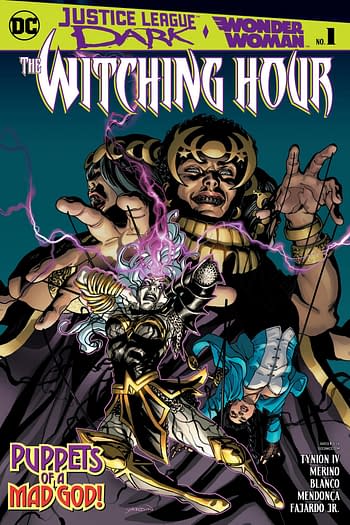 JL DARK & WONDER WOMAN THE WITCHING HOUR #1
(W) James TynionIV (A) Jesus Merino (CA) David Yardin
The deadly finale of "The Witching Hour" arrives as Zatanna battles for Wonder Woman's soul-and the rest of the Justice League Dark battle for their lives! Hecate is more powerful than the Greek Gods…and no matter who wins, the Earth will lose its chance of surviving the war that's coming!
In Shops: Oct 31, 2018
SRP: $4.99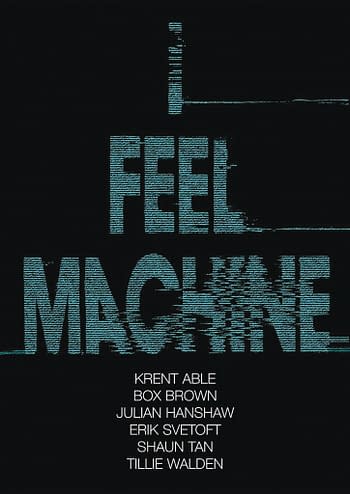 I FEEL MACHINE GN
(W) Krent Able, Julian Hanshaw (A) Box Brown, Shaun Tan, Tillie Walden
Since the turn of the century, technology has transformed the way we communicate and consume, how we work and fall in love and navigate the world. We are increasingly reliant on it – but few of us know anything about the science that is driving this technological change. Kurt Vonnegut famously said that to leave technology out of fiction is to misrepresent life. Here, six acclaimed graphic novelists present reports from the digital frontier. Exploring everything from artificial intelligence to virtual reality, I Feel Machine is by turns cautionary and celebratory, touching and terrifying. It challenges and confronts the digital world using the most technologically efficient machine ever invented: the book.In Shops: Oct 24, 2018
SRP: $22.99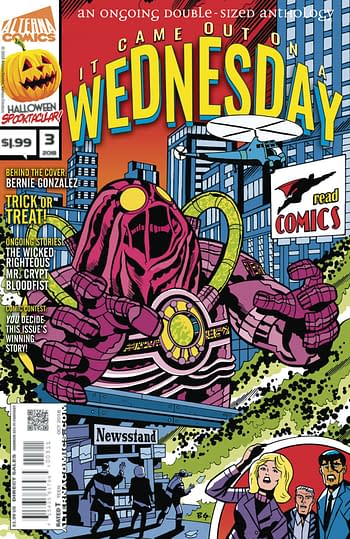 IT CAME OUT ON A WEDNESDAY #3
(W) Troy Vevasis, Chas! Pangburn, James Andrew Clark, Marco Lopez, Jeremy Ferretti, Eric Gahagan, Jeremy Massie (A) Aleksandar Jovic, Enzo Pertile, Robert Ahmad, Sick Joe, Kelly Williams, Halil Mete, Jeremy Massie (CA) Bernie Gonzalez
This Halloween Spooktacular is all "treat"! In this issue: a zombie-infested ghost town, baby dragons, space adventures, futuristic monsters, other-worldly demons, and a deadly trick-or-treat surprise! The best up-and-coming creators are featured in this, and every issue, of It Came Out on a Wednesday!In Shops: Oct 31, 2018
SRP: $1.99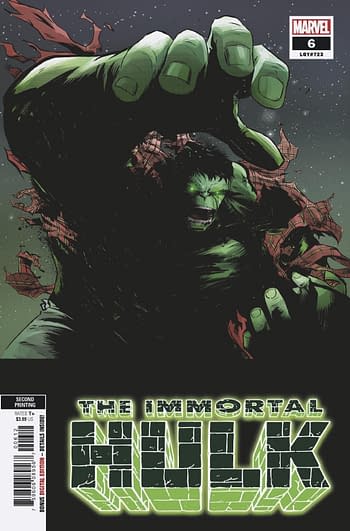 IMMORTAL HULK #6 2ND PTG
(W) Al Ewing (A) Lee Garbett (CA) Lee Garbett
In Shops: Oct 31, 2018 SRP: $3.99
It's the one with the ending that freaked everyone out.
EDGAR ALLAN POE`S SNIFTER OF TERROR #1 (MR)
(W) Tom Peyer, Mark Russell, Cienna Madrid (A) Fred Harper, Peter Snejbjerg, Carly Wright, Shannon Wheeler, Hunt Emerson (CA) Richard Williams
Edgar Allan Poe mangles classic tales and brand new stories in this cross between Drunk History and Tales from the Crypt! First, meet AHOY's own alcohol-damaged version of Poe in "The Facts in The Case of M. Valdemar," adapted by Tom Peyer (Batman '66) and drawn by Fred Harper. Then: Sugary cereal meets vampirism in "Dark Chocolate," by writer Mark Russell (The Flintstones) and artist Peter Snejbjerg (Starman). EXTRA! Comics by Hunt Emerson, unsettling verse by Cienna Madrid illustrated by Carly Wright, and a cartoon by Shannon Wheeler!In Shops: Oct 31, 2018
SRP: $3.99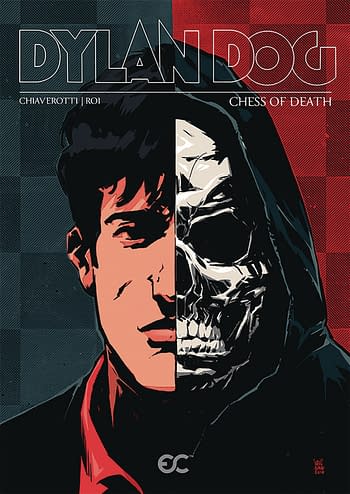 DYLAN DOG CHESS OF DEATH
(W) Claudio Chiaverotti (A) Corrado Roi (CA) Well-Bee
It's impossible to win a match with Death, but some will still try.In Shops: Oct 31, 2018
SRP: $12.99
WHAT IF? MAGIK #1
(W) Leah Williams (A) Filipe Andrade (CA) Jeff Dekal
Before she was Magik, Illyana Rasputin was just a kid whom Limbo chewed up and spit out seven years older. So it's no surprise that, at 15, she wants nothing to do with the X-Men…nothing to do with the New Mutants…and nothing to do with her own powers. It's not even surprising that she runs away… but where – and who – she ends up? Well, that's something you've never seen before.
Rated T+ In Shops: Oct 31, 2018 SRP: $3.99
GFT TALES OF TERROR VOL 4 #8
(W) Ralph Tedesco (CA) Eric J
When a small town in Wyoming has their regular programming interrupted by a strange video, things begin to go from weird to horrific. Is it a hacker having fun, a government conspiracy, or something entirely more sinister behind this transmission?In Shops: Oct 31, 2018
SRP: $3.99
HATCHET VENGEANCE #1 (MR)
(W) James Kuhoric (A/CA) Puis Calzada
Things die hard in the swamp. Victor Crowley's fury is unquenchable despite the rivers of blood beneath his terrible touch. But vengeance never dies. When a drug dealer father driven mad with grief seeks a voodoo priestess to end the beast that slaughtered his son, a new horror is unleashed on Honey Island Swamp and an unsuspecting group of criminals is caught in a bloody monster free-for-all! This is classic violent slasher horror at its best and bloodiest! Hatchet: Vengeance #1 comes with four covers – Main Faceoff by interior artist Puis Calzada, Blood & Gore by Buz Hasson & Ken Haeser, Bikini Optional by Mike Wolfer, and a special limited-edition Hatchet: Vengeance Bloody Horror cover.In Shops: Oct 31, 2018
SRP: $3.99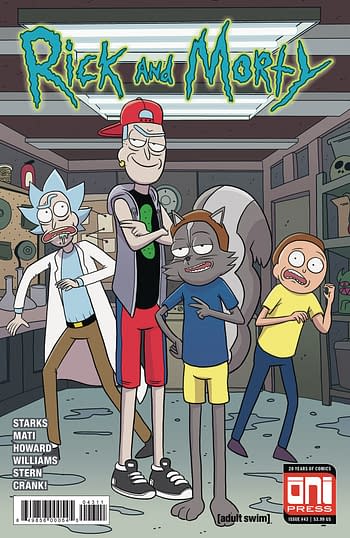 RICK & MORTY #43 CVR A
(W) Kyle Starks, Josh Trujillo (A) Sarah Stern, Rii Abrego (A/CA) Marc Ellerby
In this very special issue of Rick and Morty, we meet the family's newest additions: Dick and Farty! Can Rick cope with an even more obnoxious version of himself? Will Morty make out with himself yet again? You gotta read this rad issue drawn by Rick and Morty TV show artist Sabrina Mati to find out bruh!
PLUS: MORE ADVENTURES IN THE PUBLIC DOMAIN WITH TINI HOWARD AND JARRETT WILLIAMS!In Shops: Oct 31, 2018 SRP: $3.99
Enjoyed this article? Share it!