37 Thoughts About 37 Of Today's Comics – Star Wars To Secret Wars To Swords Of Sorrow
Busy busy Wednesday, and a great chance to run through the day's comic books and share the very first thought that comes into my head as concurrent themes emerge from the week. Part streaming consciousness, part time pressed panic, welcome to this week's X Thoughts About X Of Today's Comics….
Inhuman Annual #1 brings back Karnak, but he remains a real kisser upper…. Artifacts: Lost Tales is a collection of three stories from Talent Hunt runner ups. And this Vietnam-era Darkness story does have a little of the Goat.se about it…. (shudder).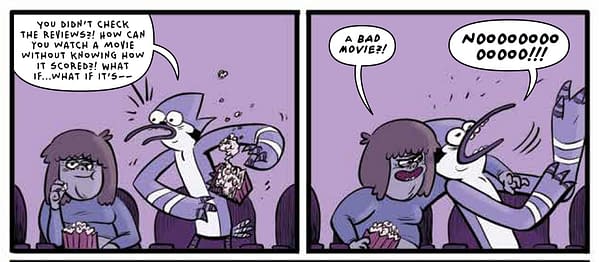 Regular Show fights for the unsureity of entertainment in a work of mass public media. I'm going to say, Halogen. Yes, it is pretty impressive. Dead Letters deals with its own social niceties in a world where death simply doesn't make sense anymore. No book on manners every took this into account. Maybe they should. I feel a book pitch coming on…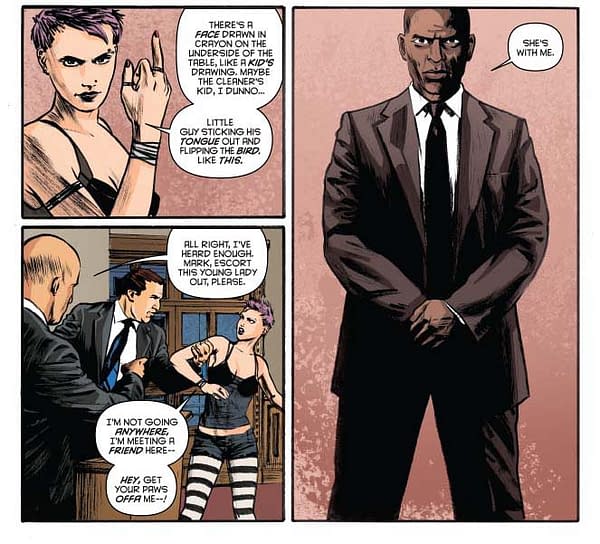 Uncanny Season 2 #2 also shows up the rudeness inherent in our young folk. Honestly, there should be someone who can just come in and take charge…. Day Men have got those kind of niceties down pat. This could be rule one. While Arcadia suggest we adopt a "don't eat unless you have given sufficient time for the body to rie again" guideline, even for carrion eaters… Also, animals should really be taught that this sort of behaviour seen in Mutanimals #3 is unacceptable. Wait until the vehicle has come to a stop before you rip the driver from is seat and throw him to the ground. Common sense. It's a funny place to keep your testicles, made of fudge of not. Thank you for that particular epithet, Cluster…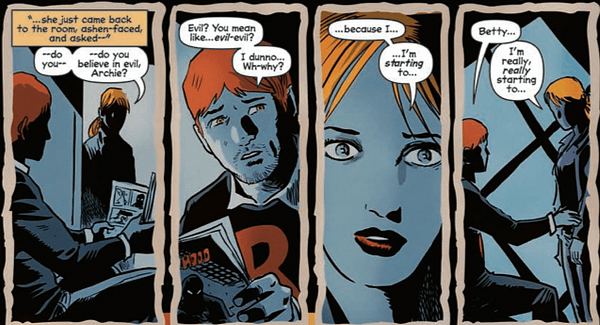 I didn't know if Archie believes in evil, in Afterlife With Archie, but I know someone who does… Jughead!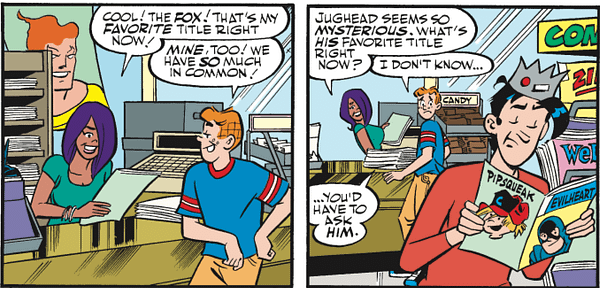 In the Jughead And Archie Comics Double Digest, that is. Or at least he understands Evilhead. And what's that book that Archie likes?
Why it's The Fox, also out this week. Personally I still prefer "diplodicus". Genre-trope mocking on Masks II #2 which is fair enough. My fortune cookies are a lot more depressing though.
Tell me about it, Hulk #16. But is it also worth pointing out that "gammon" is alos a type of ham? Delicious with pineapple? Okay, now I'm hungry. But it also sounds a little like…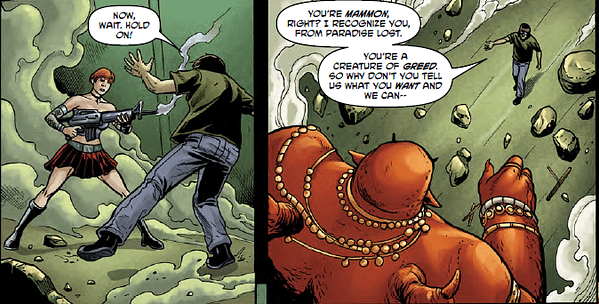 Mammon in God Is Dead. And yes, I feel rather like a creature of greed too now. Swords Of Sorrow #1 gives us a wine-soaked Red Sonja as well. There's a lot of gluttony around. But I reckon Red Sonja could control plenty of ebony blades with her hand if she wished to. Okay, maybe not that hungry. Thank you Samurai Jack #19 for rescuing me… Amazing Spider-Man #8 has the Living Brain given permission to upgrade itself. This can't go wrong at all, can t? Consider this a large flashing Foreshadowing arrow… All-New Captain America Special #1 leads with a put down. Steve Rogers would never have been this mean, would he? I like this new Captain America…. Alcohol *and* marijuana, Orphan Black #3? What is this babylonian excess? Next someone will get out a Twister board and that will just be the end of everything… Dick Grayson performs some extremely impromptu tailoring in Convergence #5. I don't think that's going to stay on, you know… Spoken by someone who has never had babies. Vamplets or not, that seems rather normal to me. I still have the scars from teething… Swords Of Sorrow: Chaos knows exactly what to do with vampire, young or otherwise. While Star Wars: Kanan: The Last Padawan also has a baby with a bite. Rocket Raccoon has an excuse, he's been taking tests, and the time just whizzes by. Sadly nothing will prepare him for Secret Wars… Where Secret Wars #1 is five bucks, folks. Five bucks.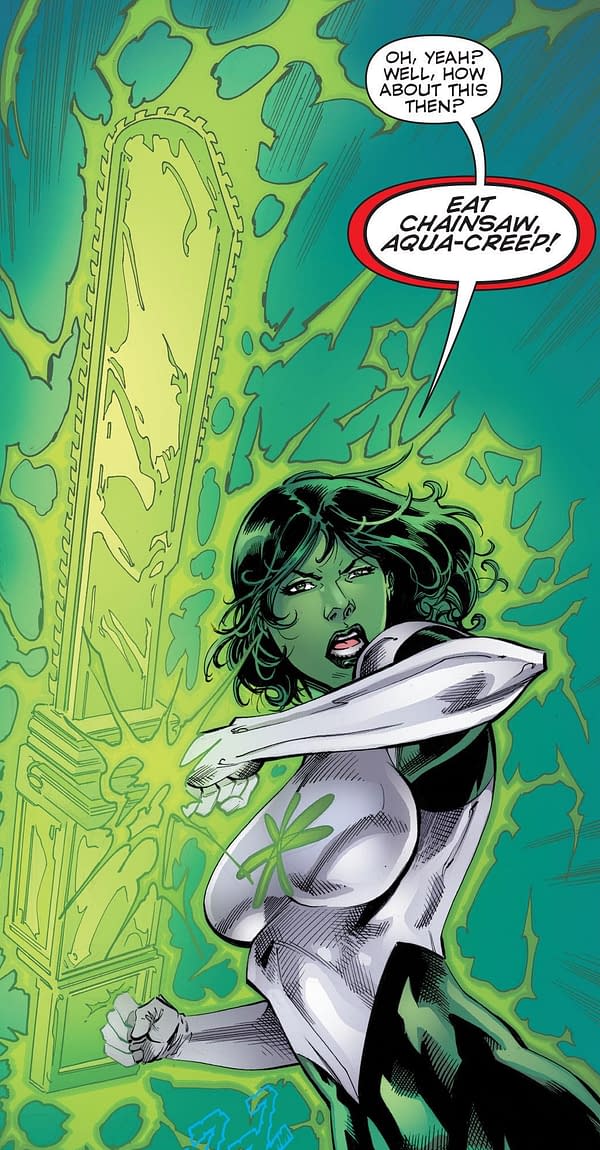 Chainsaws only work underwater when they are created from Green Lantern energy. Top tip there, from Convergence – Justice League #2 When Batwoman gets entirely the wrong idea about Huntress – but that's okay, everyone else had been thinking the same thing for ages. The lady doth protest too much in Convergence – The Question #2 Convergence – Batgirl #2 brings some domestic abuse into what had been a rather lighty brighty comic book… Convergence – Nightwing-Oracle #2 sees Nightwing kick ass while revealing his own to the viewing public. This is what they want. Angel & Faith Season 10 reminds us that Faith is always an expert on wood measurements. Lois Lane gives birth to Superman Jr in the Batcave in Convergence – Superman #2. I swear, Batman Sr had better not put the placenta in a trophy case. John Carter Warlord Of Mars looks like he's on the side of HellYeahSupermanAndWonderWoman as well…. Crossed Badlands #75 and #76 introduced us to a race of primitive men that were the cruellest, the sickest, the most depraved, torturing, raping monstrous society with everyone a willing partner in this abuse.
And then introduced the Crossed on top of that… could there be anything worse? Nutmeg #2 gives you the answer…
So what have you been reading today?