45 Thoughts About 45 Of Today's Comics – Jupiter's Legacy To Walking Dead To Star Wars
Lots of comic books out today, let's have a quick look at fifty of them… Star Wars #1 uses the splash page expertly. Timeafter time, it builds up a tense situation on the right hand side of a double page, with a splash page reveal on the left, again and again, and it never gets old. It also helps that, even with all the big title pages. Also giving Luke Skywalker the chance to do a little foreshadowing-amputation and manspreading.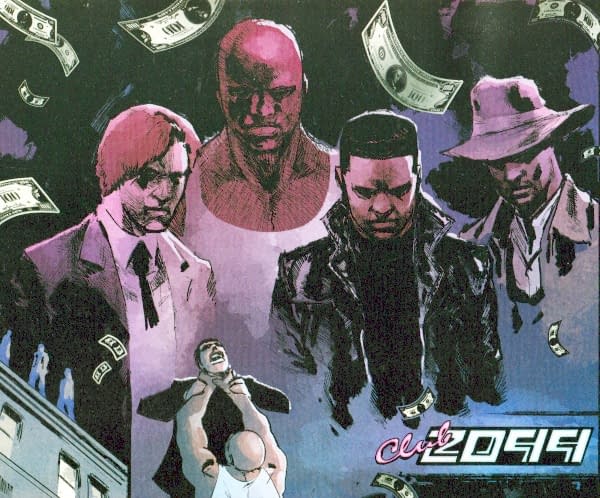 It's a day of retcons it seems, though Ultimate Spider-Man: Miles Morales' history of his father seems to have been played for and got. But it's good to see that the designer of the 2099 logo for Marvel Comics still has a job in the Ultimate Universe. Avengers Something Point Something concentrates on the New Universal characters of Star Brand and Nightnask, as we start to learn Starbrand's place in the universe. Expect more Time Runs Out/Secret Warsness as a result of being a Monster God… And while the main Avengers book launches Secret Wars today, it's good to see that some of the characters have an eye on what comic book fans really care about. If only more superheroes were plugged into the fans' comments. Like Ms Marvel who is rivalling Mark Waid stand-in universal-superhero-knowledge-holder Agent Coulson in the new issue of SHIELD. I wonder which character is bumping up which comic here? But it does remind me of one of those Fan Vs Pro trivia contests as conventions where someone gets one up on a pro… Such as knowing that it's the fifties public domain Daredevil in Savage Dragon being, um, nice, as opposed to the other one. I wonder what he's up to? Oh brother. That's the kind of offer, from Daredevil, that you are just not sure what to say next. Liberal guilt Vs. Personal Safety… And no, I don't think I'd be any more comfortable with animals in the driving seat in Wilds End #5. Especially the ones who navigate with their noses. At least a magic spell in Hexed #6 offers some protection.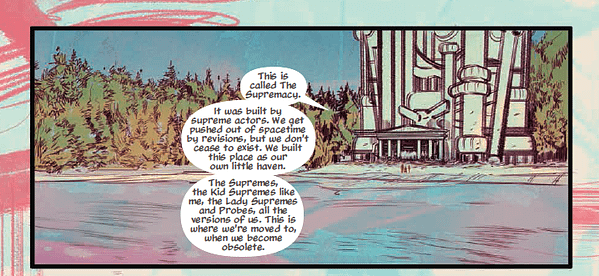 The Supremacy in Supreme: Blue Rose looks, well, a lot peaceful than it was the last time we visited… When your robot cartoon cat looks at you with all the pathos in the known universe in Shutter… See, Rat Queens really hasn't changed, has it?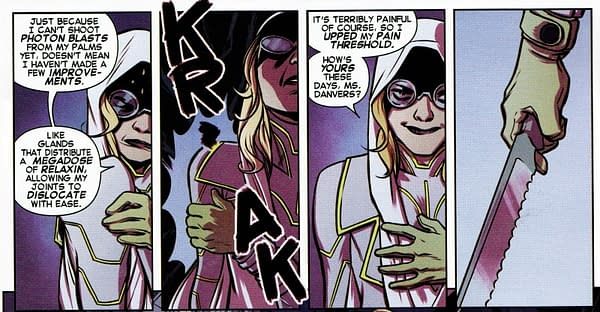 Captain Marvel has a bit of an Alan Davis look to it today, courtesy of David Lopez. Must be all those big round glasses everyone is wearing… And if you thought Batgirl couldn't look any more retro-chic than she does in her own book, Batman Eternal kicks it up a notch. Who needs Batman '66 when you have this?

I would totally buy a comic called Jimmy Olson On Infinite Earths, wouldn't you? From Earth 2: World's End today…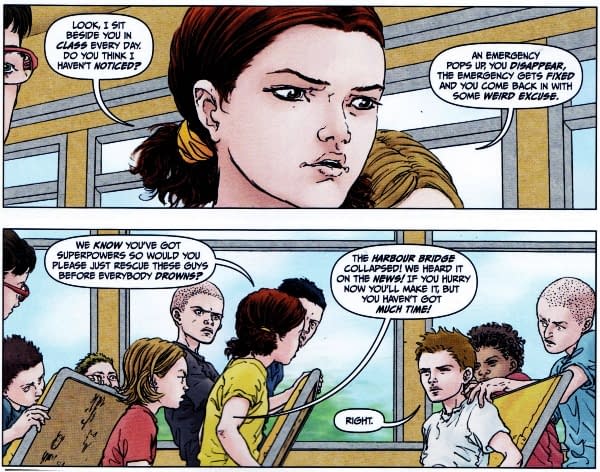 Mark Millar really just wants to write The Incredibles 2, given the evidence in Starlight and today's Jupiter's Legacy. This would totally be a scene, wouldn't it? The Walking Dead also tries to make sense of its universe. The comic has always professed that thoe described by its title are the survivors not the zombies, doing what they have to do, to make it through another day. The efforts of Rick Grimes and his crew is a bulwark against that, an attempt to find a way to start living again. The less sense this makes to the girl in question, the more chance they have of pulling it off… Marceline: Gone Adrift #1 also questions the basis of their reality… but with slightly more reason to. That's the kind of thing that Superman really is in disadvantage in, when it come to a couple's tiff. Eventually she pulls the "god" card. He really needs to get on that Ra identification bandwagon soon, in Superman/Wonder Woman if he stands a chance of one-upping her. A Voice In The Dark: Get Your Gun #2 gets into the soul over a phone call. How very old fashioned, none of this instant messaging nonsense. Words needs to be heard – even if we only read them. Bring on the radio adaptation. There are more questions to be asked in Twilight Zone #11. Morality is up in the air, but what do you do about it? Such as what happens when you get attacked by a ravenous monstrous toddler? Vampirella really needs a better babysitter as the comic (somehow) hits #100… And, in Suicide Risk #21, how do you address those who are wanting to shoot you?
And what to do when you have been shot in Thomas Alsop #8. Of course, the morphine. Who needs to worry if you're a good person then?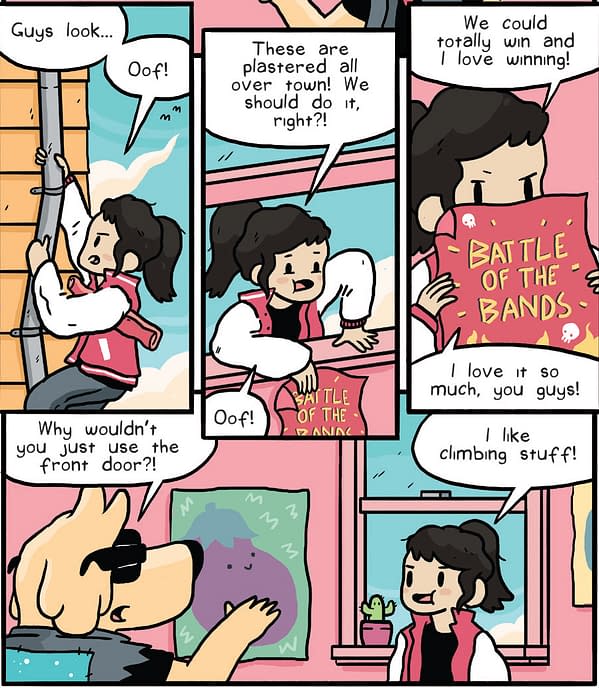 Teen Dog #5 does a fine line in child endangerment. But probably a better animal to deal with than in Steven Universe #6. Just no one try this for Valentine's Day, okay? Shadow Special 2014 gives us a choice. Is there anyone who wouldn't tick the box marked disperse? I went to see Cinderella with Eve and Alice at the pantomime the other day. This never happened. Shame really. Wrong Alice.
Regular Show #19 reminds us who is publishing the comic book in question.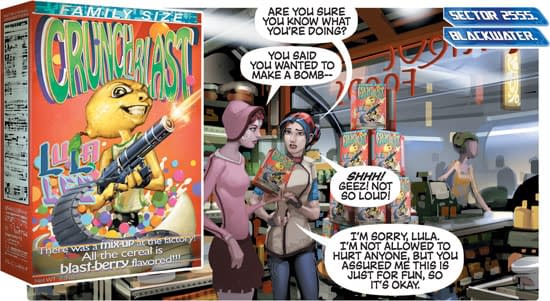 The future of breakfast cereal in the world of Rai #6 – seems to turn folk into cereal killers. Q2 – and he's wearing sunglasses. They didn't film this sideways, did they?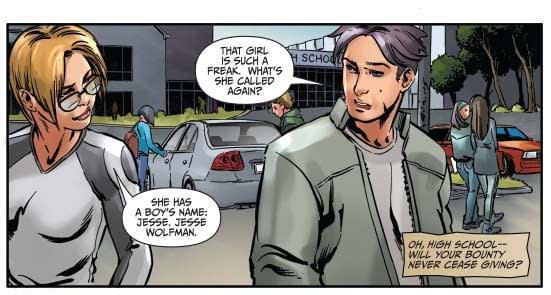 Mercy #4 gives us… a boy's name? Really? I mean I know it can be a boy's name, but… I know female Jesse. Maybe the "wolf" threw it.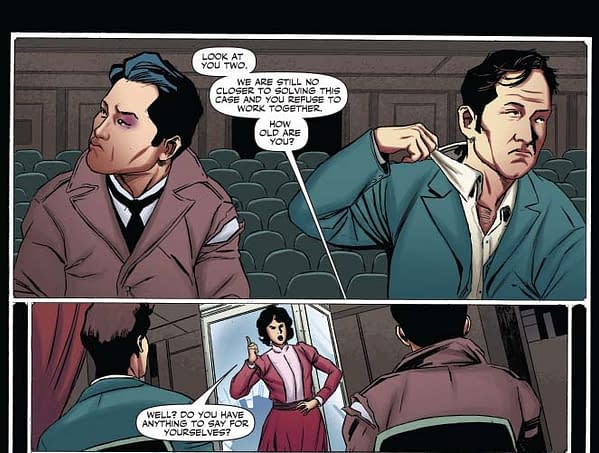 Holmes/Houdini #1… the bromance you never knew you wanted so much. Still the course of true love never ran smooth. Yeah, it's not like you need a licence to be a parole officer. It's like a hairdresser, you just pop up an office and off you go, in Ex-Con #3, Doodle #5 demonstrates why puns are the lowest form of wit. Fraggle Rock #4 agrees. You can run and keep up a quick witted back and forth will-they-won't-they conversation at the same time in Deep State #3, while grabbing your gun, so yes I'd definitely shut up. Battlestar Galactica: Death Of Apollo #2 delights in a certain seventies terminology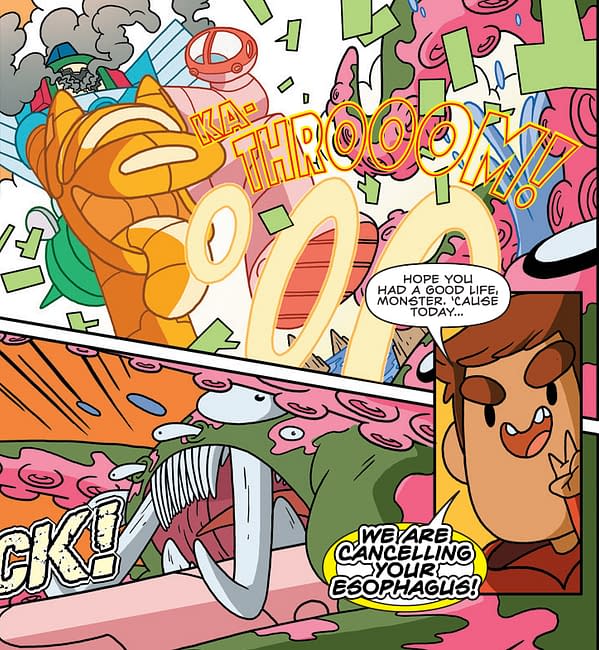 While Bravest Warriors #28 gets a little too specific on the biological terminology. And Boom Box 014 Mix Tape decided to do something very nasty to the Frosted Snowman. Though I thought he didn't mind being impaled?
So what have you been reading today?
Comics courtesy of Orbital Comics, London. Currently holding a large 'outlet store' sale, with massive discounts, in the gallery.