A Few War Of The Realms Ch-Ch-Changes….
A couple of notes, a few amends twixt solicitation and publication for Marvel Comics. Those that they'll admit to before the comic ships, that is. War Of The Realms #2 was solicited at a $4.99 40-page title. Well, it's still $4.99 but now it's a 32-page title. Which usually means 20 pages of story. Will that price come down at all?
While Avengers #19, solicited as a 40-page title, was listed at $7.99. And now $3.99. Still 40 pages, will that come down at all?
And War Of The Realms: Punisher #1, solicited as a T+ title, has been regraded Parental Advisory, the only War Of The Realms tie-in title to do so. A rarity for such a crossover book, joining the other Punisher, Wolverine, Ghost Rider, Thanos and X-Force titles and the like.
Oh and Marvel Comics Presents #4 has added Pere Perez to the previously solicited artist Paolo Siqueira on the issue in question, as well as Benjamin Percy and Juan Ferreyra on the Moon Knight story.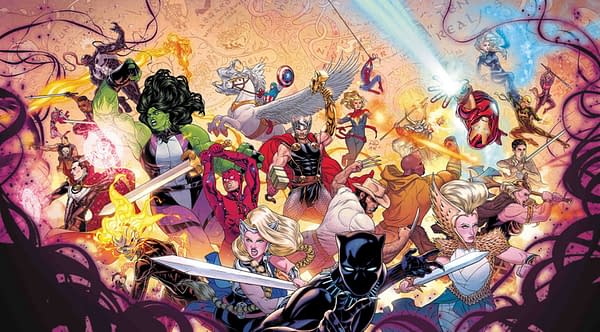 WAR OF REALMS #2 (OF 6) WR
(W) Jason Aaron (A) Russell Dauterman (CA) Arthur Adams, Matthew Wilson
The world at war! AS THE BATTLE FOR NEW YORK CITY CONTINUES, A HERO FALLS!
All the heroes of the Marvel Universe have assembled, yet this still might not be enough to stop Malekith's endless war. And the one hero who could turn the tide…is stranded where no one can reach him. With Thor trapped in the land of the Frost Giants and the forces of Earth overwhelmed, Black Panther, Jane Foster and Doctor Strange make a desperate gamble. Valhalla awaits…
Rated T+In Shops: Apr 17, 2019
SRP: $4.99

AVENGERS #19
(W) Jason Aaron (A/CA) Ed McGuinness
WAR OF THE REALMS TIE-IN!
Avengers Mountain is under siege as the last stronghold of Earth's heroes is the subject of an all-out assault by the forces of Malekith!
Rated T+In Shops: May 22, 2019
SRP: $3.99

WAR OF REALMS PUNISHER #1 (OF 3) WR
(W) Gerry Duggan (A) Marcelo Ferreira (CA) Juan Ferreyra
PUNISHER: AVENGER OF MIDGARD!
The War of The Realms has brought monsters to the streets of New York City, but New York has a monster all its own…Frank Castle, A.K.A. THE PUNISHER! And he'll be damned to Hel if he's going to let a bunch of Ten Realms tin-pot tyrants terrorize his town. But given he's one man against an army of monsters, Hel might soon have him! The War of Realms is about to meet Marvel's One Man Army. Expect Punishment!
Rated Parental AdvisoryIn Shops: Apr 17, 2019
SRP: $3.99

MARVEL COMICS PRESENTS #4
(W) Charles Soule, Daniel Kibblesmith, More (A) Paulo Siqueira, Pere Perez (CA) Arthur Adams
Our tour of the history of Marvel reaches the turbulent 1970s! Wolverine's vigil takes an unexpected turn! Spider-Man has an adventure in the new age of blockbuster cinema! Finally, an all-new tale of Moon Knight, one of the decade's most exciting creations, helmed by superstar creative team Benjamin Percy & Juan Ferreyra (Green Arrow)!
Rated T+In Shops: Apr 24, 2019
SRP: $4.99