We already looked at John Byrne's original adult colouring book, Stowaway To The Stars and the Princess Bride colouring book from IDW in November. But Amazon holds a few other IDW treats too.
Such as a combined Dirk Gently collection ahead of the Max Landis' TV show.
Dirk Gently's Big Holistic Graphic Novel Paperback
by Chris Ryall, Arvind Ethan David, Ilias Kyriazis, Tony Akins

Douglas Adams' holistic detective Dirk Gently has his comic book adventures collected here in DIRK GENTLY'S BIG HOLISTIC GRAPHIC NOVEL. Containing two stand-alone series, enjoy "The Interconnectedness of All Kings," and "A Spoon Too Short." But that's not all! Also includes bonus material showing a behind-the-scenes look at the making of the DIRK GENTLY TV show.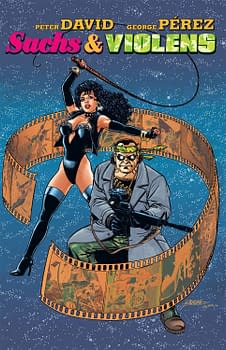 A new collection of Peter David and George Pérez ' Sachs & Violens, originally published by Marvel, collected by DC Comics, and now by IDW.
Sachs & Violens Paperback

The brutal killing of a young actress during the shooting of a snuff film sets soft core model Juanita Jean Sachs and photographer Ernie Schultz on a quest to discover those responsible. Their journey takes them from the mean streets of New York to the back alleys of New Orleans where they confront the utter depravity and corruption that defines the dark underbelly of American society.

$19.99
Joe Hill gets all his non-Locke & Key IDW comics in one big book.
Joe Hill: The Graphic Novel Collection Hardcover
by Joe Hill, Stephen King, Jason Ciaramella, Chris Ryall, Vic Malhotra, Charles Paul Wilson III, Nelson Daniel, Zach Howard

New York Times #1 Best Seller Joe Hill is the creative force behind this collection of comic one-shots, short stories, and graphic novels that showcase the world-building and bone-chilling talents of the famed Locke & Key creator. This deluxe hardcover includes: Kodiak (2010) with illustrations by Nat Jones, The Cape (2010) and The Cape 1969 (2011) illustrated by Zach Howard, Thumbprint (2013) illustrated by Vic Malhotra, Wraith (2014) with illustrations by Charles Paul Wilson III, plus the short stories "Throttle" (2009) from the Road Rage collection and "By the Silver Water of Lake Champlain" (2012) taken from 2016 Bram Stoker Award Winner Shadow Show: All New Stories in Celebration of Ray Bradbury. Fans of comic books, horror, and Hill, take note.

472 pages for $49.99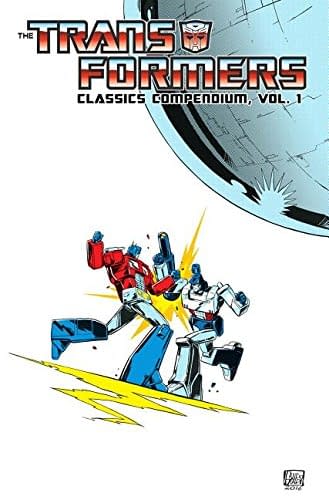 And those earliest of Transformers comics from Marvel in one massive volume.
Transformers Classics Compendium Volume 1
by Bob Budiansky, Bill Mantlo, Ralph Macchio, Jim Salicrup, Steve Parkhouse, Len Kaminski, Mike Collins, John Ridgway, Graham Nolan, Herb Trimpe, Ricardo Villamonte, Mike Manley, William Johnson, Alan Kupperberg, Frank Springer, Jose Delbo, Don Perlin

A huge compendium containing the first 50 issues of the classic Transformers comics series!

1148 pages for $100
While 30 Days Of Night also packs the first 11 volumes of the comic into one big book…
30 Days of Night Compendium Paperback
by Steve Niles, Matt Fraction, Dan Wickline, Kelly Sue DeConnick, David Lapham (Author, Artist), Joe R. Lansdale, Ben Templesmith (Author, Artist), Sam Kieth, Bill Sienkiewicz, Justin Randall, Tony Sandoval, Alex Sanchez, Milx, Nat Jones, Kody Chamberlain

The first 11 volumes of 30 Days of Night are contained in this huge compendium. Follow along from the beginning as co-creators Steve Niles and Ben Templesmith are joined by some of comic's best talent including Matt Fraction, Bill Sienkiewicz, David Lapham, and Sam Kieth.

$100 for 1188 pages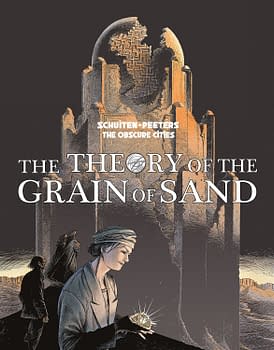 And IDW have a new translation project.
The Theory of the Grain of Sand
by Benoit Peeters, François Schuiten

Gholam Mortiza Khan comes to Brüsel to sell some jewelry, but before the sale can be closed, Khan dies in an accident. Thus begins events sparking an investigation by Mary von Rathen: accumulation of sand in the apartment of Kristin Antipova; accumulation of stones in the house of Constant Abeels and Maurice who is loosing weight by the day. The events have a catastrophic effect on Brüsel and time is of the essence.

Newly translated into English by Ivanka Hahnenberger and Steve Smith, and edited by Steve Smith (translator of The Leaning Girl and The Beauty) and Karen Copeland at Alaxis Press for publication by IDW.

$20 for 128 pages.
Enjoyed this article? Share it!