Alex Wilson writes;
Bushido (published by Top Cow) issue 2, written by Rob Levin and featuring the art of Jessada Sutthi, follows the misfortune of Kichiro, a western boy thrown into the life of a Japanese family in the time of the samurai after the ship his family sailed on was taken by vampires. Kichiro was found on shores of Japan after his ship was taken over and his family killed. He's taken in by a family and treated as one of their own but due to his adoption he could never become a samurai.
One night, while coming to grips with the fact the woman he loves is being forced to marry his headstrong brother for the good of the country, the vampires of his past attack. Kichiro's father is killed and his brother mistakenly blames the death on Kichiro.
This series has pirates, samurais, and vampires. I knew right when I heard about it I had the check it out. The concept through the second issue is interesting but still simple enough to follow. Honor and duty play a large role in this series and seem to be the motivation of Kichiro. He is willing to throw away his own life for that of his brother, his love, and his country, even if they do not thank him for it.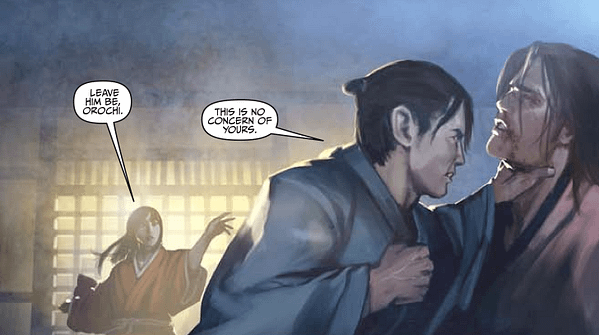 Let's start off with the writing. Levin's minor characters seem to mud together a bit but his main characters feel individual. Kichiro's love, Mitsuko, has an independent flair and this "won't take shit" attitude. Kichiro and his brother are also fairly distinguished characters but all others in the cast seem interchangeable.
Kichiro, the protagonist, wants to warn the Shogun of the impending threat on his life by these vampires. He seems to be practical to a fault, putting what most people would consider relatively normal desires, like keeping your life or marrying the one you love, aside in favor of his country and what is best for those around him. From the perspective of our modern day culture this seems foolish but I think Levin hits the nail on the head when it comes to our perception of Japanese culture during this early time period. These characters perform, for the most part, as I would expect them to behave. They follow duty and justice instead of their hearts. Mitsuko is the exception. She is trying to follow her heart but all those around her, including Kichiro, are trying to stop her in favor of what would be more acceptable in their society.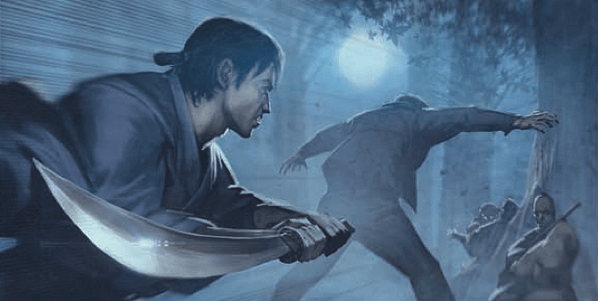 One thing the story could use is a bit of back-story on the vampires. They seem fairly interesting but don't get much character time as our main cast. I would love to see how these vampires came to Japan, as they seem to have an almost western flair to them.
The pacing at the beginning of the issue seemed rushed but balanced out quickly and the ride became more enjoyable.
I love the art in his book. Sutthi's less than typical panel layout works well in this sort of visual narrative story telling. All the characters feel different and he captures Kichiro extremely well, showing a boy European/American boy who has grown up in Japanese culture. His panels bleed into one another, drawing the eye to the next panel and keeping the story moving.
In the end, I enjoyed Bushido. I started reading with the mindset of action and violence but was surprised to find a story of honor and love as the foundation. The concept is fun and executed in an excited way.
Enjoyed this article? Share it!