Twelve years ago, One More Day by J. Michael Straczynski and Joe Quesada, was one of the more controversial Spider-Man stories of all time. Concluding storylines started in that year's Civil War series, the story saw Spider-Man trying to save Aunt May's life after she had been shot by doing a deal with the devil Mephisto to save her life in return for his marriage to Mary Jane Watson being removed from existence. As part of the deal, the world's knowledge of Spider-Man being Peter Parker was also removed. This was as a result of Marvel Comics editorial and executives making the decision that Marvel needed a Spider-Man to be closer to other media portrayals of the character, to make him appear younger and to give him other storylines that would be closed to a married or even divorced Peter Parker. It led to Brand New Day, with a single unmarried Spider-Man, and a ten year run by Dan Slott on Amazing Spider-Man. The dissolution of Spider-Man generated outrage from some, and an overall fall of Spider-Man readers. Straczynski himself disowned the story, and wanted to take his name off the final issues. Since then Dan Slott has stated that Marvel Comics would never reverse this storyline no matter what. Though series such as Spider-Man/Deadpool has toyed with revisiting it, Mephisto has become a lot more prominent across Marvel Comics title, looking at a major event in December. And Amazing Spider-Man, now written by Nick Spencer, has brought Mary Jane Watson back into Peter Parker's life in a romantic fashion.
And Bleeding Cool has learned that Amazing Spider-Man will be revisiting this storyline in September. No Mephisto, at least not yet, but with Mary Jane about to take a major TV acting role in Hollywood while Peter Parker is working at the university in New York again, it looks like something may be rearing its head to keep them together…
Could Dan Slott be wrong? Or is this another attempt at Marvel to torture Spider-Man fans in the only way they know how, by teasing what hey can never have? Either way, Amazing Spider-Man #29 may be much in demand as a result. And goes to Final Order Cut-Off today…
AMAZING SPIDER-MAN #29
(W) Nick Spencer (A) Francesco Manna (CA) Ryan Ottley
• The aftershocks from Mary Jane's recent decision are felt throughout Spider-Man's life!
• With that throwing Peter's life into upheaval, a super villain rearing their head is NOT HELPFUL!
Rated TIn Shops: Sep 11, 2019
Final Orders Due: Aug 19, 2019
SRP: $3.99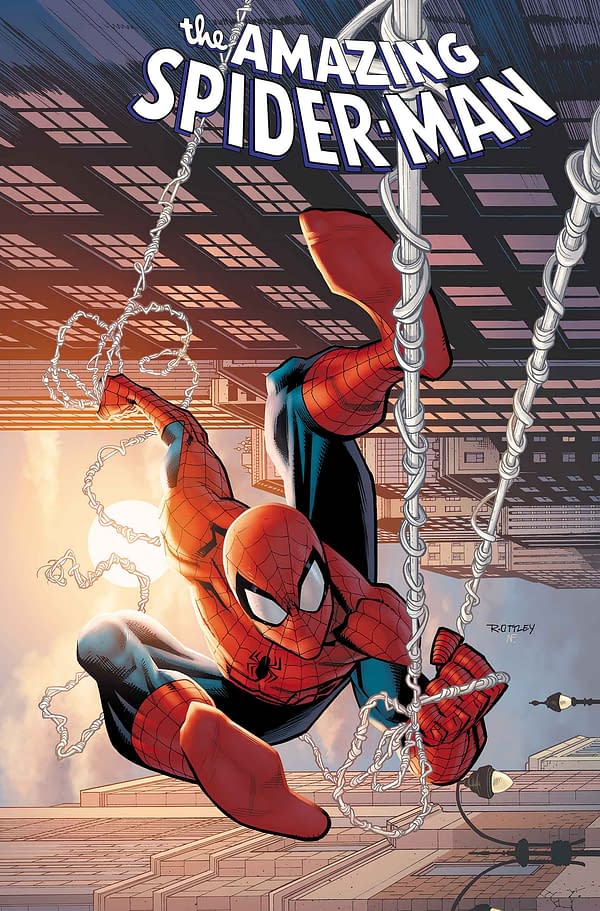 Enjoyed this article? Share it!