A Serious Violation of Library Protocols in Next Week's Doctor Strange #12
In a preview of next week's Doctor Strange #12, the titular Doctor is going up against a new four-armed villain names Zoloz, who appears to be the collective experience of an entire race of interdimensional beings (at least according to the preview – he doesn't have a wiki page). But apparently in Zarax, they don't follow the same rules at the library as we do here on Earth. For example, there appear to be no limits on the number of books one can check out at once…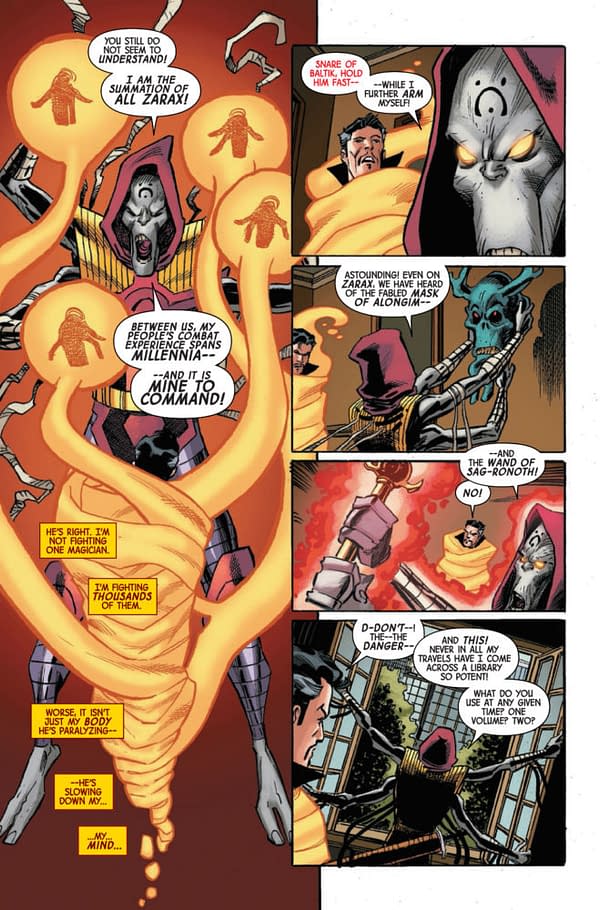 Yeah, Zoloz, didn't you read the terms of your library card? Apparently not, as Zoloz plans to use everything in Doctor Strange's mystic library at once, weaponizing it…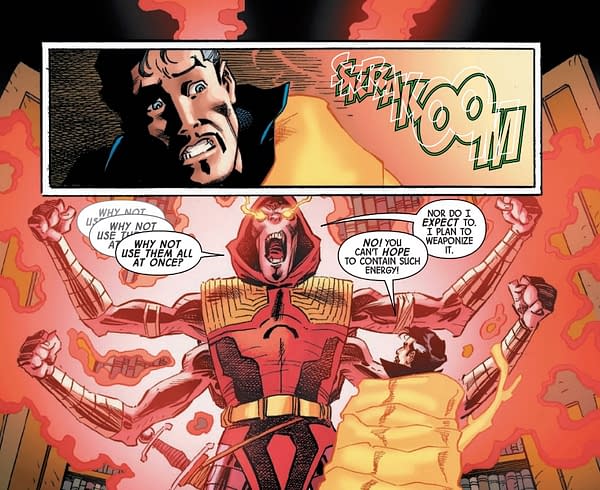 How rude! What about the other patrons? And using it to go after… Galactus?
The real kicker here is that Doctor Strange's library apparently doesn't keep up to date with the latest comic books, because if it didn't, then Zoloz would know that Galactus is currently imprisoned in Latveria in the pages of Fantastic Four. So not only does Zoloz have no respect for the rules of the library, but he has no respect for continuity either. Though, it's tough to find anyone at Marvel who does these days.
Doctor Strange #12 hits stores next Wednesday.
Doctor Strange #12
(W) Mark Waid (A) Barry Kitson (CA) Jesus Saiz
• After the incredible #400, Doc is finally face to face with the man who controls Earth's magic!
• What chance does Strange have against a foe who can literally turn Strange's spells off?!
Rated T+
In Shops: Mar 27, 2019
SRP: $3.99