Posted in: Comics | Tagged:
---
The Absolute Authority Vol 2 Restores Everything Except Bush
It was a story I covered early back in 2000, in the All The Rage days that preceded Lying In The Gutters. That Mark Millar's run on Authority was being censored after the comic had been green-lit and drawn. Paul Levitz, President of DC Comics who had just bought Wildstorm, suddenly micromanaging their line, including the superhero title with a reputation for pushing boundaries. Back in the day, I managed to get access to the original black and white artwork before it was bowdlerised and printed in colour.
But the new Absolute Authority Vol 2 hardcover which includes all the Mark Millar issues and fill-ins, the new Ellis/Hitch story from Wildstorm 25th Anniversary, has restored most of the changes. The Anniversary edition only saw a couple of issues restored, and only in black and white. This volume goes the whole hog.
But the Marvel Masterworks fansite message boards have uploaded a few more examples. So I'm going to run the version I uncovered, the censored version and the new version for comparison's sake.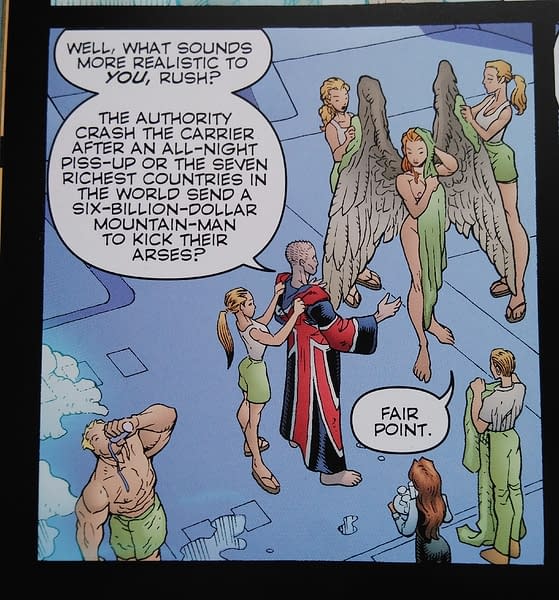 And while the Ted Turner lookalike has been amended with grey hair to look more like the man, there is one likeness that hasn't been changed. The President of the United States who has in earlier issues been drawn to look like Bill Clinton, no longer did.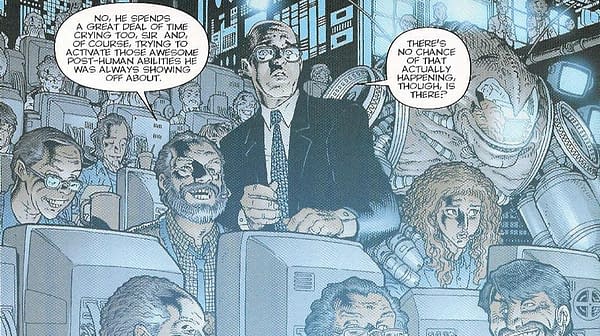 Because this is how he was supposed to look.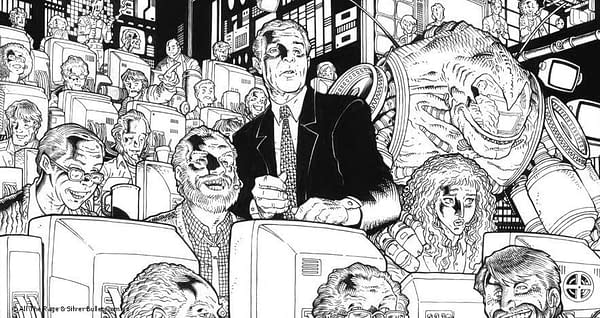 And that hasn't been changed back in the Absolutely Authority Vol 2. Spouting racial epithets, necrophilia, rape, child murder, degrading abuse, they're all fine. But President Bush? That, for DC Comics, is a step too far still.
ABSOLUTE AUTHORITY HC VOL 02 NEW ED
(W) Mark Millar (A) Arthur Adams, Chris Weston, Gary Erskine (A/CA) Frank Quitely
Collecting the entire second half of THE AUTHORITY's groundbreaking first series, this new edition of THE ABSOLUTE AUTHORITY VOL. 2 includes Mark Millar's legendary run, presented in its unexpurgated form for the first time. From deposing monarchs to posing for magazine covers, from the heights of popularity to the bottom of the barrel, THE AUTHORITY redefined the comic book super-team. This slipcased, oversized hardcover volume includes THE AUTHORITY #13-29, THE AUTHORITY ANNUAL 2000 and stories from WILDSTORM SUMMER SPECIAL!In Shops: Jul 25, 2018
SRP: $75.00
---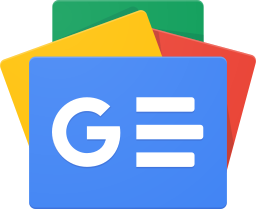 Stay up-to-date and support the site by following Bleeding Cool on Google News today!