They've been talking Red Trunks at the Action Comics #1000 panel at C2E2 today. Superman is getting them back, and all the Superman creators on the panel talked about the fight to get them back — Patrick Gleason tried a belt that edged towards it, but it was Brian Michael Bendis who stood on their shoulders and grabbed the trunks.
And now Bendis says his social media is full of people angry that he is getting them back. And that is his life now.
Just as DC Comics gave out Superman red trunks to the press at #SXSW and then at WonderCon, they have promised everyone will get a pair in the audience. Jill Thompson wants every audience member to wear theirs over their trousers for a group shot, and the creators have promised to sign as many as they can before they are put on eBay later today.
You get a pair of red trunks, you get a pair of red trunks, everyone gets a pair of red trunks! And, yes, put them on eBay. Signed copies from WonderCon have sold for up to $100.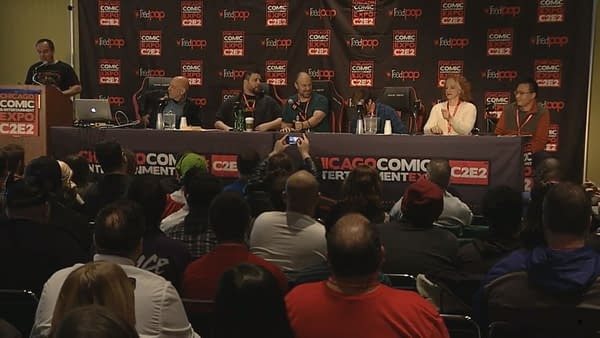 Enjoyed this article? Share it!