Advance Review: Five Awesome Things About Paybacks #1
I've been waiting for the arrival of Paybacks for some time, and we've been teasing it here on Bleeding Cool for almost as long. We were big fans of Buzzkill, the series by Donny Cates, Eliot Rahal, Geoff Shaw, and Lauren Affe that set up some of the tone and especially the humor and art quality that we see in the new series Paybacks, set in the same universe as the previous comic but only very loosely overlapping.
Now, it's nearly here and I've had the privilege to read the first issue. It's clear already that the series does represent a step further into the wacky wilderness of comic potential I saw in Buzzkill, where one of my favorite things beyond the actually very deep seriousness of that series were the bizarre animal cameos like goats and giant, crazy bears. Well, this is Paybacks and it's way, way stranger than that in very good ways.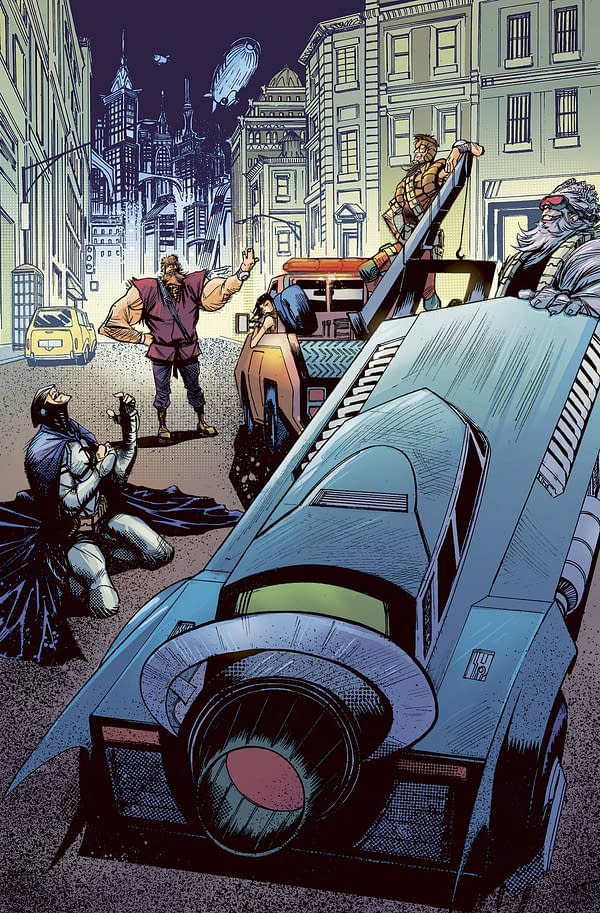 Here are 5 things I think are awesome about the first issue:
1. It's Just. So. Weird.
It's really important to me as an increasingly seasoned comics reader that I shouldn't be able to predict the contents of the page I'm about to read, or if I can, that the depth or emotion thereof still manages to surprise me and reach me. Total off the wall weirdness, as long as it works according to its own internal logic, is a kind of cleverness we need to see more of in comics. How do you manage to be weird in comics? Usually by either discarding all slavish imitation of tradition, or else by taking just about every element of tradition, putting it in a blender, and then carefully reconstituting it in messed up ways. It's a bit like taking the head of a dinosaur toy and putting it on a Barbie doll. I would not be surprised if that actually turned up in Paybacks, actually. Barb-anosaurus? Anyway—pay attention to the little comments and the background detail in Paybacks. This is a world of both successful and many, many failed superheroes and it's a stew of backstory.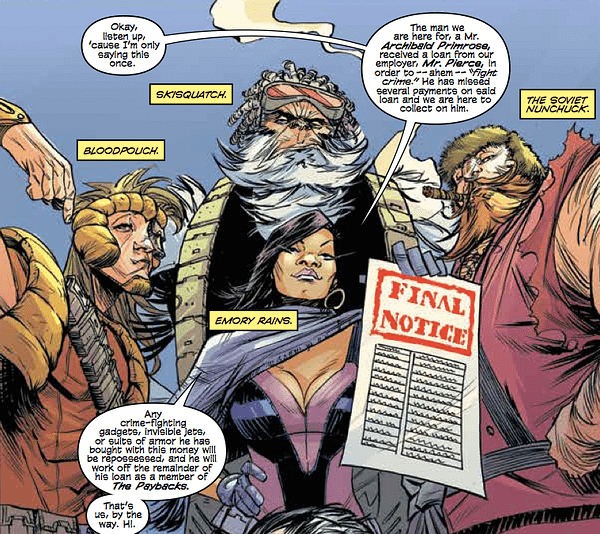 2. There Are Actual "Powers".
I don't think this is too much of a spoiler, since you might expect that in a world where lots of failed superheroes with all the right intentions are terribly in debt over their million-dollar suits and technology, there should be the odd hero out who actually has a "power" and can do alarming things. Knowing this book, we will probably encounter lots of crap powers, too, like the ability to change the radio with one's mind. But because there are the occasional powers, the effect on the comic is actually quite important. It adds a kind of strange, savage gradeur to the world of Paybacks. It'll knock you back on your heels a bit and gives you a new way of believing in supers. And probably make you more sympathetic to those who don't have a natural ability, but just a lot of heart.

3. The Art. Very Much The Art.
Seriously, the art on Buzzkill is what made me a devotee of Geoff Shaw's in the first place. It was so just so excruciatingly emotive while always seeming in motion, sketchily transmitting a raw energy and physicality for the characters. He's an artist so very capable of creating thos "It" moments for superheroes that seeing him back on a creator-owned superhero book is a real treat. The colors on Buzzkill were a big part of the signature of the series, and the wonderful Lauren Affe is back on the team here, too, making sure that all that strange acid, mellow feel of the prior series returns, but I'm sure she'll have a thing or two to say to make Paybacks very much its own world of hue as well.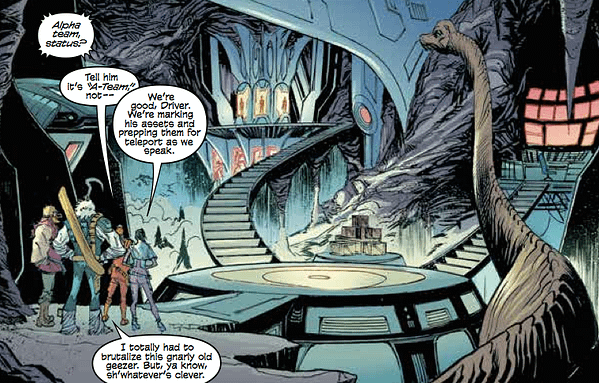 4. There Are How Many Characters?
As many as the team can fit in this book, really. There are potentially thousands of characters for this series, and though there will be some central reoccurring characters on the crew known as the Paybacks, the background characters, major and minor, will become a big part of the experience of the book, too. Think Canterbury Tales. There will be a lot of chance encounters on this journey, and each one will remind us that this is a big world with many, many stories. It's that crowded energy that makes this concept work. And as always keep an eye on the details for homage, in-jokes, and just plain craziness.

5. You'll Laugh Until You Cry.
That's probably true. But I was being meta and referring to the fact that I would describe this series as a COMEDY in capital letters and yet… I really don't believe that Donny Cates and Eliot Rahal are capable of writing something that doesn't have that underpinning of emotion that just gets you when you're nonchalantly strolling by. Damn them. And Geoff Shaw turns on a dime to make you really feel the emotions of the characters, too, so the humor and emotion just turn into this blast of pathos that's already being exuded in Issue #1. So, my God—it's a comic that actually makes you feel something, too. Just look at their little faces—all those failed heroes and the ones whose failure means they have to be repo on their comrades. Damn. And lastly, I'll add as an aside, that we are Back In Blaqk. Whether you've read the series Buzzkill or not, you're going to enjoy the natural flair and silliness of Doctor Blaqk, who gets his own font and everything. And of course, when he welcomes his friends in this issue, he's really welcoming us back into his world. And he's one of those people who will keep the mystery and unpredictability of this world alive.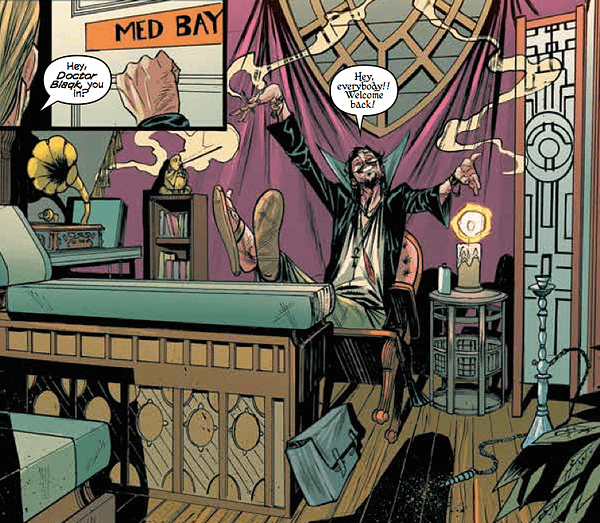 So, you folks who have worked on Paybacks, good job. I knew you had it in you. Let's get this show on the road. Or should I say "van"? Paybacks #1 arrives on September 16th.
Paybacks #1 is currently listed in Previews World with item code: JUL150091 and reaches FOC today, August 24th.