Adventureman #2 Review: A Decent Dash of Derring-Do
The impossibly perfect-looking character Claire Connell in Adventureman #2 — a former cop, current bookseller, 1/7 of an equally impossibly perfect and diverse set of sisters, looking like a mod Zooey Deschanel gone Kate Upton — spends much of this issue prevaricating before stumbling into the interesting world depicted in a recently discovered manuscript. This leads to some visually arresting sequences that move with great zest and even a dash of derring-do.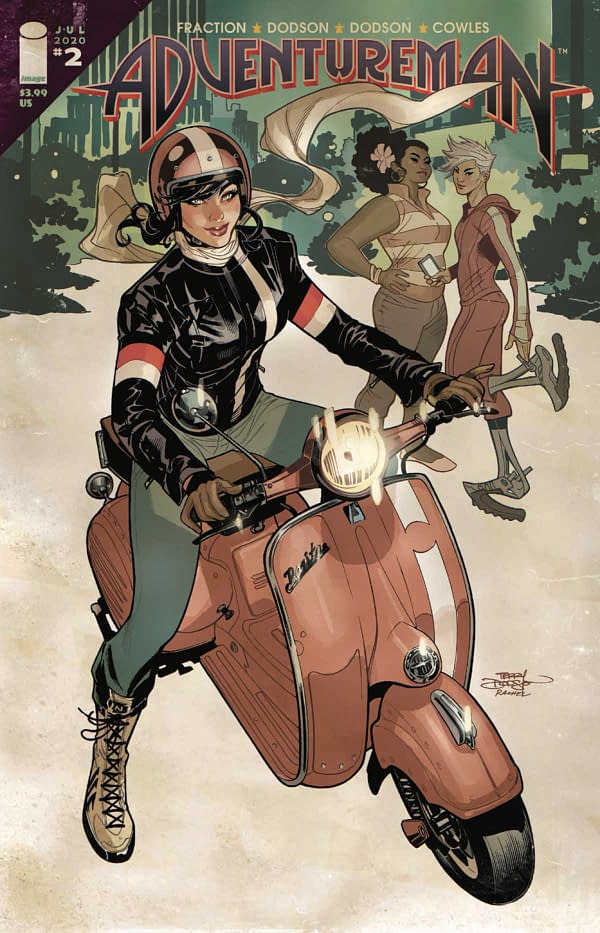 Imagine, if you will, all of the lore of Tom Strong or Astro City without bothering to establish much of the gravity or resonance of the characters. Adventureman takes that route, like dropping you in the second act of Tarnished Angel and then stepping on the accelerator. Everybody on this creative team is amazing at what they do, as Matt Fraction deftly drops hints about previous events while the Dodsons … well, they're the Dodsons, so most panels would be suitable for hanging and framing in your home, they're so gorgeous, even with somewhat flat color palettes at certain points (the "security system").
The story in the heads of the creative team, however, seems much more robustly developed than what we have on the page. "Soufflé Day," for example, is a big deal to the characters but doesn't enforce its relevance upon the reader. There's a visual gag akin to a
SEP Field
that gets rushed past instead of eliciting wonder. These little details seem like they are very well understood by the makers of the book, but they just didn't stop long enough to let you in on the gag.
Also, ironically, the titular character is barely an afterthought in this sophomore issue. Weird.
It could be the curse of the periodical here, as this might make more sense in a binge-worthy setting. As it stands, this is a gorgeous date that won't open up, that won't let you become enamored, instead willing to let the inundation of its dazzle
hopefully seal the deal
.
RATING: HONORABLE MENTION.
Adventureman #2

Writer: Matt Fraction

Artists: Terry Dodson, Rachel Dodson

The mysterious disappearance of the original Adventureman gets a little more complicated when, in the modern era, single mom Claire Connell stumbles into his legacy. But with the adventuremantle come untold dangers from those who would seek to destroy it!