AfterShock Launches New Anthology Comic, Shock, with Neil Gaiman, Marc Guggenheim, Jim Starlin, Charles Vess and More
America has never really taken to the anthology comic book in the way that Britain did. To us, it's the natural order of things, a kids' comic with a series of one, two or if you're lucky, three-page strips that formed the likes of the Beano and the Dandy and grew up into 2000AD, Deadline, Warrior and Viz Comic. Even the modern middle-class reinvention of the form in the Phoenix Comic Weekly stuck with the format, and when Marvel Comics came to the UK, the strips were cut up into quarters and pumped out weekly.
Well, in March, AfterShock is going to give it a go with a new hardcover volume simply called Shock. Here is the solicit, provided to Bleeding Cool by Aaron Marian of Fifteen Minutes, the PR agency that handles the comics publisher – or at least did. Half-way through Aaron was now emailed from digital PR and marketing agency PublicHaus. Looks like he took AfterShock with him… SHOCK HC / $34.99 / 160 pages / color / on sale 03.20.18

AfterShock Comics continues to push boundaries by presenting it's very first anthology collection featuring a slew of today's top writers and artists. Presented in the European Album format (same as the recent Animosity: the Rise hardcover for LCSD), this handsome hardcover features the creative talents of Bill Willingham, Marguerite Bennett, Mike Carey, Jim Starlin, Michael Zulli, Charles Vess, Michael Gaydos, Andy Clarke, Andrew Robinson, Sarah Delaine, Phil Hester, Paul Jenkins, Neil Gaiman, Dalibor Talajic, Travis Moore, Brian Azzarello, Francesco Francavilla, Cullen Bunn, Marc Guggenheim, Frank Tieri, Brian Stelfreeze, and more! Cover art by John Cassaday!From the multiple Eisner and Harvey Award nominated editor of the classic Negative Burn anthology series.
Well, that would be Joe Pruett. But that's a major league amount of names for such a project. While there are familiar names from AfterShock titles including Marguritte Bennett, Paul Jenkins, Phil Hester and more, there are also new names to the publisher – and yes Neil Gaiman is the most prominent, but also Bill Willingham, Charles Vess, Travis Moore, Michael Zulli and many more.
Aaron let us ask Mike Carey and Marc Guggenheim a couple of questions. And I had the most amusing opening for them both, no seriously, this is wordsmith magic, right here.
Bleeding Cool: What's your story and why is it shocking?
Marc Guggenheim: It's a story about two cities — New York and Chicago — coming to life and doing battle. It's a huge and bombastic idea that is probably — hopefully — shocking in its sheer craziness and audacity.
Bleeding Cool: Who's the artist and how does their art look when it's a little bigger?
Marc Guggenheim: We don't have an artist just yet, though I know it will look incredible!
Bleeding Cool: Sounds like an opportunity for someone to send their portfolio in… What are the odds of any fundamentalist Islamic phrases of hate making it through this time?
Marc Guggenheim: Ah, I see what you did there. My hope is that with the knowledge that this is something people apparently do — having been previously ignorant to it — my hope is that myself and everyone else involve are now more aware of the possibility that hidden messages — of any stripe — can be worked into art. In the past, such "detail" would go unnoticed — fading into a kind of "white noise" as it were — but I think that's less likely to happen now in light of recent events. At least, that's my fervent hope."
Bleeding Cool: What's your story and why is it shocking?
Mike Carey: My story is an autobiographical piece. It's about growing up poor (by UK standards) in Liverpool in the last century. I think what makes it shocking is that although it's within a human lifetime the world I describe in the story already feels like a long time ago in a galaxy far, far away. It's about how we relate to our past and how we make sense of it."
Bleeding Cool: Who's the artist and how does their art look when it's a little bigger?
Mike Carey: The artist is Szymon Kudranski, and it's not so much a matter of size as of palette. His black and white art is incredibly rich and evocative. Given how much nuance and emotion he can put into a mainstream superhero piece, I can't wait to see what he does with this quiet, dark little story…"

Bleeding Cool: Szymon Kudranski of Spawn fame/ Man, they should have included his name in the solicits. Just saying. So… in an attempt to steer this into some kind of link to your other work, keeping vaguely religious for the time of year, but possibly not as contentious as I dis with Marc earlier, what do you give the girl who has all the gifts for Christmas?
Mike Carey: If I say "the AfterShock anthology" that's just going to sound cheesy, isn't it? But as we know, Melanie does love her stories…
Bleeding Cool: Yeah, especially since it only comes out in March. Man, I even got the release date in at the end there, Aaron Marion from Fifteen Minutes PublicHaus is going to love that!
Here's a look at some of that art.
From This Is Istanbul.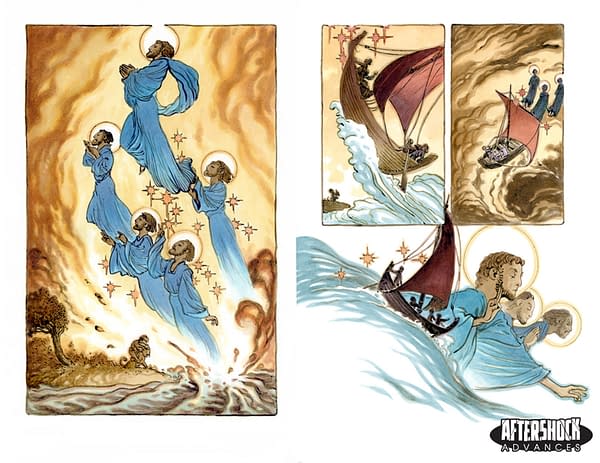 From Endgame. From Kerguelen. From Mountain Pass.