Doing Alan Moore Justice – Pat Shand on Writing Crossed+100: Mimic
This week saw the launch of Avatar Press's Crossed +100: Mimic, a miniseries spinning out of Alan Moore's radical reinvention of Garth Ennis's extreme horror series that pushed comics to its gruesome limit. Today, we're talking with writer Pat Shand about his role in this new series from Bleeding Cool's publisher, that explores the history and future of Crossed.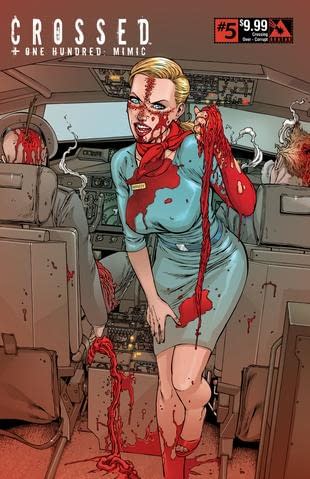 BLEEDING COOL: For the uninitiated, what do we need to know about Crossed before diving into this new series?
PAT SHAND: Crossed has been around in some form for the past decade, pretty much redefining how far horror can go. It's basically about a virus that sweeps the world and turns a large portion of the population into vicious, bloodthirsty psychopaths. It started with Garth Ennis, and it's been passed down to some of the writers I admire most – Kieron Gillen, Christos Gage, Si Spurrier – over the years. Most recently, Alan Moore totally reinvented the series with Crossed +100 by jumping 100 years into the future when humanity has essentially won the war for the planet. The Crossed are dying out, but that doesn't make it easy for the survivors. We're picking up from where that series left off.
BC: Give us the quick pitch for Crossed +100: Mimic.
PAT: It's running six issues and it has two feature stories. One written by me, and one written by Christos Gage. My half of the story is called American History X, and each chapter tells a standalone story that takes place during the 100 years between the initial outbreak and Crossed +100. Alan Moore wrote an extensive, stunning history of how humanity fought back against the Crossed and rebuilt society, and also called out a few specific key events over time. I'm basing my stories off of that.
BC: This was a timeline than Alan Moore developed?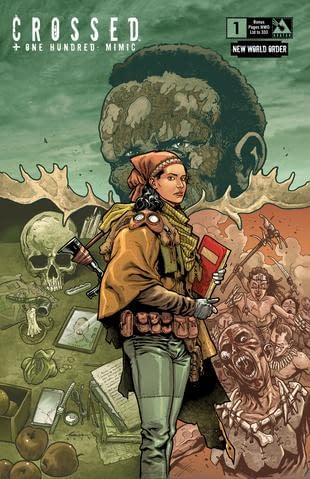 PAT: Kind of. That and more. It has everything, pretty much. A glossary of the English spoken in Crossed +100 – which is still identifiably English, but it's developed in a way that feels natural considering what happened to the world. Alan's writing here was chilling, because it reads less like a guideline for writers like me, and more like the writings of someone who lived in this horrific world that he's writing about. It's extensive to the point where it's scary. All I can do is hope I do Alan justice… and perhaps have some fucked up fun along the way. I hate to be the "I'm just honored to be here" guy, but holy shit – Alan Moore, you know what I mean?
BC: When did you first experience Crossed?
PAT: I had heard of the series, but I remember meeting Si Spurrier at Calgary Expo a few years ago. We were having the "What are you working on?" conversation. It was early in my career, so I think I was just doing a few books at that point. Si was on Crossed: Wish You Were Here, and he told me, with devilish glee, and writing a unique scene with a dolphin. I bought his first volume the next day, and holy shit – I've never read something so brutal but with so much empathy. I was in.
BC: Finally, what can we expect from your Crossed stories?
PAT: Some wicked art from Raulo Caceres. He scares the shit out of me. Beyond the fears though, I just want to tell stories here that make people feel something different every month. The first chapter is a tragedy. The second, part thriller and part comedic romp. The third and fourth, juxtapositions in what it means to be the hunter and the hunted. If I can make someone feel something, I'm happy.
A variety of Crossed +100: Mimic deals can be found right here.