Ales Kot, Luca Casalanguida and Heather Moore Launch Lost Soldiers
Getting a Gem of The Month for August 2020 in next week's Diamond Previews is a new series by Ales Kot, Luca Casalanguida and Heather Moore, called Lost Soldiers, promised earlier this year for the Summer – and still scheduled that way despite everything.
Set in 1969 Vietnam and present day Juarez, about three men tied together by the Vietnam War, heading towards a new one. Kot describes this as 'the past is a bullet. The first issue of this five-issue mini-series will be out in comic book stores on July 29th.
Ales Kot has a reputation as a political writer, with series like Zero, Days Of Hate, Generation Gone, Change, The Surface and Wolf for Image, but also like likes of Bloodborne, Secret Avengers, Iron Patriot, Dead Drop and Suicide Squad for other publishers, though he has eschewed working for the likes of Marvel and DC Comics in recent years.
Ales Kot recently worked with Luca Casalanguida on James Bond from Dynamite entertainment a couple of years ago, and with Heather Moore on The New World from Image Comics. We will presumably learn more about how that work is divided, ink/pencils/colour or one time period to another, in the official PR, as and when.
Here is the solicitation and cover released for the first issue.
LOST SOLDIERS #1 (OF 5) (MR)
IMAGE COMICS
JUN200021
(W) Ales Kot (A/CA) Luca Casalanguida, Heather Moore
Vietnam, 1969. Juarez, forty years later. Three men tied by the war they left behind-on collision course with a new one.In Shops: Jul 29, 2020 SRP: $3.99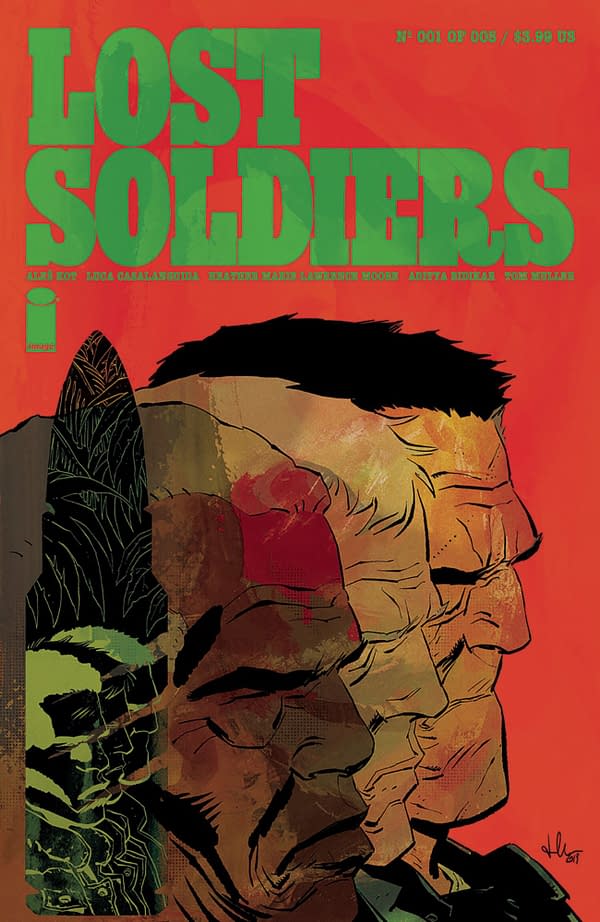 You can take a look at what other comic books are coming out in the new August solicitations with this handy tag, and get a look at the front page of Previews, and what other books are getting Gems Of The Month for August 2020, as seen in the upcoming Diamond Previews catalogue, over here.