Amy Chu's Writer's Commentary on Red Sonja and Vampirella Meet Betty and Veronica #6 on sale now from Dynamite. She writes;
Baltimore Comic Con this past weekend was my best ever. I love it because it's such a comics-centric con (you know what I mean by that, of course) and it was delightful to see so many friends. Francesco Francavilla was just a few tables away with his beautiful limited edition pins based on his #1 variant cover (you can still get them on the Dynamite website, btw…).
As always, I still get a lot of Poison Ivy fans, but I was especially pleased to have quite a few folks stop by my table at to say how much they were enjoying this series in particular. This is my first time dabbling in the Archie universe and I'll tell you, it's not easy doing a triple crossover like this. Your enthusiasm for the story really does make it worth it. I thought this would a somber, more emotional moment as we parted ways here, now, at this final issue. But, in case you missed the announcement: thanks to all who spent their hard-earned cash at your local comic book stores for this series, I am happy to say, there will be six issues more of your favorite Fabulous Four! High five and well done!
So let's dive in, but first some proper thanks and acknowledgments. Yet another gorgeous cover by Fay Dalton, with a bit of a reveal on the cover! Colors this time by the excellent Valentina Pinto who you may remember from Dejah Thoris. Letters by my fellow Kubie instructor Taylor Esposito. And a little art help from Ivan F. Silva and David Anton. Grazie, Matt Idelson and of course to Maria Laura Sanapo whose art really brings this story to life. Every time she sends a page, it makes my day!
Page 1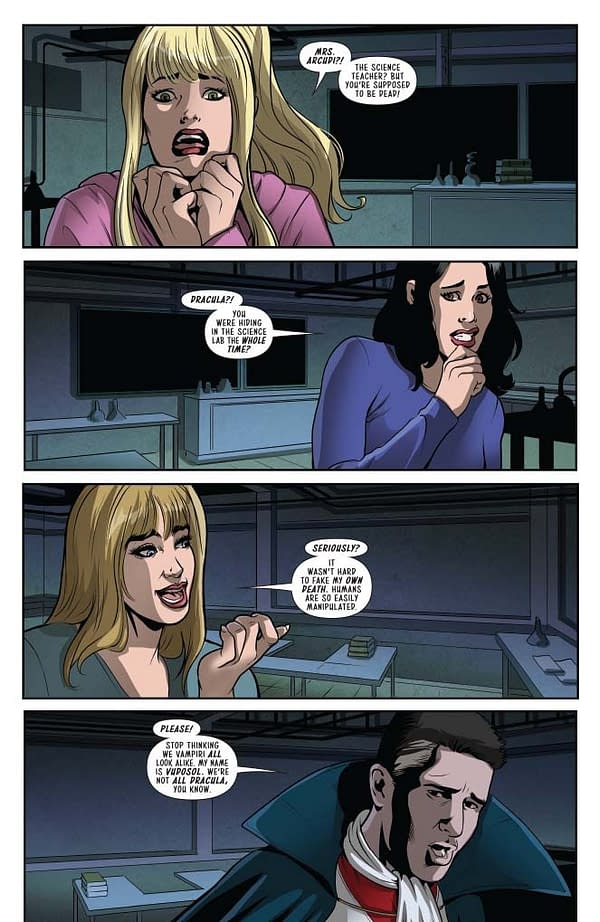 A little bit of intro, recap, and reveal all in one! My son came up with the name Vudosol – there was a reason for it and now I've forgotten!
Page 2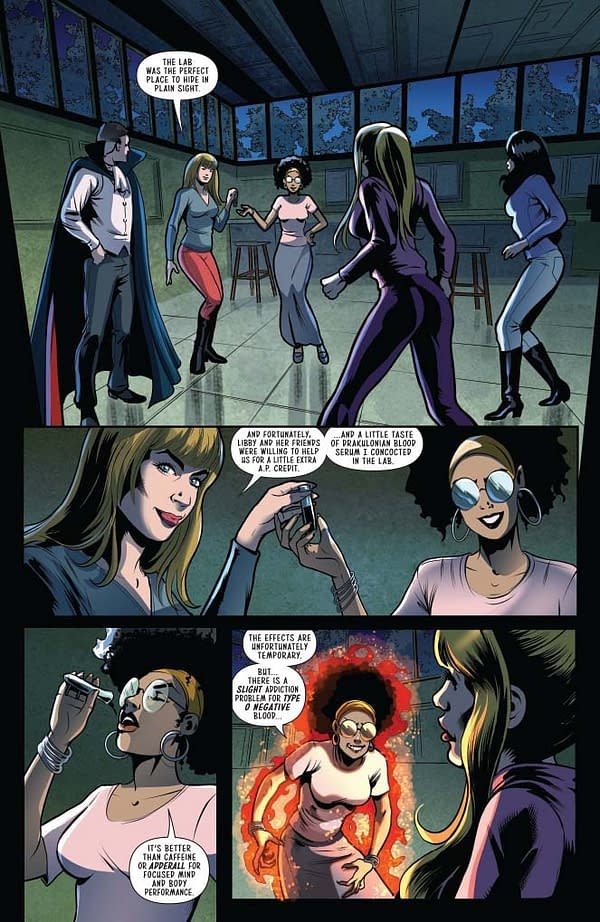 Some students will do anything for extra credit…
Page 3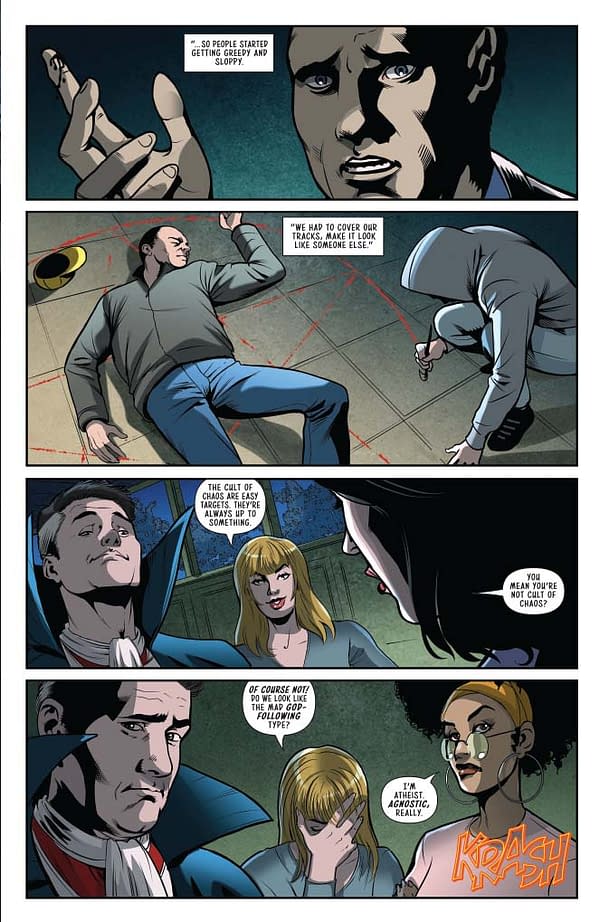 In case you missed it, Cult of Chaos was a fakeout (sorry, kids!)
Page 4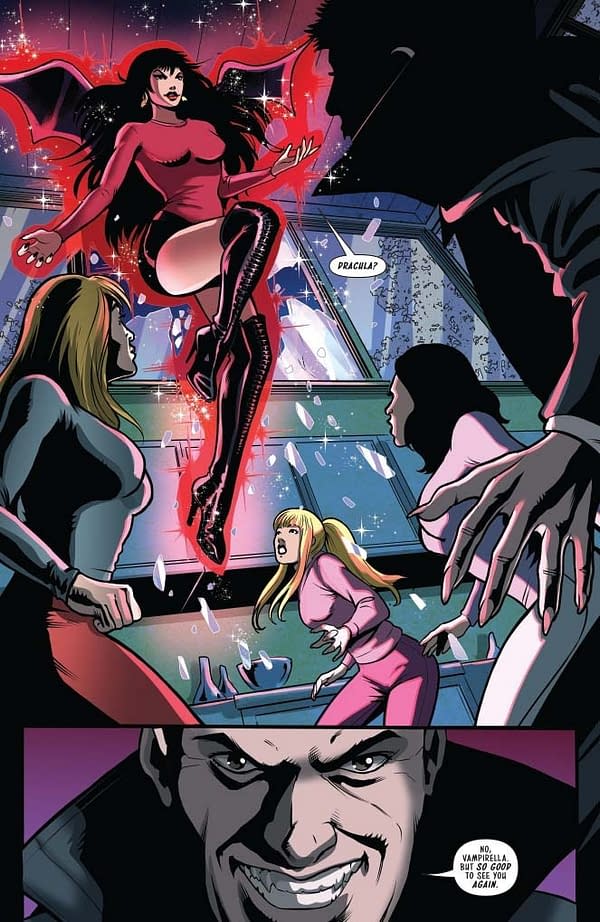 A spectacular entrance by Vampi. Someone please cosplay her like this! It would make my and Maria's year, for sure.
Page 5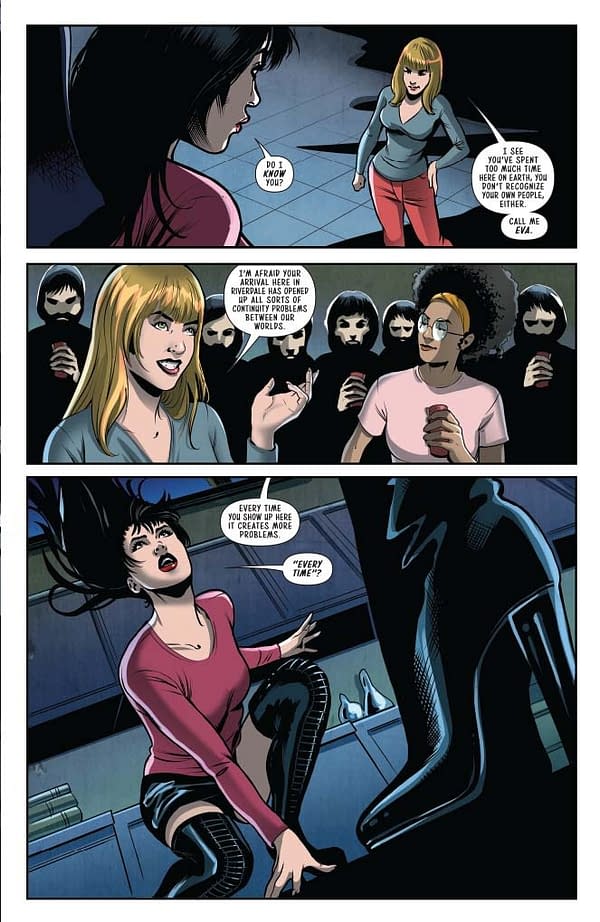 So now we're really getting into Vampirella's story and at the real issue at hand.
Page 6
I thought hard about Vampirella's origin story and saw an opportunity here that made some plot sense.
Page 7
And the the arrival of undocumented Vampiri began…
Page 8
Ok, this got a little more vicious than I originally intended. I let my son write this scene. Should I be worried?
Page 9
So I had to wonder, with Vampirella essentially throwing her lot in with humans, how would other Vampiri would feel about that?
Page 10
Go Bulldogs! Always good to have your team supporting you.
Page 11
No animals were actually hurt in the making of this comic… and yeah, I was thinking of really destroying Riverdale High but I figured the Archie editors might have something to say about that.
Page 12
Sonja vs Vampiri. I would like to see this in a video game, actually.
Page 13
So yeah, you're wondering, what is Eva's beef with Vampirella? Read through to the end…
Page 14
Basically Vudosol and Eva's relationship in a nutshell.
Page 15
Thank goodness for school buses. I realize a lot of high school kids drive themselves these days, but trust me, there are still school buses…
Page 16
Hopefully you were wondering, what ever happened to Dilton?
Page 17
That's a full ride to jail, hon…
Page 18
I love that our dear editor Matt thought Sonja was drinking a root beer float… what ever floats your boat…
Page 19
This is where I had to start rewriting when I found out the series was getting extended… truthfully, it's a better and more interesting end. At some point when I have time, I'll post the original ending on my website so you can see for yourself.
Page 20
And now we have the biggest reveal of them all!
I'm surprised there haven't been more stories with Vampirella's sister, but then again, I'm surprised there's been so little about Vampirella's origin story and her actual feelings towards her home planet. But oh well, more fun for me and you. Stay tuned! And if you're wondering about those two months, we need a little extra time as we take Betty and Veronica to… Drakulon!
I would like to thank everyone who bought all six issues – your monetary vote made sure there was more story to come. I don't blame people who wait for the trade, I really don't. But it really does make the difference whether or not there's more to come in the current Diamond distribution system.
Hopefully, I will see some of you at Big Easy Con in New Orleans this weekend. Please bring your copies and I'll sign them! Oh, and one last thing, something that's been bugging me for the last six issues. We have celebrities shortening their names to catchy bite sizes like J-Lo and A-Rod. Can someone please, please, figure out a good nickname for the title? It's a handful to say, especially for us who work on it!
Enjoyed this article? Share it!