Andre Roussimoff, The Man – Telling The True Story Of Andre The Giant
By Joshua Stone
I have been collecting and reading comic books for over 30 years now. There is only one fandom that I have been a part of longer than comics books, and that is Professional Wrestling. When I was five years old, I would sit on my Grandpa's lap on Saturday mornings and watch wrestling. So I was excited to receive a copy of Andre The Giant: Life and Legend, by Box Brown, a graphic novel from :01 First Second Books, due to be released May 6, 2014.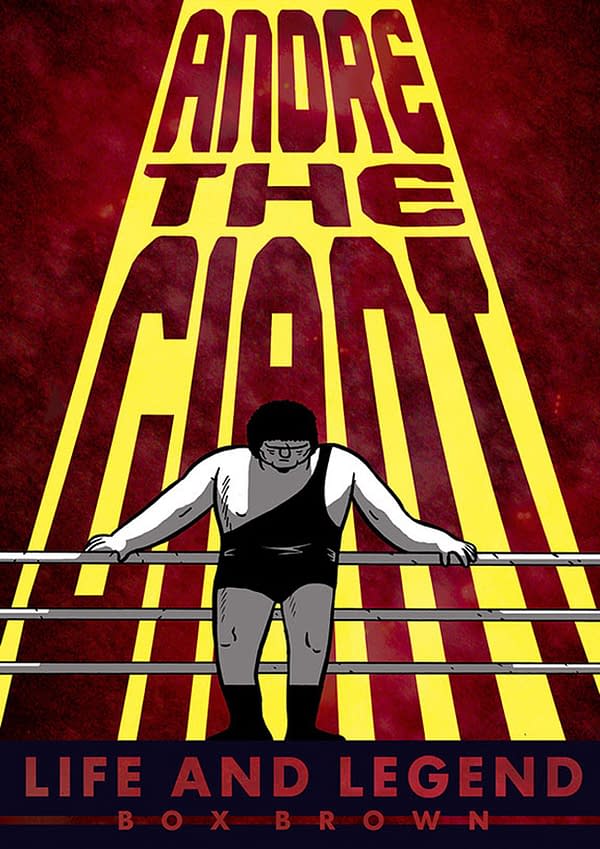 Box Brown, who is best known for his Ignatz Award‑winning web-comic Bellen!, writes and draws the book as a lifelong fan of professional wrestling, and that comes across in the respect he shows for the subject matter. The average comic book reader may not know anything about Andre the Giant the wrestler, but likely, they know him from his larger than life role as Fezzik in the classic film, The Princess Bride. Genre fans of 70's television likely remember Andre from his appearances in two The Six Million Dollar Man episodes, except his face was never shown as he played the role of Bigfoot. That's right wrestling fans, Andre the Giant fought Steve Austin, just not the one known as Stone Cold.
The author attempts to tell the life of Andre the Giant and pulls from stories and interviews of friends, fellow wrestlers, and from Andre himself. The book, while light on words and dialogue, does a good job using the author's artistic style to get across the story often in ways far better than words could ever do. The book goes into not only Andre's wrestling career, but spends a good deal of time looking at the man himself. Andre Roussimoff, Andre's real name, knew very early on that the thing that gave him his enormous size, 7 foot 4 inches and over 500 pounds, and allowed him to have an amazing career was also a time bomb that would likely end his life by the time he was 40.
I never had the chance to see Andre wrestle in person before he passed away in 1993, however I did see him in person once. It was October 1990, and an independent wrestling company, UWF, was having a show at the Reseda Country Club in Los Angeles, CA. Only 125 attended the event and I had ringside seats. The show's card had has-beens, future stars, and wrestlers who never amounted to more than being on the card for this show, but as a fan since I was a kid I loved being there, and then the surprise came. The announcer went into the middle of the ring and introduced Andre the Giant. Seeing pictures of this man was nothing compared to actually seeing him in person. I will never forget that as he stepped to the middle of the ring, the ring actually broke. A wrestling ring is made up of pieces of plywood with the ring mat covering it. As he walked, Andre stepped where two of the pieces of plywood came together, and his weight caused the plywood to separate and pop up. This ring had sustained 250-300 plus pound men fighting and slamming each other on top of it, but it was no match for The Giant. A mere step from this man was all it took to undo the ring.
One of the scenes in the book reminded me of my time seeing Andre. The scene is on the set of The Princess Bride, and Andre is asked if he enjoyed making the film and he says yes because, "No one looks at me here." That was there when I saw Andre, the sadness. Because while I was in complete awe of this man, this giant, whom I grew up watching on my television and saw do amazing things, and in person his size was amazing, but he carried sadness with him. The book shows the pleasure Andre took in being a star, but also because of his size he could never get away with just being himself or even being by himself. There was no place a man his size could hide.
As I write this, WWE is preparing to have Wrestlemania 30, and at this annual event, for the first time ever, they will have the Andre the Giant Memorial Battle Royal, in honor of Andre the Giant. If you are a fan of Andre the Giant, I would certainly recommend watching Wrestlemania 30 as I know I will be doing, but I also recommend reading Andre The Giant: Life and Legend, by Box Brown, so you can become a fan of Andre Roussimoff, the Man.