Ant-Man and The Wasp #2 Review: Watch Your Step
[rwp-review-recap id="0"]
A subatomic society has come under attack by a relatively large foot that is crushing their society. That foot belongs to Wasp, aka Nadia van Dyne, who is still currently blind after the events of last issue. Ant-Man, aka Scott Lang, is busy trying to repair her eyes from the molecular level, but the remains of the red creature are fighting him inside Nadia's eyes. Meanwhile, the subatomic society, threatened by the giant foot, are deciding whether to contact The Wasp or destroy her.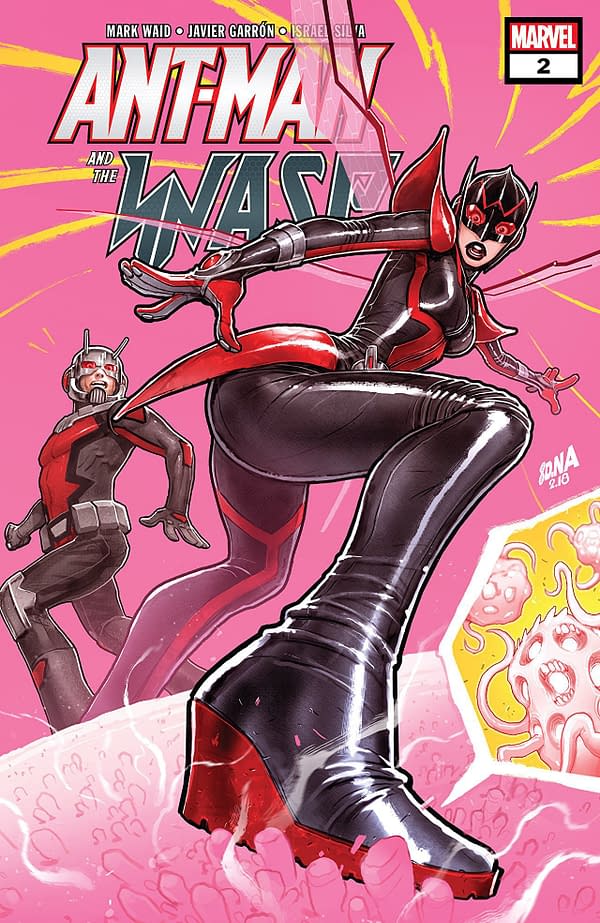 Ant-Man and The Wasp #2 continues its wild sci-fi narrative with Scott and Nadia simply trying to survive in the subatomic universe while inadvertently threatening an entire civilization.
It's strange and whimsical, but that's primarily removed from Scott and Nadia. They have the odd one-liner, but their part of the story is spent grounding the character in short summaries of their origin stories.
The whimsy and fun, oddly enough, mostly comes from the panicking civilization. That sounds a little cruel, but it's a goofy situation. They're so far from human in appearance, but they have structures like your average disaster movie recreation of the American government. Plus, you know they're not being threatened. It's all a misunderstanding.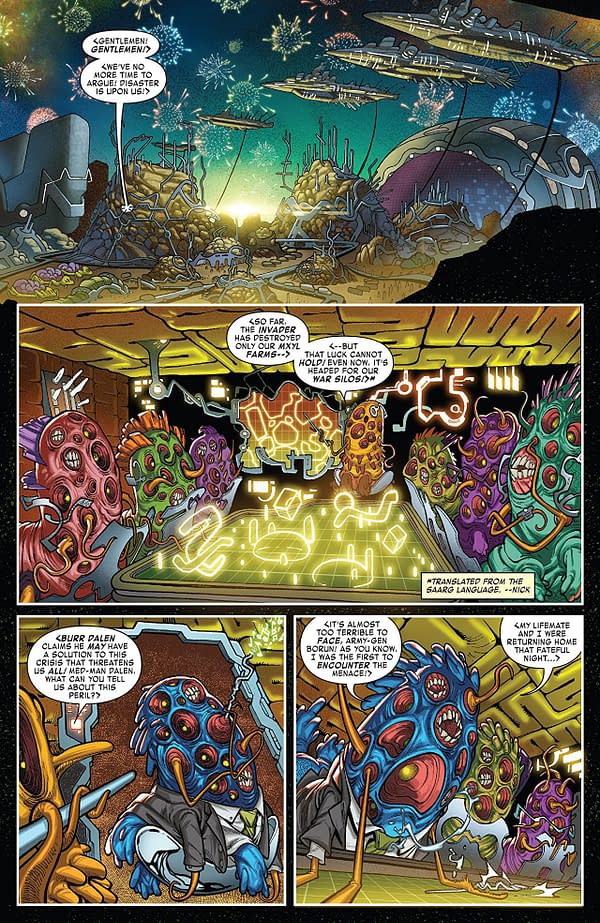 Javier Garron once again provides excellent artwork given a lot of detailing and soft edges. It looks great, but it's also given a lightness fitting of the whacky sci-fi story. The aliens have an anarchic yet expressive design which I hope survives this miniseries. Israel Silva gives the book color art that is bright, popping, and heavily contrasting. This catches the eye well and generally looks good.
Ant-Man and The Wasp #2 is another fun yet emotionally centered issue of the superhero sci-fi comic. Scott and Nadia continue to be endearing and compelling protagonists, and the story is strange and unique. This one comes with a recommendation. Check it out.
[rwp-review-ratings id="0"]
[rwp-review-form id="0"]