The 'Apex Lex' Luthor as a Messianic Monster in DC's Year Of The Villain #1 (SPOILERS)
Today sees the publication of DC Comics' DC's Year Of The Villian #1. And it helps to put together all manner of jigsaw pieces laid out in the DC Universe. Such as this silhouetted cover to Justice League #27, and the storyline being written by Scott Snyder, who opens the DC Year Of The Villain comic, with a story by Jim Cheung.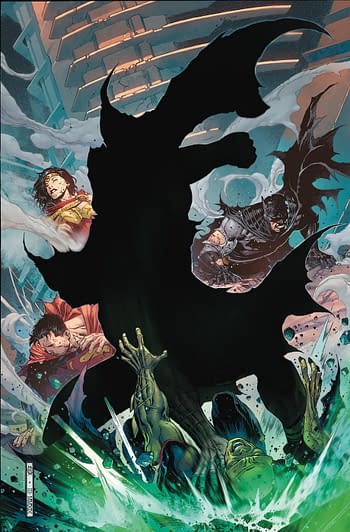 The solicit for July's Justice League reads,
Eons ago, the Monitor, the Anti-Monitor and the World Forger stopped the rise of Perpetua—but can they overcome billions of years of mistrust to work together and do it again? Plus, Lex Luthor's offers across the DC Universe haven't gone unnoticed—Martian Manhunter is aware of "the Offer." And J'onn J'onnz will pay the price.
We had seen the teases for the different months of The Year of The Villain. And while many focused on Poison Ivy being presented as a Villain again, it was the central figure that also drew attention, the one making The Offer.
Other PR from DC Comics indicated that it would be an "Apex Lex" making the offers to villains. Back in March, Bleeding Cool reported ECCC gossip back in March as
Lex Luthor is going to make an offer to all the super-villains of the DC Universe. The offer will take the form of an upgrade of their power base, or anything they might need in order to increase their villainy.
And so it came to pass in today's DC's Year Of The Villain.
And as to the look of the "Apex Lex" – white skin, big red eyes, well… first we have to lose the man, as he is about to be apprehended for attacking President of the United States, Donald Trump.
But with an Easter-theme resurrection promised at the hands of the creator of the entire DC Multiverse, Perpetua.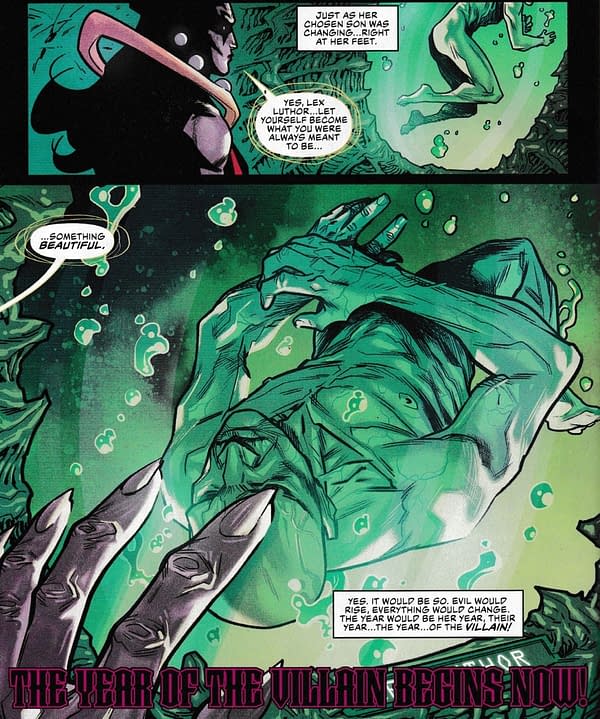 We have recently seen Luthor's revealed childhood meeting a young, imprisoned J'onn J'onzz, Martian Manhunter and the forgotten bond between the two. It looks like that will be even closer, as Luthor is reborn…

As a Martian/human hybrid, confirmed in the comic's back matter. Hence those big red eyes. And, yes, appearing in Justice League #27 where that silhouette should go… DC's Year Of The Villain #1 is out today, just 25 cents.
DC'S YEAR OF THE VILLAIN #1
(W) Brian Michael Bendis, Scott Snyder, James TynionIV (A) Jim Cheung, Alex Maleev, Francis Manapul (CA) Greg Capullo
Evil is winning! Lex Luthor and The Legion of Doom conspire with Cosmic Gods, bending mankind toward a dark destiny. Elsewhere, the scourge of Leviathan spreads unchecked, seizing power in every corner of the world. And all the while the Batman Who Laughs busies himself in the shadows, aligned with no one-yet with sinister plans for all. The carnage starts here as the badguys take center stage in "The Year of the Villain," the most treacherous event in DC Comics history. Some act with united goals, others with plans selfish and secret, every one of them on a monstrous collision course against Batman, Superman and the heroes of the DC Universe. And our heroes will fail us. Don't miss the start of "The Year of the Villain," featuring the talents of writers Brian Michael Bendis, Scott Snyder and James Tynion IV, artists Jim Cheung, Alex Maleev and Francis Manapul and cover artist Greg Capullo-all for just $0.25!In Shops: May 01, 2019 SRP: $0.25