Aquaman director James Wan was quoted by ScreenRant as saying 'A lot of the humor definitely comes from what he's like, and then also… literally the sort of fish out of water aspect of it. Like when he is in the world of Atlantis, he's a fish out of water, but when Mera and he are on land, Mera's the one who's a fish out of water.'
Aquaman comics writer Dan Abnett told Comics Beat – 'This is why, in the past, I think individual issues of Aquaman have been more popular when Arthur is on dry land. Readers understand New York. They get what New York is and believe the story more even though Aquaman is—pardon the pun—a fish out of water.'
And plenty reviews of Geoff Johns run used that phrase.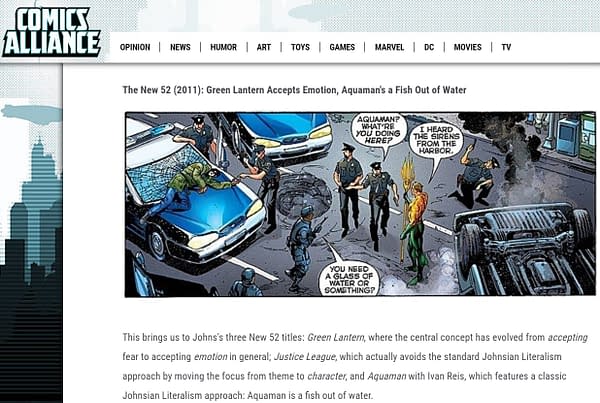 It even turned up in Patrick Willems' Aquaman The Teen Drama pastiche which was so ahead of its time.
But it appears new Aquaman writer Kelly Sue DeConnick is rejecting that approach. At New York Comic-Con, she is quoted by IGN,
Kelly Sue DeConnick explains, his core conceit, the traditional approach to doing Aquaman — "the idea that he's an outsider, the fish out of water, this child of two worlds who doesn't belong anywhere" — just doesn't work anymore.
Back in August she talked to Polygon about the rationale, saying,
"The approach for Aquaman has always been that he is essentially mixed race, right? He's half-Atlantean and half-human, so he doesn't belong in either place, and the idea is [that] each place rejects him for that. But my feeling is that in contemporary society we cannot play the beautiful, literally bulletproof white boy off as facing bias because of his mixed parentage. I think that is disingenuous at best and, I don't know, cruel at worst. So, I was like Alright, well, what else have we got to work with?"
We'll see if Jason Momoa agrees… Aquaman #43 by Kelly Sue DeConnick, Robson Rocha and Daniel Henriques is published on December 19th.
AQUAMAN #43
(W) Kelly Sue DeConnick (A/CA) Robson Rocha, Daniel Henriques
The tides turn for the Sea King with a new creative team! Star scribe Kelly Sue DeConnick (Captain Marvel, Pretty Deadly) and red-hot artist Robson Rocha (TEEN TITANS, SUPERGIRL) take the rudder to steer Aquaman into uncharted waters. In the wake of "Drowned Earth," an amnesiac Arthur washes ashore on a remote island, and ends up being cared for by a young woman named Callie, who's just a little TOO curious for comfort. And as a lifetime of horror movies has taught us, there's something strange going on in this island village. Aquaman needs to come to his senses quickly…or he might wind up sleeping with the fishes instead of chatting with them.In Shops: Dec 19, 2018
SRP: $3.99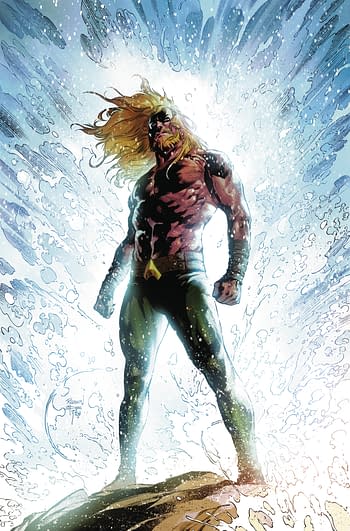 Enjoyed this article? Share it!