Posted in: Comics | Tagged: archie, archie meets batman '66, Batman, batman 66, dc
---
Archie Meets Batman '66 in Crossover Comic
Archie Comics and DC Entertainment have finally confirmed the more-than-one-year-old Bleeding Cool rumor of an Archie Meets Batman '66 crossover, the existence of which was first reported by Bleeding Cool back in December of 2016, for those who keep score, which is us. We are obsessed with keeping score.
Though Bleeding Cool's rumor had the series written by Mark Waid, times have changed and Archie Meets Batman '66 will come from the creative team of Jeff Parker and Michael Moreci, penciler Dan Parent, inker J. Bone, colorist Kelly Fitzpatrick, and letterer Jack Morelli. Everyone says a few words about it in the press release:
"Following the success of a monster hit like HARLEY & IVY MEET BETTY & VERONICA is tough, but not impossible, and we're going to prove that with ARCHIE MEETS BATMAN '66, which meshes two of the most iconic characters in the world," said Archie Comics CEO/Publisher Jon Goldwater. "Like Batman, Archie is one of the most famous, global characters in comics, and we'll see the best of both heroes in the pages of this mini-series, including tons of cameos and plenty of action."

"We considered many different combinations for this next pairing between DC Universe and Archie characters, and Batman '66 and Archie Andrews really stood out as the perfect choice," said Hank Kanalz, DC SVP of Editorial Strategy and Administration. "What DC and Archie started with HARLEY & IVY MEET BETTY & VERONICA last year continues with this off-the-wall pairing of Archie and The Caped Crusader; we believe fans of the classic TV shows and their modern interpretations will be excited about this new series."

"Look, we all want to know what Jughead and The Joker make of each other and we want to see the romance dynamics of Riverdale High thrown completely out of gear by bringing in Dick Grayson and Barbara Gordon," said co-writer Jeff Parker. "It's very cool to work with a heavy hitting team of top talent. Michael and I synched up immediately with plotting, and Dan and J. Bone are the exact right cartoonists to make a mash-up like this really work."

"It's rare that you get a call to work with character/property that you love, but to do TWO at the same time? That's more than I can ask for," added co-writer Michael Moreci. "And to work with such an amazing team — this is one of those rare dream projects, and I can't wait to bring all this love to the series."

For artist Dan Parent, this team-up is a childhood dream come true as well. "I've been lucky enough to have a career drawing characters I love from my childhood. But the first show I ever got excited about (and my mom can verify this) was the original Batman series!" "So, the chance to combine these two big influences in my life into one project is a total thrill. And to work on it with Jeff and Michael, as well as my friend and colleague J. Bone, makes it even that much sweeter!"
Here's the synopsis:
The action and intrigue of ARCHIE MEETS BATMAN '66 begins when a team of Gotham's most notorious villains decide they need a new base of operations, one with a resident millionaire and fewer superheroes to stop them. Their plan doesn't go unnoticed for long, and soon enough, Riverdale High has a couple new transfer students: Dick Grayson and Barbara Gordon!
And because it wouldn't be a crossover without a crapload of variant covers, you can expect a main cover by Mike Allred and variant covers by Derek Charm, Francesco Francavilla, Sandy Jarrell (with Kelly Fitzpatrick colors), Dan Parent (with J. Bone inks, Tito Pena colors), and Ty Templeton. Archie Meets Batman '66 hits stores on July 18th, more than a year and a half since Bleeding Cool first reported it. Pip pip.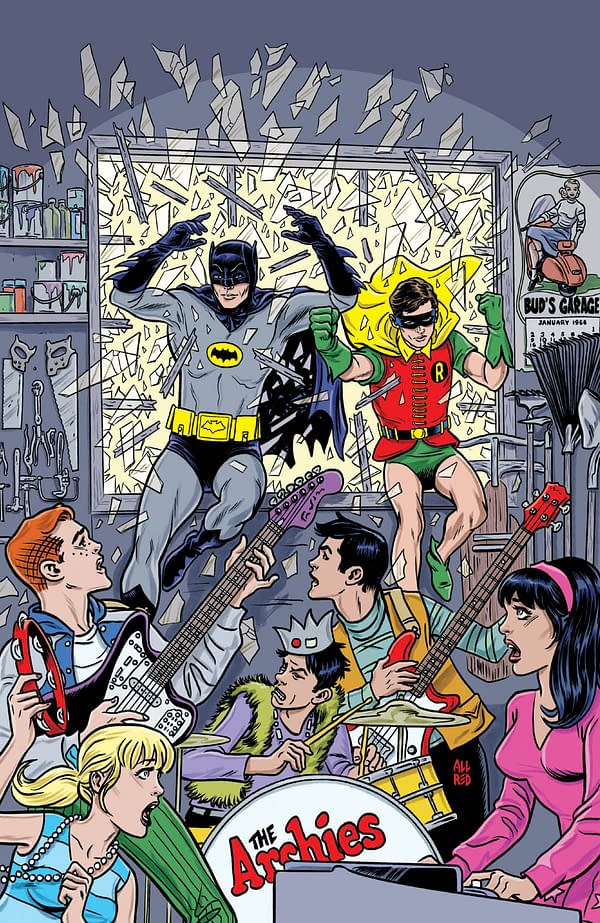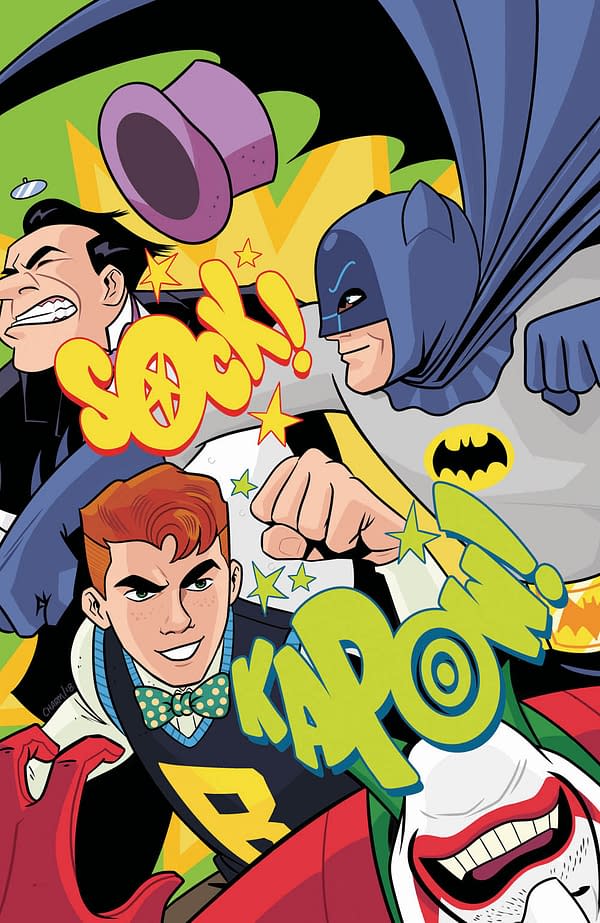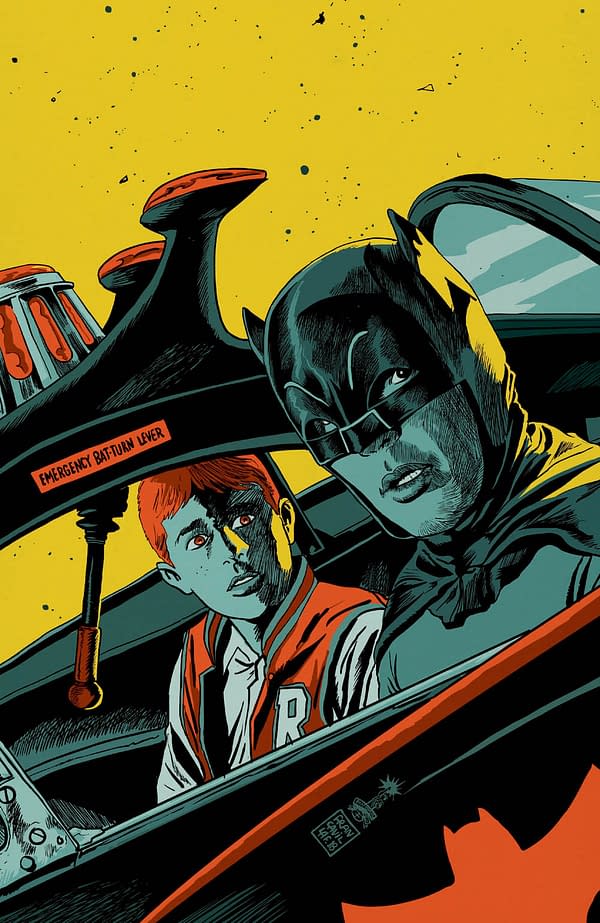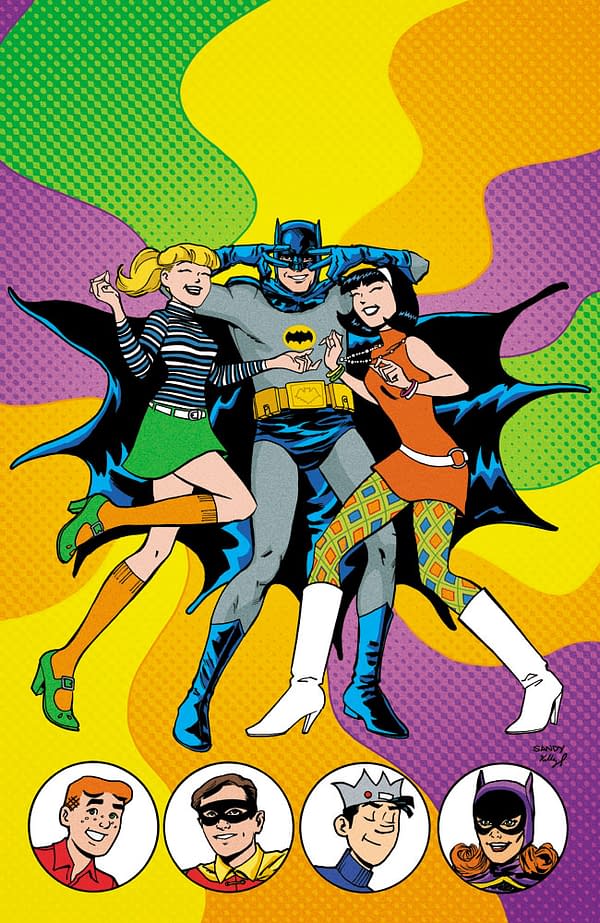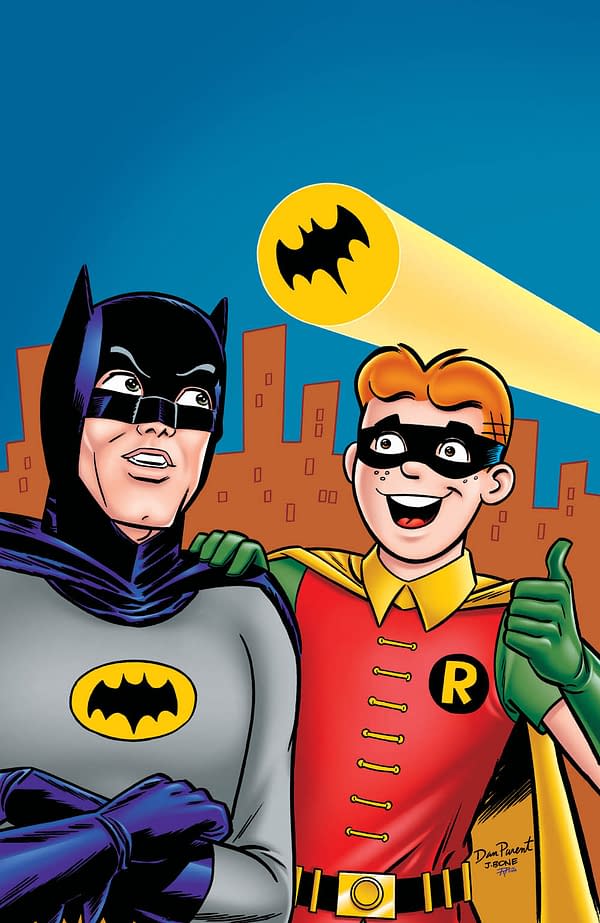 ---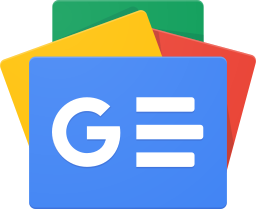 Stay up-to-date and support the site by following Bleeding Cool on Google News today!