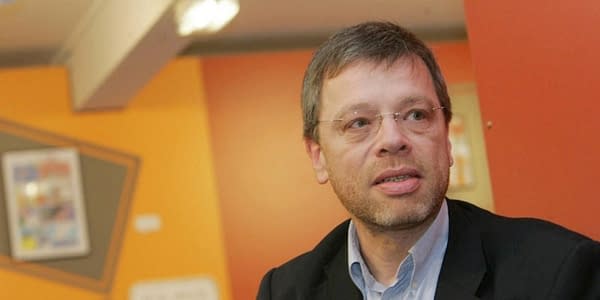 La Cité de la BD is the French comic book institution that includes the Angoulême comics museum and is very influential in the annual Angoulême comic book festival, the largest such comic event in the Western world. Its director, Gilles Ciment was fired as Director earlier this year after what he said were significant conflicts with the city and the festival.
However, Ciment now has a petition on his behalf, signed by hundreds of comic creators demanding that he be fairly treated.
It begins with Art Spiegelman, but also includes Lewis Trondheim, José Muñoz, Emmanuel Guibert, Lorenzo Mattotti, Posy Simmonds, Michel Ocelot and Bastien Vives, the great and the good of Angouleme past and present.
A controversial figure during his time as director, he bumped heads with the city repeatedly, but had a string following amongst the creative community. Creator and teacher Matt Madden, friend and collaborator of Gilles, tells us,
"We who signed the petition do for the most part believe Ciment should continue to be the director but, speaking for myself, I don't see that as a very likely outcome of the current situation."

"What I am most upset about—to set aside the delicate politics and the passions surrounding Gilles Ciment's tenure at the CIBDI—is the fact that the administration is apparently refusing to pay him for some or all of the hours he has worked over the last nine months. Worse still—and this just baffles me—they have apparently failed if not refused to provide Ciment with the necessary paperwork to qualify for unemployment, which could make things very precarious for him and his family. "
A conciliation meeting between Ciment and his former employers was meant to take place yesterday. It was cancelled….
Enjoyed this article? Share it!